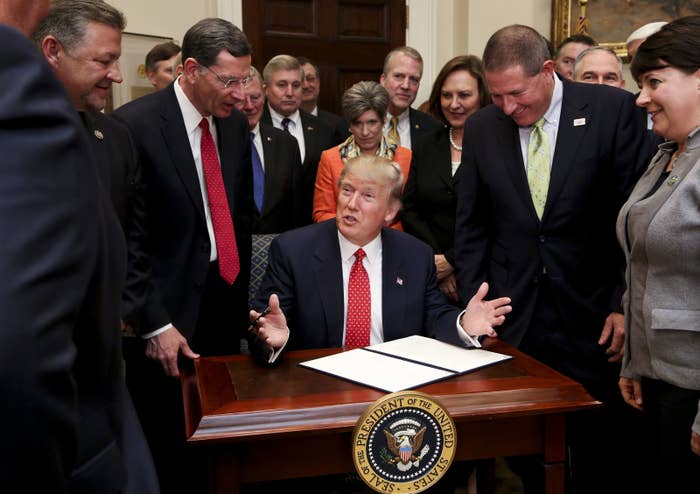 A rule requiring federal contractors to disclose past wage theft and worker safety violations when bidding for new contracts is set to become one of the latest Obama-era regulations overturned in the first months of the Trump administration.
House Republicans voted to overturn the rule earlier this this month, and the Senate is considering the repeal on Monday. The final step will be approval from President Trump, who has made dismantling Obama-era corporate regulations a signature priority of his administration's first 100 days.
In a letter to Congress in February, business groups including the US Chamber of Commerce said the rule for federal contractors was "costly, unnecessary and unworkable" and "will only tie up law-abiding employers in red tape and make a system intended to protect workers less efficient."
Democratic Sen. Elizabeth Warren of Massachusetts said in a statement that repealing the act would make it easier for companies to cheat their employees and threaten workers' health and safety.
"Too often, federal contractors break labor laws while continuing to suck down millions in taxpayer dollars," she wrote. A report released Monday by Warren's office found that 66 of the federal government's 100 largest contractors have been documented breaking federal wage and hour laws, including endangering workers in ways that have led to injuries and death. Nearly a quarter of the US workforce is employed by a company that holds a federal contract.
Last week, senators Warren, Patty Murray (D-Wash.), and Bernie Sanders (I-Vt.) asked the Department of Justice to open a criminal investigation into repeated safety violations by government contractor VT Halter Marine. In 2009, the US Navy awarded the company an $87 million contract to build a ship to gather ocean data not long after a preventable accident killed two workers.