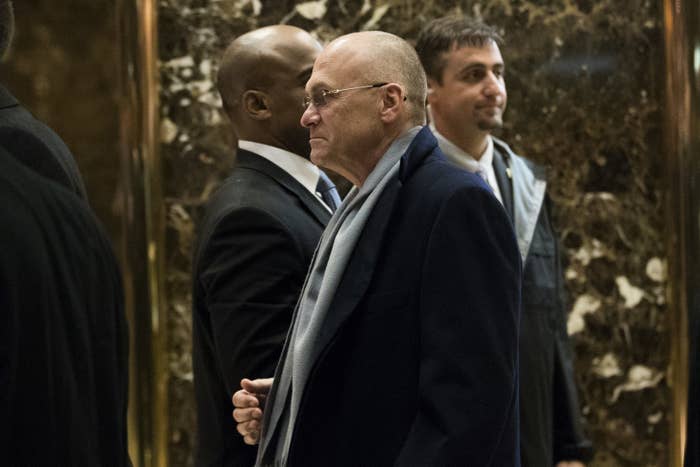 WASHINGTON — President Donald Trump's nominee for Labor Secretary, fast food CEO Andy Puzder, has withdrawn his nomination — a day before his confirmation hearing and after at least six Republican senators expressed hesitations about supporting him.
"After careful consideration and discussion with my family, I am withdrawing my nomination for Secretary of Labor," Puzder said in a statement. "I am honored to have been considered by President Donald Trump to lead the Department of Labor and put America's workers and businesses back on a path to sustainable prosperity."
Puzder went on to thank President Trump for the nomination as well as his family and his "many supporters - employees, businesses, friends and people who have voiced their praise and hopeful optimism for the policies and new thinking I would have brought to America as Secretary of Labor. While I won't be serving in the administration, I fully support the President and his highly qualified team.
CEO of Carl's Jr./Hardee's fast food chains, Puzder's embattled nomination had suffered from revelations that he employed an undocumented worker, numerous wage and hour violations at his company's franchise locations, and allegations he physically abused his ex-wife.
In the days prior to his scheduled hearing, senators from both parties viewed an episode of the Oprah Winfrey Show in which his former wife appeared incognito discussing the allegations. Politico obtained and publicly released a copy of the episode Wednesday.
Puzder had received criticism from the left for his opposition to raising the federal minimum wage and an Obama-era rule raising the overtime threshold. He has spoken in favor of automation, saying robots "always upsell, they never take a vacation, they never show up late, there's never a slip-and-fall, or an age, sex, or race discrimination case," and has spoken disdainfully of his chain's workers, calling them "the best of the worst."
There was something for everyone with Puzder. From the right, the nominee received criticism for his liberal-leaning views on the need for immigration reform, as well as reports that his businesses relied on undocumented workers. Wednesday, the editors of the conservative National Review came out against Puzder for his immigration stance, calling him "one of the most high-profile advocates of precisely the approach to immigration policy that Donald Trump opposed during his campaign."
Senator Lisa Murkowski of Alaska, one of the first Republican lawmakers to say she would be withholding her support for Puzder until after the hearing, told BuzzFeed News Wednesday, "You know what my reservations are. They're all over the news."
Murkowski and Maine's Republican Sen. Susan Collins — both of whom sit on the committee that had jurisdiction for Puzder's nomination — were top targets for Democrats, especially since they both also voted against Betsy DeVos, now the education secretary.
With Republicans holding a narrow majority in the Senate, they could afford to lose only two GOP senators in order to confirm Puzder. Although the nominee's hearing was delayed, as recently as earlier this week, Republican leadership appeared confident that they had enough votes to push Puzder through.
"I'm a strong supporter of Andy Puzder. I think he's uniquely qualified for this job," Senate Majority Leader Mitch McConnell said Tuesday. "We hope we'll be able to get his hearing this week and deal with him when we get back."
And Texas Sen. John Cornyn, the No. 2 Republican in the Senate, told reporters on Monday that the Puzder nomination was "all good."
But the the skepticism among the GOP caucus kept growing.
Senator Tim Scott of South Carolina, who expressed reservations early on but said that he would be waiting until after the hearing to make a final judgment, said Wednesday morning, "Developing the workforce is most important to me. All the other concerns that have been publicized... I'm focusing on what his job is and am not going to comment on all the extraneous concerns."
Puzder is now the first of Trump's cabinet nominations that Democrats have successfully sunk — a big win for progressives and labor groups. The nominee that was previously at the top of their list to block, DeVos, managed to squeak by in the Senate.