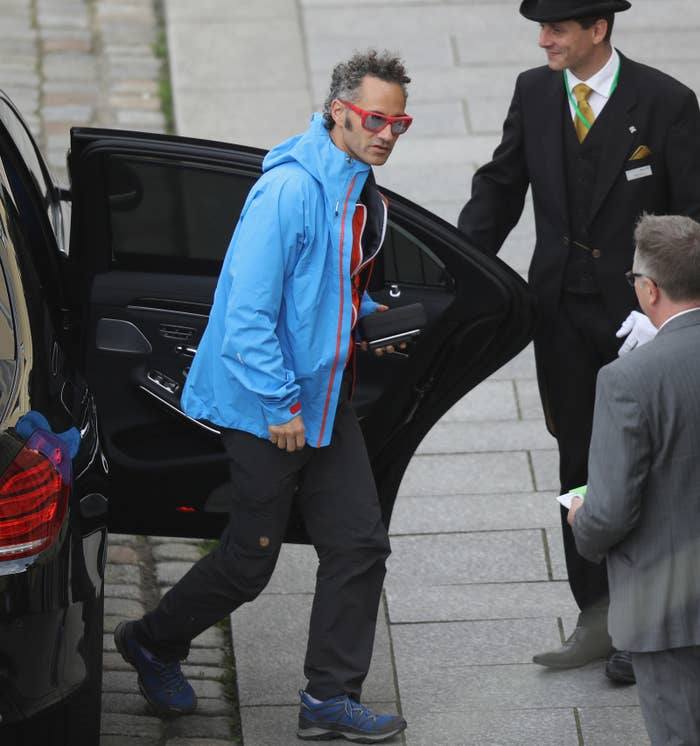 The Department of Labor is suing Palantir, accusing the data analysis company of systematic discrimination against Asian job applicants.
The government agency said that it filed the suit after being "unable to resolve the findings" in negotiations with the Silicon Valley company, which works with government clients including the the FBI, the U.S. Special Operations Command, and the U.S. Army.
The suit alleges that, beginning in 2010, Asian applicants were "routinely eliminated during the resume screen and telephone interview phases despite being as qualified as white applicants with respect to the QA Engineer, Software Engineer, and QA Engineer Intern positions," and that the company's employee referral program also unfairly discriminated against Asian applicants.
Palantir denies the allegations and intends to contest the lawsuit. "Despite repeated efforts to highlight the results of our hiring practices, the Department of Labor relies on a narrow and flawed statistical analysis relating to three job descriptions from 2010 to 2011," the company said in a statement.
When comparing the number of qualified Asian applicants for a position with the number eventually hired, the Labor Department's Office of Federal Contract Compliance Programs found evidence of discrimination.
In one case where Asian applicants made up 85% of the the qualified candidates for a job but only 11 of the 25 people eventually hired, Labor Department calculated that the the odds of such a hiring pattern happening by chance were "approximately one in 3.4 million." In another case, it said the odds were more like one in a billion.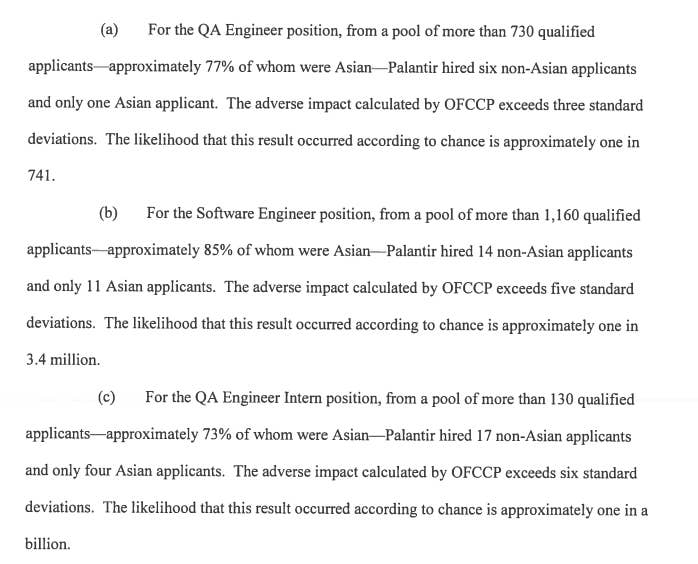 As a government contractor, Palantir "has agreed not to discriminate against any employee or applicant for employment because of race, color, religion, sex, or national origin," the complaint notes.
The Labor Department is seeking compensation for those affected by the company's hiring practices, including for "lost wages, interest, retroactive seniority and all other lost benefits of employment." If the company is ordered to provide such relief, and fails to do so, it could lose its current government contracts and be barred from bidding on future ones.