OKLAHOMA CITY — On day three of a statewide strike in Oklahoma, teachers are torn over how much longer the action — which is technically illegal — should last.
For many, the trip from rural areas to the capitol is a financial hardship. Teachers have to arrange childcare for their own children back in their hometowns, and all are concerned about how to feed their poorest students while their schools are shut down.
But the public employees say they want to keep the pressure on state legislators, and that they won't stop walking out until they receive long-overdue pay raises and funding for students — some of whom have to sit on the floor for lack of desks, or learn from textbooks more than a decade out of date, or shiver because of exposed insulation in the winter.
The teachers are part of a growing, nationwide movement of teachers pushing back against lawmakers after years of austerity, after teachers in West Virginia successfully won a pay raise with a nine-day strike.
Though it is against the law for public employees to strike in Oklahoma, many of the teachers are using sick days or snow days, or coordinating with their superintendents, to participate in the walkout without consequences.
The conversations about whether to stay or go are taking place during breaks in the picketing inside and outside the capitol building here. The decision process is democratic. By mid-afternoon each day, teachers fill out online surveys to say whether they are for or against continuing the walkout. A majority of teachers so far have voted to press on.
Districts decide individually, and seven have now committed to lasting out the week. At least 50 school districts across the state of Oklahoma were closed Monday and Tuesday.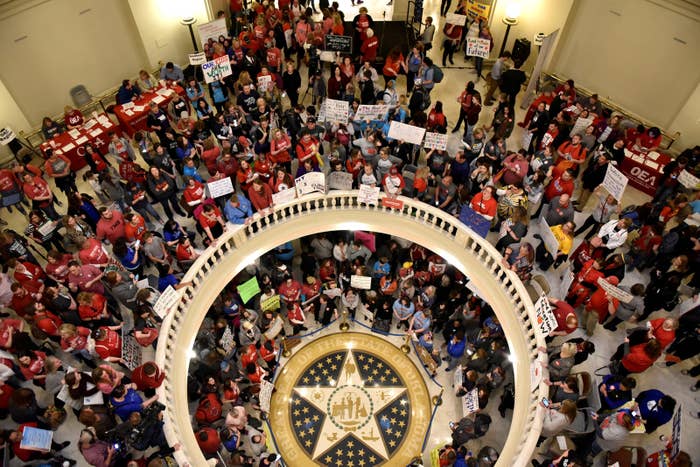 Melissa Copeland, who teaches fifth-grade math and science at Woodrow Wilson Elementary in Duncan, Oklahoma, told BuzzFeed News that many of her district's kids "don't get to eat if they don't have school."
"Our district wants it to last to at least the end of the week," Copeland said of the walkout, as she graded papers and charged her phone Tuesday inside the Oklahoma City Historical Society building. "But I feel we can't do anything else this legislative session. I think if we need to, we should come back next session, instead of at the last minute."
Copeland, a single mother of a 2-year-old and 5-year-old — both in pre-K in Duncan — said her kids are being babysat back home while she participates in the rally.
"I can't afford to drive up here and have a babysitter," she said, though she hopes to get back to Duncan later in the week to provide daycare for students out of school — so she could also spend the days with her own. By the end of the day Tuesday, Duncan had voted to stay closed through Friday.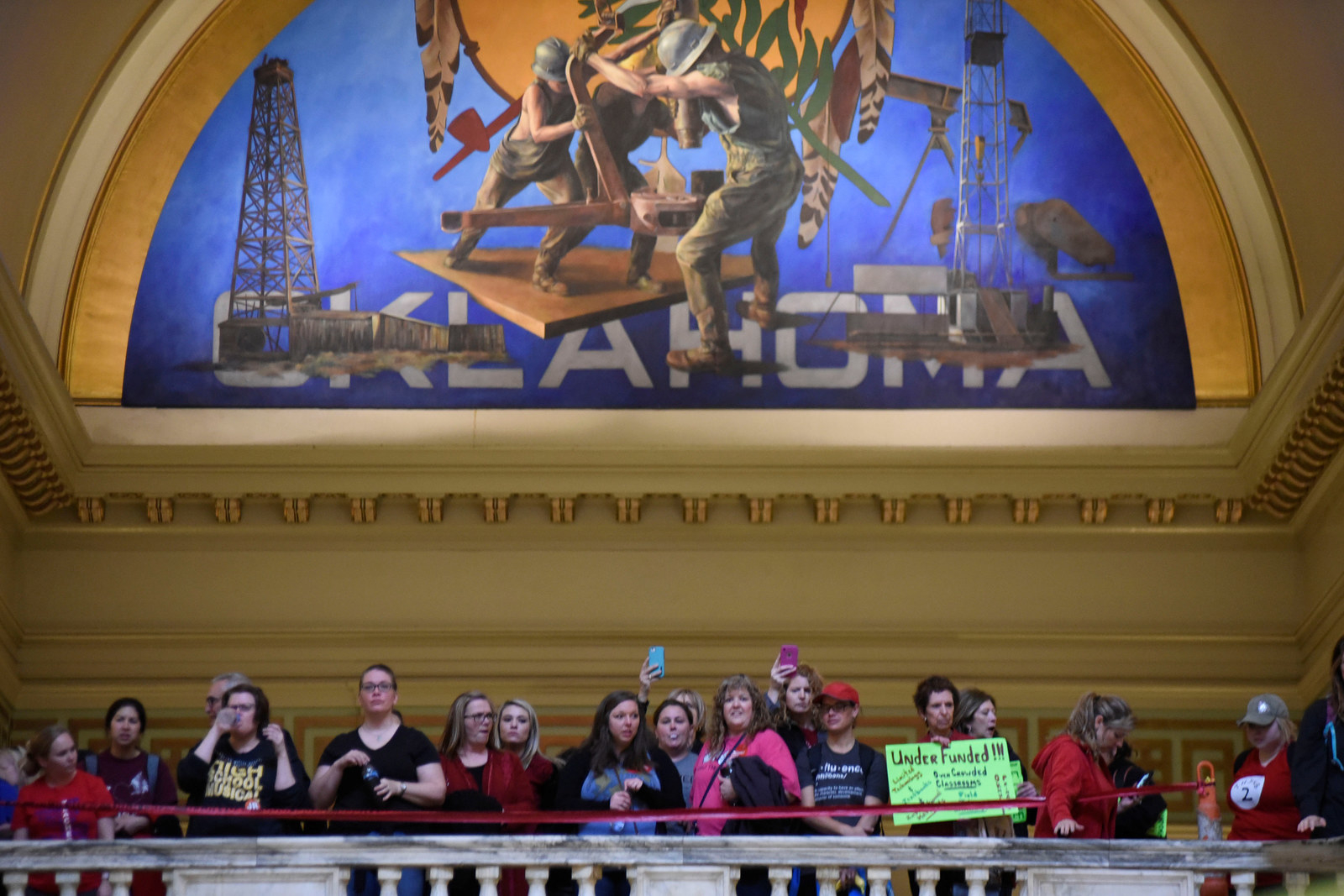 Carolyn Robbins, school principal at Peggs Public School — "and custodian, bus monitor, counselor, and ring leader," said a colleague at her elbow — also expressed a desire to get back to school within the week, to make sure students from poorer families don't go hungry. The Oklahoma City public school district alone is providing food at more than one hundred locations to anyone under the age of 18, no ID necessary.
"Most of our kids need meals," she said. "But they also have a dire need for funding for textbooks, computers, and new buses to handle our dirt roads."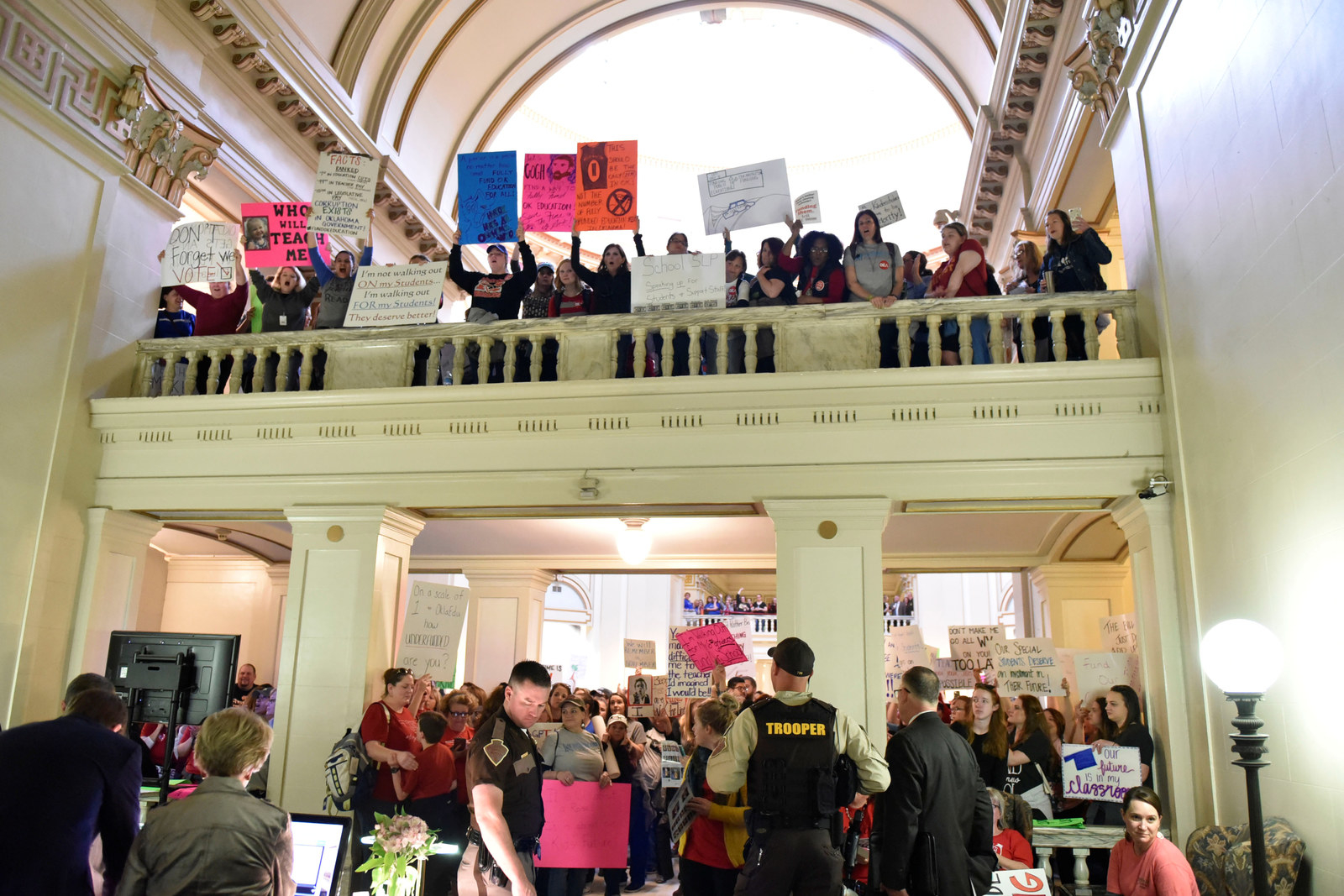 High-stakes tests for students are also coming up, as aspiring college students take the SAT and ACT this month, then Advanced Placement exams in May. Some educators thought that staging the strike ahead of the exams would throw the problem into relief, spurring anxious parents to take action and support the teachers.
"I think the strike is going to have a lot of positive and negative consequences," said Max Blakey, 17, who takes both exams next week. "Students failing their tests will make parents super mad. And angry parents will get legislators' attention."
Blakey said he was "super proud" of his teachers for striking, and of the turnout at the capitol. More than 30,000 teachers and supporters swarmed the statehouse early in the week, taking over the rotunda inside and setting up tents and chairs on the grounds.
Su Cag, 16, and Takin Kilgore, 16, sat on a picnic blanket holding up a homemade sign with a Drake meme from "Hotline Bling." Both will take the nationally administered tests in coming weeks. They said they're nervous, but that their teachers sent them home with many practice tests. They also support the strike.
While not all teachers could afford or manage to come to the main rally at the capitol building beyond the first or second days, some are also holding protests in their towns. But teachers worry that scattered actions are less visible than a critical mass of bodies occupying the rotunda and signs left on lawmakers' doors.
And even in Oklahoma City, teachers commented angrily Tuesday about how some state legislators avoided speaking directly to them, despite their literally camping out outside their offices.
One representative, Republican Kevin McDugle, received criticism for lashing out at the teachers' choice of tactics in a viral video Tuesday, and for threatening to close the public galleries to statehouse chambers.
"They come into this House, they want to act this way — I'm not voting for another stinking measure when they're acting the way they're acting," he said in a Facebook Live video.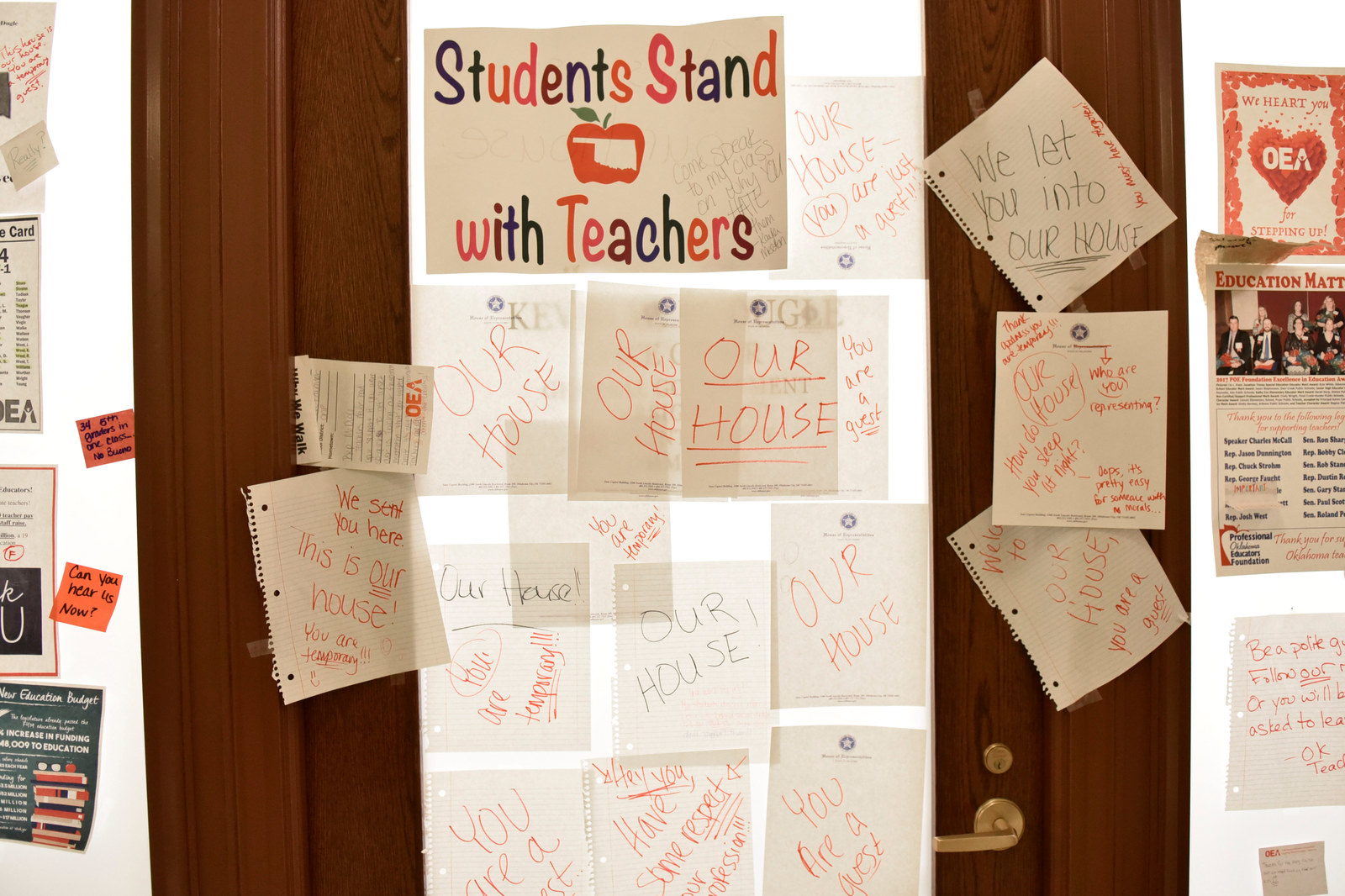 "You're losing support of people who supported you all year long," he continued. "Now you're going to come here and act like this after you got a raise?"
McDugle was referring to a bill legislators passed last week, which would give teachers an average of a $6,000 raise. Teachers say the increase would bring them in line with what they would be making if it hadn't been for years of austerity funding, but that the bill lacked funding for classroom supplies and other staff, like custodians and aides for students with special needs.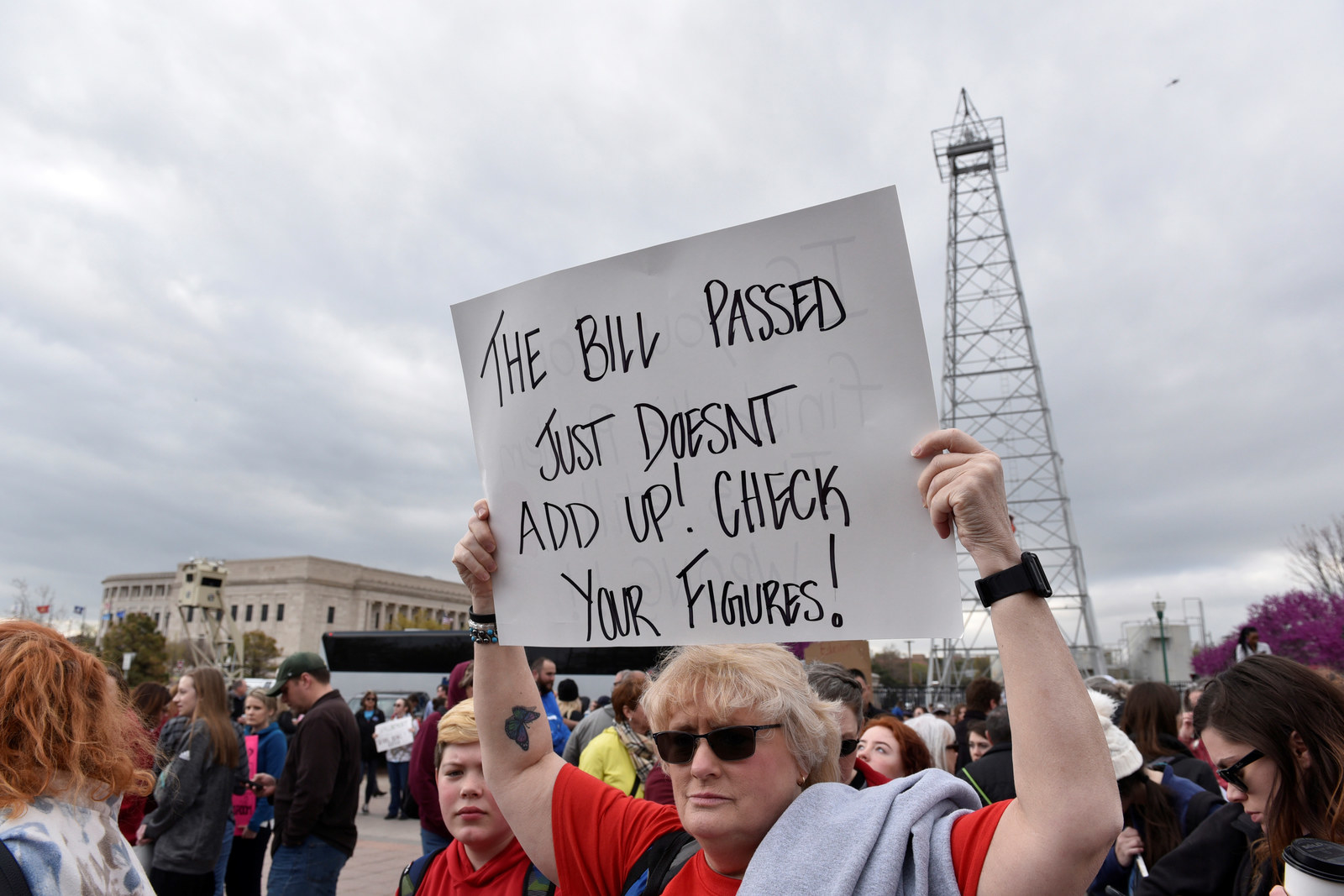 "Go ahead, be pissed at me if you want to," McDugle said in the video.
The lawmaker later took down the post and apologized, before implying that outside agitators were responsible for the strike shuttering public schools across his state.
"I will continue to vote for teachers, but I will tell you this: I don't approve of some of the things that are being done here, and it's not necessarily Oklahoma teachers that are doing it," he said, as local media station KOCO first reported.
The majority-female workforce of teachers in Oklahoma, which has not had an across-the-board raise in over a decade, is calling for a $10,000 raise over three years, as well as a $5,000 raise for support staff. Teachers are also asking for $200 million over three years in school funding, for things like classroom supplies and infrastructure, and $500 million over three years in funding for public employees. They have plenty of ideas for where the money could come from, including taxes on capital gains, gambling, oil, and wind energy.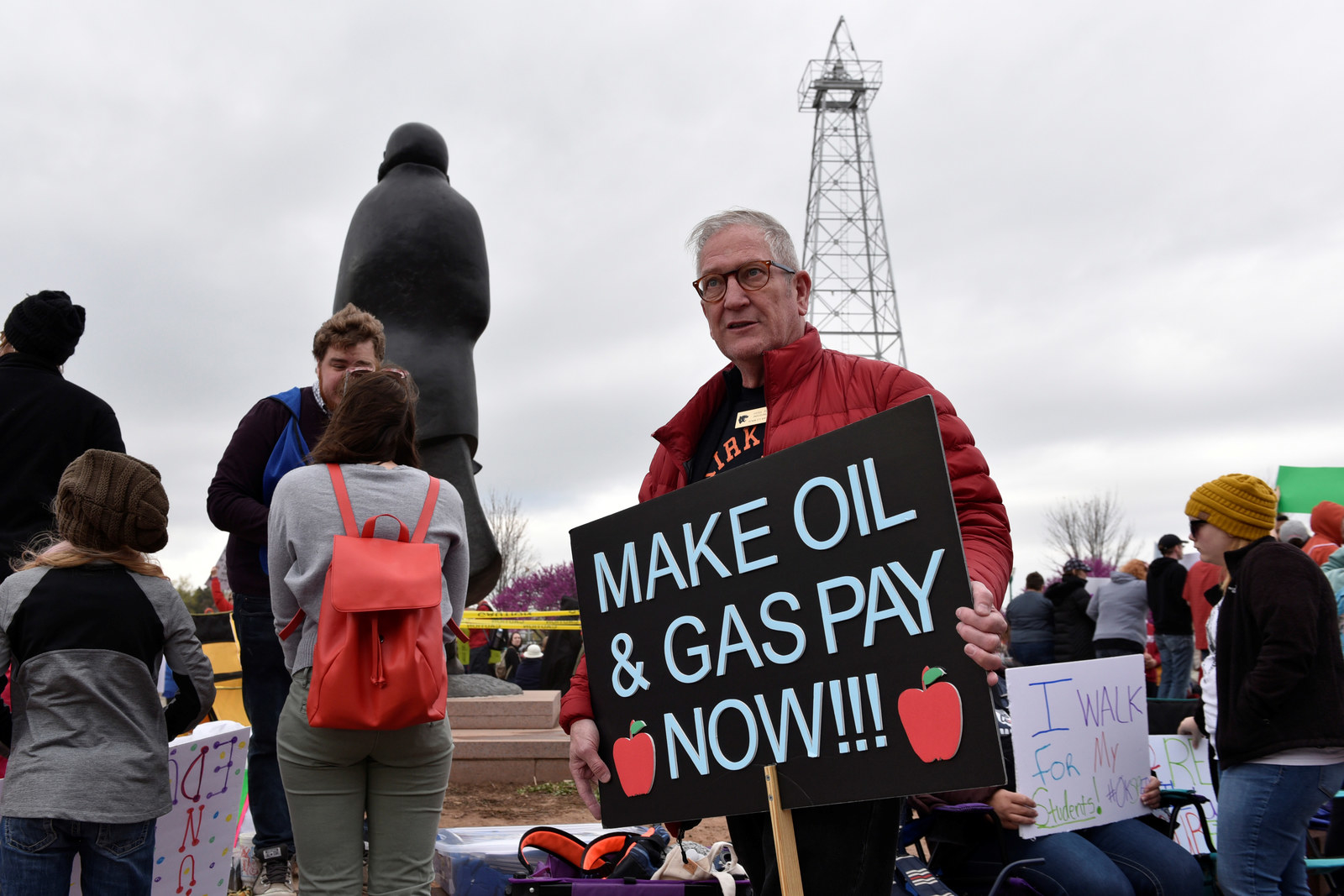 Dennis Gentry, who teaches fifth grade at Orvis Risner Elementary in Edmond, Oklahoma, held a sign Tuesday that read, "Today, I'm teaching legislators." He made it into the capitol, despite the long lines, and managed to speak to two representatives.
"The House is blaming the Senate and the Senate is blaming the House," he said. "They're not ready to give on each other," when it comes to determining how to pay for more education funding.
Gentry said that he also spoke to House Rep. Karen Gaddis, who supports the teachers' walkout.
"Her advice is that we 'remember in November,'" he said.
The Oklahoma strike coincides with a strike by teachers in Kentucky this week, where public employees are protesting cuts to their pension plans, included at the eleventh hour in a sewage bill.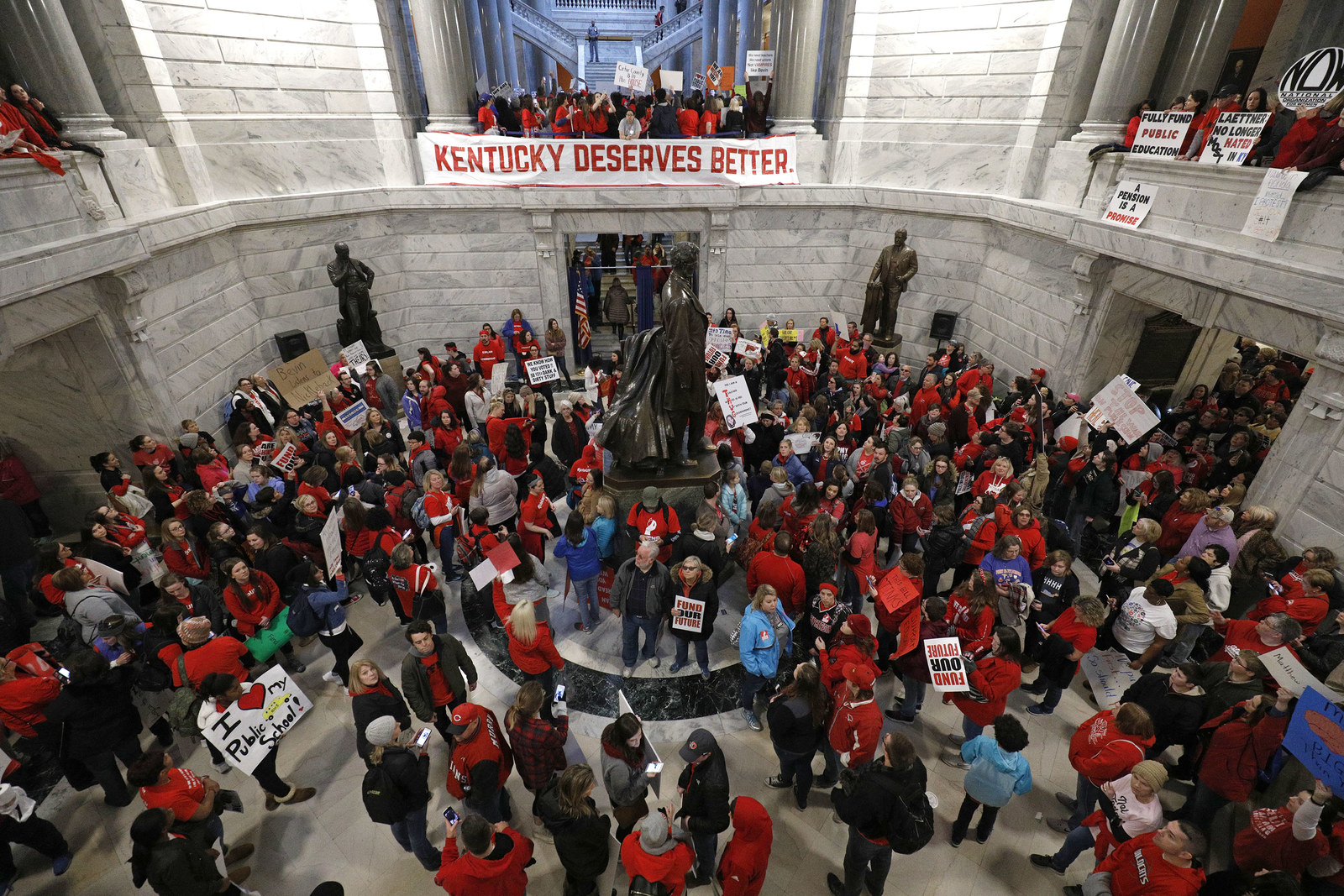 Annie McIntosh, who currently works in higher education for the University of Oklahoma Business School, and her husband Justin, an elementary school teacher, are both taking part in the walkout. The two said they are typical teachers in that they set up GoFundMe and DonorsChoose pages to crowd-fund supplies for their students and classrooms, and work other jobs to pay their bills.
"Justin's car was almost repossessed after we had missed two payments in the fall, and I had a health scare that, despite both our insurances, drove us a couple thousand into medical debt," McIntosh said. "We knew this was a part of growing up. No teacher goes into this field expecting to make a fortune. But it was really hard."
Last week, KIPP Chicago offered a teaching job to Justin McIntosh with an annual salary of $56,100 — $24,000 more than he was currently making, and almost equaling the McIntoshes' current combined incomes. He plans to accept, becoming part of the exodus of teachers from the state — a major reason cited for the strike. Monday, the first day of the walkout, was his birthday.
"I'm hoping one of the gifts he gets is a bill that provides a fair salary and income for our educator friends and coworkers in Oklahoma," Annie wrote in an email to BuzzFeed News. "I'm just sorry to say that that gift will be too belated for us."