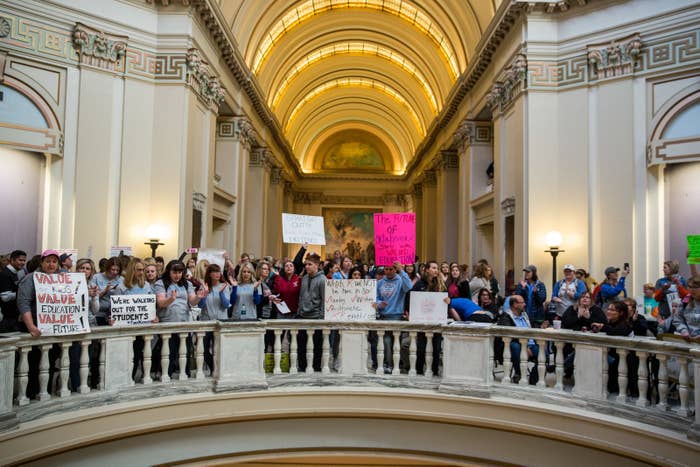 The Oklahoma legislature, under pressure all week from thousands of striking teachers across the state, passed a series of changes to the tax law on Friday that are anticipated to increase education funding by tens of millions of dollars — even as the walkout continued.
The Oklahoma Education Association estimated about $81 million could be raised by three separate measures, which were passed by both chambers. The teachers want Gov. Mary Fallin to sign two and veto one.
One bill, called the "Amazon tax" and focused on out-of-state companies doing business in Oklahoma, will raise about $20 million. Another, called the "ball and dice" bill, will raise about $19 million by allowing tribal casinos to offer certain games.
As lawmakers voted for the bills Friday, teachers packed the rotunda of their state's capitol and grounds for a fifth day — chanting, "2–4–6–8, we want you to legislate," singing numbers from the musical Oklahoma! and waving signs reading "It's not 'OK.'" The bills aimed to raise money to increase teacher salaries, pay for school supplies, and give support staff a raise.
But despite multiple victories Friday, educators did not end the strike. Oklahoma Education Association President Alicia Priest told reporters that the teachers would be back "Monday, and Tuesday if necessary, and Wednesday and Thursday."
Teachers "expect legislators to listen to them," Priest continued. "When you have 30, 40,000 constituents here a day for a week and you don't listen to them, who are you listening to?"
By early afternoon Friday, several districts — including Oklahoma City Public Schools — committed to stay closed, with others weighing the consequences of continuing to keep up the protest into a second week.
The teachers said Friday that they would end the walkout of if Gov. Mary Fallin vetos a third bill, now passed by both chambers, that would repeal a hotel tax, because her veto could generate $42 million. They also want legislators to approve a proposed law that would end an existing capital gains deduction.
The OEA tweeted that officials "can end this walkout" by passing that bill.

A nine-day strike in West Virginia last month resulted in a 5% raise for public school teachers there, and many Oklahoma educators cited the state's successful strike as an inspiration for their taking action. "Thank you, West Virginia," signs read. Others shouted out public school teachers in Kentucky, who have been using similar tactics to advocate for better pension plan reform.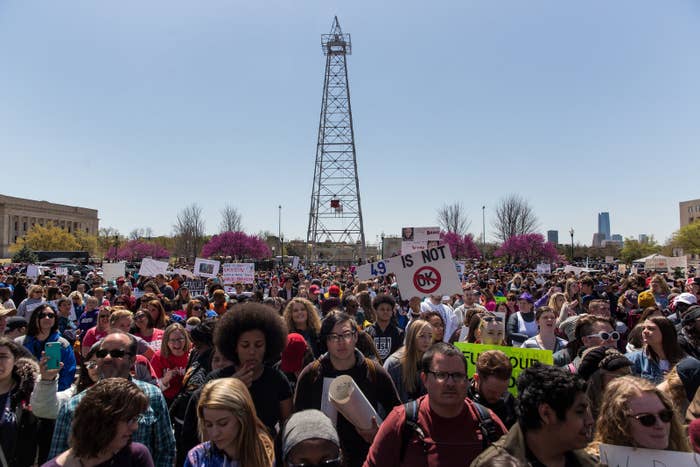 Last week in Oklahoma, lawmakers had approved a bill which would have raised teacher pay by an average of about $6,000, with $400 million in new funds — raised by the first tax increase in the state in over two decades.
But teachers held out for a $10,000 raise over three years, as the $6,000 increase would merely bring them in line with neighboring states. They were also rallying for increased funding for classroom supplies and pay increases for support staff.
Due to years of cuts to public education funding, Oklahoma public school students told BuzzFeed News they often sit on the floor or windowsills during class, without sufficient chairs, and some have gone to four-day school weeks, due to a lack of staff.
In recent years, qualified teachers have left in droves for Texas and other states that pay tens of thousands of dollars more for their expertise.

Friday, teachers also showed off new signs that mocked legislators who claimed the rallies were organized by "outside agitators" and "paid ruffians from Chicago."
In a poll conducted by local media, 1,033 likely Oklahoma voters were asked about their support for the walkout, should it last "until all of the teachers' demands are met." According to local TV station News 9, 72.1 percent of respondents gave their support.