Trump Said Human Rights Were Discussed Only "Briefly" At The North Korean Summit
The president said that the leaders had focused on denuclearization, rather than Kim Jong Un's record of abuses against his people.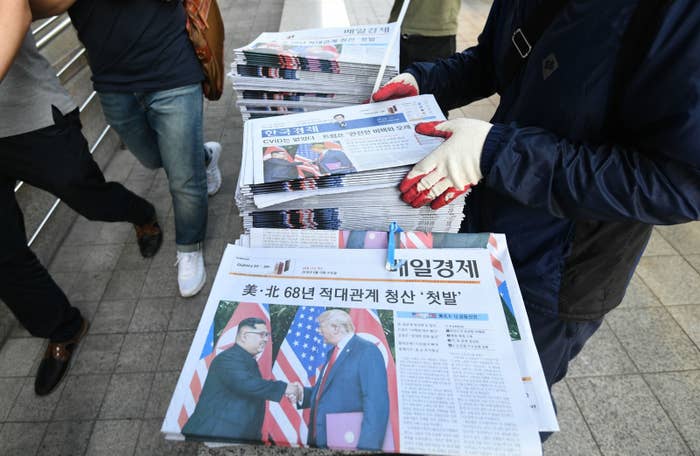 Advocates who had hoped President Donald Trump and North Korean Leader Kim Jong Un would address human rights abuses committed in the isolated country were largely disappointed Tuesday.

Asked whether the two heads of state discussed Kim's record in his country — including alleged vast arbitrary imprisonments and torture of his citizens, the apparent assassination of his brother and execution of his uncle, and the recent lengthy detainment of a US citizen — Trump said that "it was discussed" and "it will be discussed more in the future."
The president then announced that remains of US military personnel killed in the Korean War would be returned to the United States, saying the process will begin "immediately."
When pressed by reporters, Trump added that human rights were discussed "relatively briefly compared to denuclearization."
"Obviously [denuclearization] is where we started and where we ended," he said. "But they will be doing things, and I think he wants to do things. I think he wants to — you'd be very surprised. [He's] very smart, [a] very good negotiator. Wants to do the right thing."
In 2014, a United Nations report on human rights abuses in North Korea found that, under Kim's leadership, his people were subject to "murder, enslavement, torture, imprisonment, rape, forced abortions and other sexual violence, persecution on political, religious, racial and gender grounds, the forcible transfer of populations, the enforced disappearance of persons and the inhumane act of [their government] knowingly causing prolonged starvation."
Navi Pillay, the UN high commissioner for human rights at the time, said that the report's findings needed to be treated with "the greatest urgency, as they suggest that crimes against humanity of an unimaginable scale continue to be committed in the DPRK."
Tuesday, Trump said that both he and Kim acknowledged the historic lack of dialogue between the US and North Korea on all foreign policy matters, and expressed optimism about open channels going forward.
"There's never been anything like what's taken place now," the president said. "Billions of dollars were given, and the following day the nuclear program continued... but this is a much different time, and this is a much different president."