Almost 40,000 Verizon workers began an open-ended strike Wednesday morning, after unions representing the workers failed to reach an agreement with Verizon. The strike is the largest work stoppage in America since Verizon workers last walked out in 2011.

The Communications Workers of America and International Brotherhood of Electrical Workers mainly represent workers in the company's fixed-line business, as well as customer service staff. They last went on strike over benefit rollbacks and labor protections, but this time around, they're also taking issue with increased offshoring, office closures, and relocations of staffers.

The strikers in New York City got a visit from a sympathetic presidential candidate on Wednesday morning:
"We do not take strike threats lightly," said Bob Mudge, president of Verizon's wireline network operations, in a statement on Monday. "For more than a year, we've been preparing in the event union leaders order our employees to walk off the job. If a strike takes place, whether it's one day, two weeks or longer, we are ready."

Betsy Derr, who has worked in customer service at Verizon for more than 16 years, told BuzzFeed News the company is planning to close three of the four offices at the hub in Pocono, Pennsylvania, where she works, relocating workers to Scranton, more than 70 miles away. Though they've offered to help offset moving costs, moving is impossible for her, as she would lose custody of her 11- and 15-year-old stepsons, she said.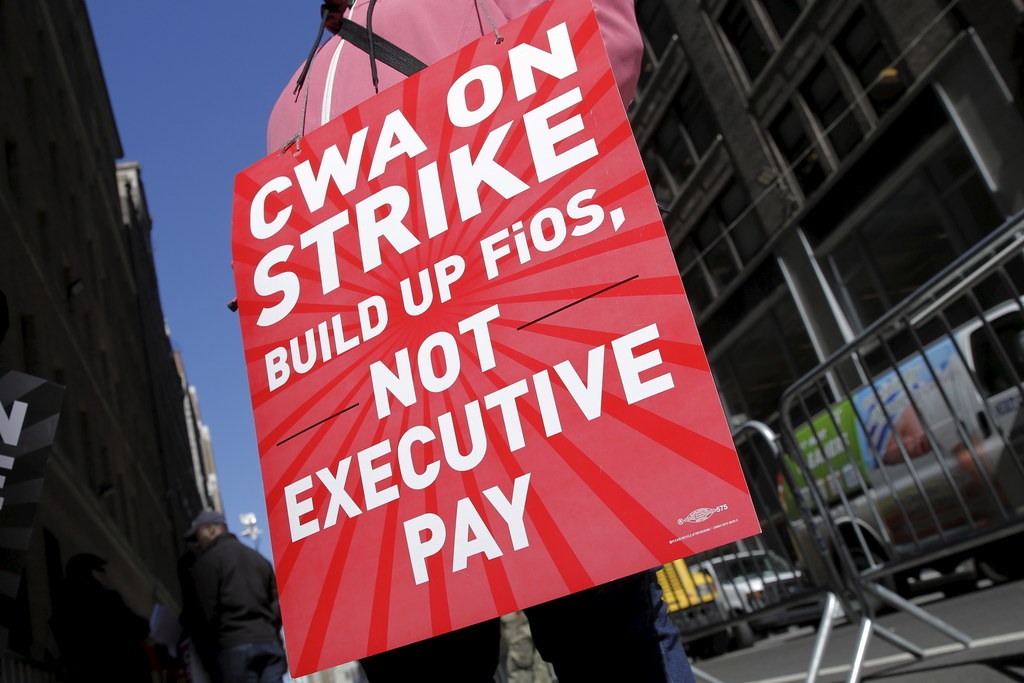 For Verizon, the strike represents another headache from a part of the business that diminished in importance as cellular networks became the core of the company's profit engine. The company said 99% of the employees threatening to strike "support the wireline business, which in 2015, contributed about 29 percent of Verizon's revenue but less than 7 percent of the Company's operating income."
"A strike in this case is not going to change the issues on the table that need to be addressed," Verizon Chief Administrative Officer Marc Reed said in a statement Monday. "Legacy constraints that may have made sense in the Ma Bell era of phone booths and Princess phones don't make sense in today's digital world ... Our goal is to continue providing good jobs with competitive wages and benefits and make the wireline business more successful now and in the future."
Unions say that in addition to the moves and consolidation, Verizon has contracted out work to more than 5,000 employees in the Philippines, Mexico, and the Dominican Republic, as well as requiring technicians to work away from home for as long as two months without seeing their families. The offshore workers handle customer service calls originating in the mid-Atlantic states.

Verizon had been bracing for the action, saying in a statement that it has trained thousands of nonunion employees "to carry out virtually every job function handled by our represented workforce – from making repairs on poles to responding to inquiries in our call centers."
Verizon employs a workforce of 177,700 and generated nearly $132 billion in 2015 revenues. Contract negotiations with retail workers, who formed a union in 2014, are also currently stalled.