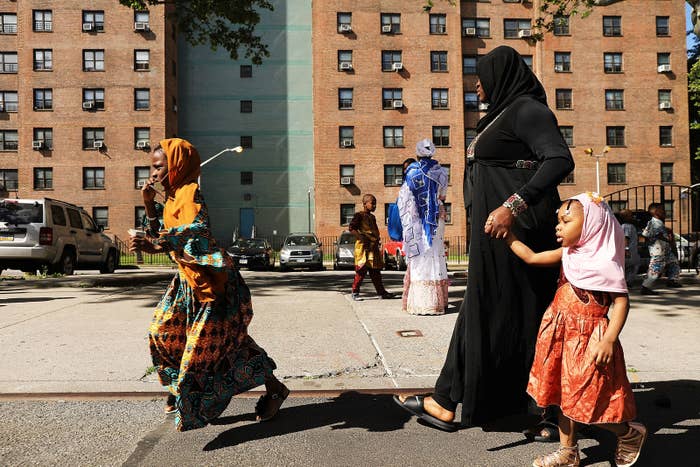 A new study on the experiences of Muslim, Arab, South Asian, Jewish, and Sikh New Yorkers found rampant physical and verbal harassment in the lead-up to and after the 2016 election — including people being shoved on subway platforms and attempts to strip them of religious clothing.
The survey, which will be released by the New York City Commission on Human Rights on Tuesday and was obtained by BuzzFeed News, looked at xenophobia, Islamophobia, and anti-Semitism in New York City.
Some of its findings include:
Over 1 in 10 indicated that they had experienced property damage or vandalism.
Nearly 1 in 7 experienced being unfairly denied services at a business because of race, ethnicity, or religion.
Nearly 1 in 6 experienced some form of racial, religious, or ethnic discrimination-related problem in their employment, either in a current job or while seeking a job.
Nearly 2 in 5 had experienced "verbal harassment, threats or taunting referring to race, ethnicity or religion," with 1 in 4 reporting they had experienced it more than once.
Roughly 1 in 10 had experienced physical assault that they knew or suspected was a "result of race, ethnicity or religion."
When asked about discrimination in public accommodations, survey respondents most frequently identified being followed by a security guard or sales clerk in a store and being purposefully pushed or shoved on a subway platform.
To compile the report, the commission — along with Strength in Numbers Consulting Group — surveyed 3,105 Muslim, Arab, South Asian, Jewish, and Sikh New Yorkers about acts of hate, harassment, and discrimination between July 2016 and late 2017.
The time frame includes the aftermath of a federal travel ban of several Muslim-majority countries and attempts to end Deferred Action for Childhood Arrival (DACA) program for millions of immigrants living in the United States.
A Muslim-American woman who wears a hijab and asked to speak anonymously so as not to draw attention to herself told BuzzFeed News, through a translator, that she was recently shoved on a subway platform at 125th Street while returning from dropping her son off at school.
"There was plenty of room," said the woman, who responded to the survey. "It was not necessary, and no one intervened."
The woman, who has lived in the Parkchester neighborhood of the Bronx for 17 years, a community with many Bengali people, said that she was frightened and alone, and got away quickly, but didn't report the incident, in part because she didn't think anything would come of it.
The woman added that a friend of hers who wears the burqa, the full-body covering worn by some Muslim women, had recently been physically harassed by several men who tugged on it as if trying to remove it, while asking why she was dressed that way.
"Even serious, bias-motivated physical assaults are reported by just over one in four who experienced them," the NYCCHR study notes. "Barriers to reporting include believing no one would take the report seriously (23.5%)."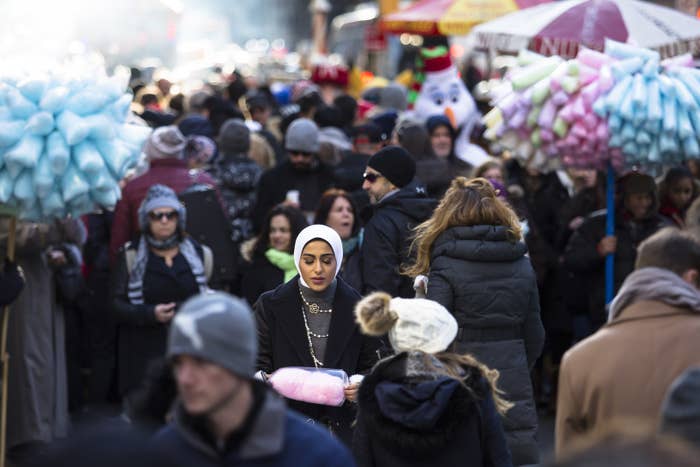 Jasleen Ahuja, a 24-year-old Sikh medical student who took part in the survey, told BuzzFeed News that she was glad that the city was compiling data on the harassment of Sikhs in particular. The community, she said, has experienced harassment since 9/11 and saw an uptick around the 2016 election.

"As Sikhs, we wear a visible external identity as part of our commitment to our faith," she said. "A Sikh man keeps all of his hair, so he will be wearing a turban and has a long beard. As a result of this visible identity, Sikh members are often victims of Islamophobia."
Ahuja said that the survey made her think particularly of the experiences of the men in her family. Her uncle, who wears a turban, had recently applied for a customer service job at a deli, she said, and was told he wouldn't receive the position because of his appearance.
"The person interviewing him straight up told him, 'I can't hire you because of the way you look,'" she said.
Ahuja said her uncle had not reported the incident, not knowing it was illegal or where to file a complaint. Her father, who wears a turban, has also been verbally harassed and called "Bin Laden," she said, both after the Sept. 11 attacks and in recent months. Ahuja added that young Sikhs in her community are often bullied in school for wearing turbans.
"I hope that data compiled by the survey could lead to more resources for 'know your rights' legal trainings and anti-bullying [measures]," she said.
Carmelyn Malalis, chair of the NYCCHR, wrote that the study "gathered data to support conclusions that human rights advocates have surmised, but [which] have been under attack by groups intent on maintaining white supremacy."

For example, she wrote, "black Muslims surveyed as part of this study reported experiences with employment discrimination and physical violence with particularly high frequency."
The report acknowledges that the vast majority of members of the targeted communities in question do not report the incidents, preferring to deal with them privately or to avoid contact with law enforcement.
Of those who experienced physical assault and did not report it, "concern about reprisal or other bad consequences (11.2%)" and "trying to report but not being taken seriously (9.2%)" were two notable obstacles.
In response to the findings, the commission plans to increase outreach through community networks, including faith-based organizations, to encourage reporting. It also plans to partner with groups that already serve Muslim, Arab, South Asian, Jewish, and Sikh New Yorkers, to better provide them with legal, mental health, and other forms of support.
"It is difficult to overstate the challenges facing so many New Yorkers in this current climate," wrote Malalis. "Xenophobic, Islamophobic, racist and anti-Semitic hate groups and individuals have been unabashed in revealing their long-standing patterns of racial oppression and religious discrimination. Xenophobic immigration policies, including discriminatory travel bans threaten local families with roots across the globe."
In addition to the above steps, the commission plans to better investigate the experiences of black New Yorkers, who experience higher rates of physical violence and employment discrimination, and to increase bystander intervention trainings.