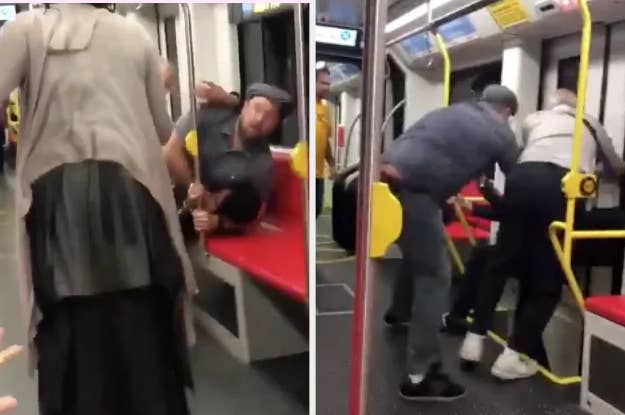 In vicious video footage, two men can be seen shoving a third young man toward the open doors of a Muni train while the young man shouts, "Stop, stop," and desperately holds onto the train's handrails.
In a second video of the same incident, which took place Thursday in San Francisco, one man holds the victim in an aggressive headlock, shouting, while passengers tell the attacker to leave him alone. "He's just a kid," one person can be heard saying.
"That's fine, tell him to stop. I've got no problem," the attacker says while pressing the man against the bench.
The footage, tweeted by independent journalist Anna Sterling, went viral Thursday. Sterling said the men attacked because the younger man was "playing music too loudly."
"He's just a kid. This is not okay," she wrote.
A spokesperson for Muni called the video "very disturbing" and told the San Francisco Chronicle that the transit authority is working with the police to investigate.

Authorities Friday said that both the victim and the other party declined to press charges.
In a statement to BuzzFeed News, police said they received several calls regarding the assault at approximately 8:45 p.m. Thursday, with the incident taking place on a light rail vehicle in the area of Judah Street and 34th Avenue.
"Officers arrived on scene and made contact with two adult male subjects," a spokesperson wrote in an email. "During our investigation, both subjects admitted to being involved in a mutual physical altercation, but neither party chose to press charges. A third male subject seen in the cell phone video was not located and did not provide us a statement."
The police said they have requested surveillance video from the San Francisco MTA, "which may show what occurred prior to the encounter seen in the cell phone videos."