After her daughter complained of being bullied in elementary school, Virginia mother Sarah Sims initially reached out to school administrators, she told CNN.
But after she got no response, she put an audio recorder in her daughter's backpack earlier this month to try to record the altercations herself.
Her daughter, who is in fourth grade at Ocean View Elementary School in Norfolk, Virginia, placed the device in her desk, where it was discovered recording. School officials confiscated it and called the police.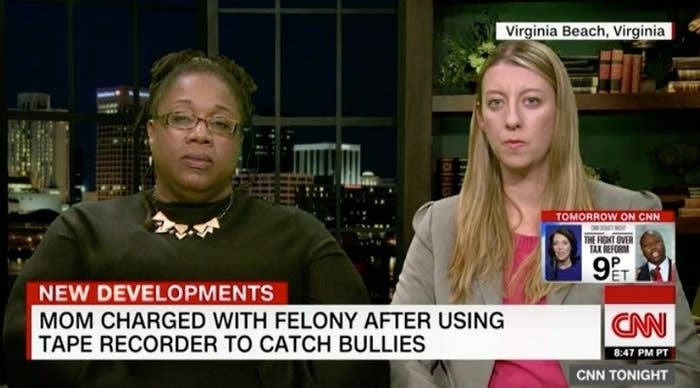 Sims was charged with one felony count for "interception, disclosure, etc., of wire, electronic or oral communications" as well as a misdemeanor count for "contributing to the delinquency of a minor," Virginia police wrote in an email to BuzzFeed News. Police declined to comment further on the case.
Virginia is a one-party consent state, which means it is legal to record others when the person recording is involved in the conversation or when one of the parties in the conversation has given prior consent.
Kristin Paulding, attorney for Sims, said she was "appalled" by the charges.
"I was shocked to see that the school would decide to go to the police department and ultimately charge this mother as opposed to sitting her down and having just a simple conversation about what were her concerns and how could the school alleviate those concerns," she told CNN.
BuzzFeed News has reached out Ocean View Elementary School and Sims, through her attorney. A spokesperson for the school district told CNN the district is "unable to comment on pending legal matters."
Sims told the network her daughter had been kicked and hit with a jump rope on the playground, and the school did not notify her at the time. It's unclear if the device recorded any evidence of bullying.

"She became very anxious about attending," Sims said. "She felt like she wasn't protected."
Sims said she decided to record what went on because she did not "want to just side with my child."
"I wanted to be fair," she said.
Sims's daughter has since been moved to a different class at the same school. A court date is set for Jan. 18.