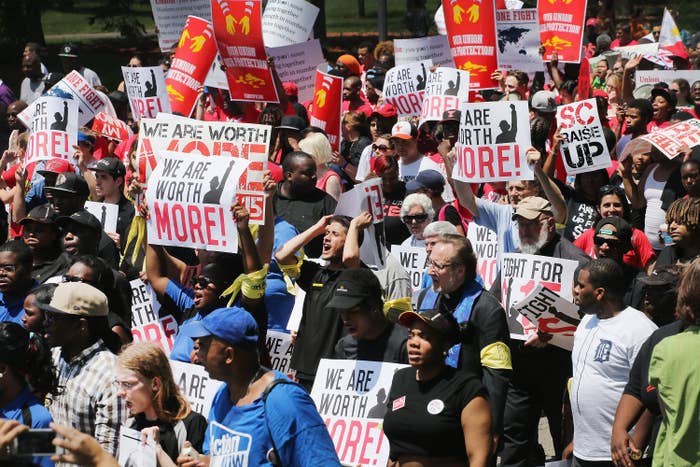 Low-wage workers will strike and protest in Charleston, South Carolina in the lead-up to the Democratic debate there Sunday night, according to the Fight for 15, the union-backed movement to raise the minimum wage.
Hundreds of fast-food, home care, child care and other low-wage employees will converge on the city, according to Fight for 15 Organizing Director Kendall Fells, with more actions targeting both Democrats and Republicans planned for the primary season.
"They're saying, 'Come get my vote,'" Fells told BuzzFeed News by phone from Paris, from a boat tour on the river Seine with a group of fast food workers. The set had just finished visits to a series of European cities, sharing organizing strategies with unions and labor associations. The Fight for 15 worked with Italian consumer groups in filing an antitrust complaint against McDonald's with the European Commission earlier this week.
The European tour is another example of the expanding ambitions of Fight for 15, which is supported financially by the Service Employees International union and other labor groups. It has now helped send workers to Brazil in solidarity with unions there and to the Vatican to meet with Pope Francis. Domestically, it recently sent a delegation of workers to Washington, D.C. to introduce President Obama at a summit on worker voice.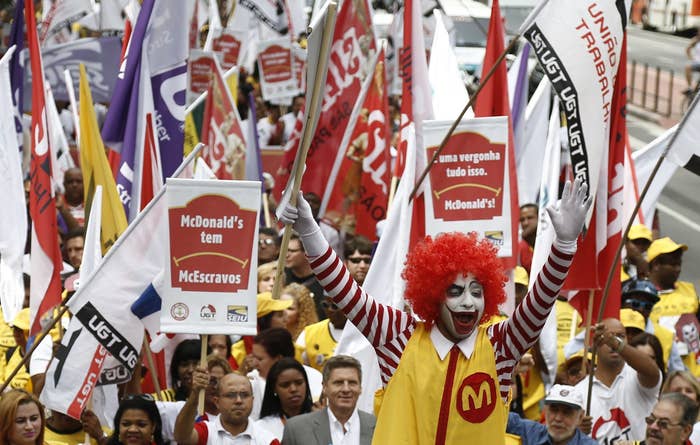 The movement also had a strong presence at New York Governor Andrew Cuomo's State of the State address on Wednesday. Cuomo expressed vigorous support the movement, which Kells pointed out was a change of tune from three years ago.
"When I think back to 2012, when we started in New York, it was hard to tell where Gov. Cuomo stood on this campaign," he said. "Now he's the biggest champion of it." That shift isn't lost on workers, he added.
"They see what has happened in New York with a politician, what happened in L.A., in San Francisco, in Seattle," he said. "They see how politics affects their day-to-day lives and how politicians have the ability to raise wages for low-wage workers. They're saying, 'It doesn't matter if you're a city council member, mayor, governor, or president. Come get our vote. If you support us, we'll support you."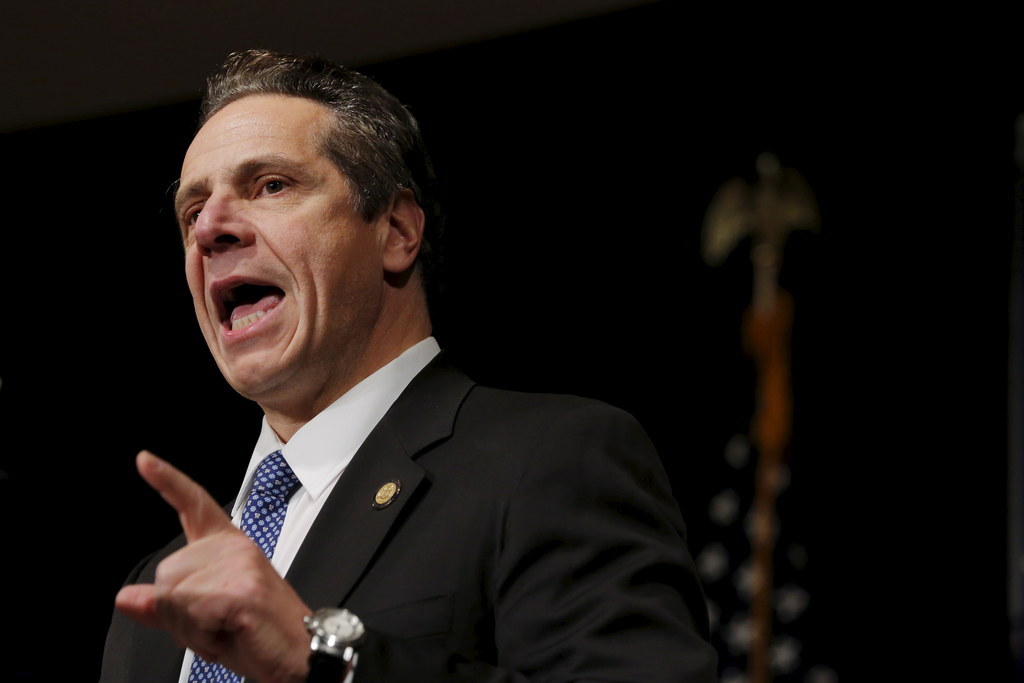 The impending Charleston protests come two months after fast-food workers promised during a nationwide strike to unite behind candidates in 2016 who support $15 an hour and union rights. After an evening demonstration outside the Republican debate in Milwaukee, the first question for candidates that night was about low-wage workers organizing for higher pay.
"We have not seen in South Carolina this kind of direct action," said state Senator Marlon Kempson, of the upcoming strike. "When we removed the confederate flag, there was a lot of organization — but those were a lot of different groups coming together. I have not witnessed an organized strategic strike such as we're seeing [with the Fight for 15]."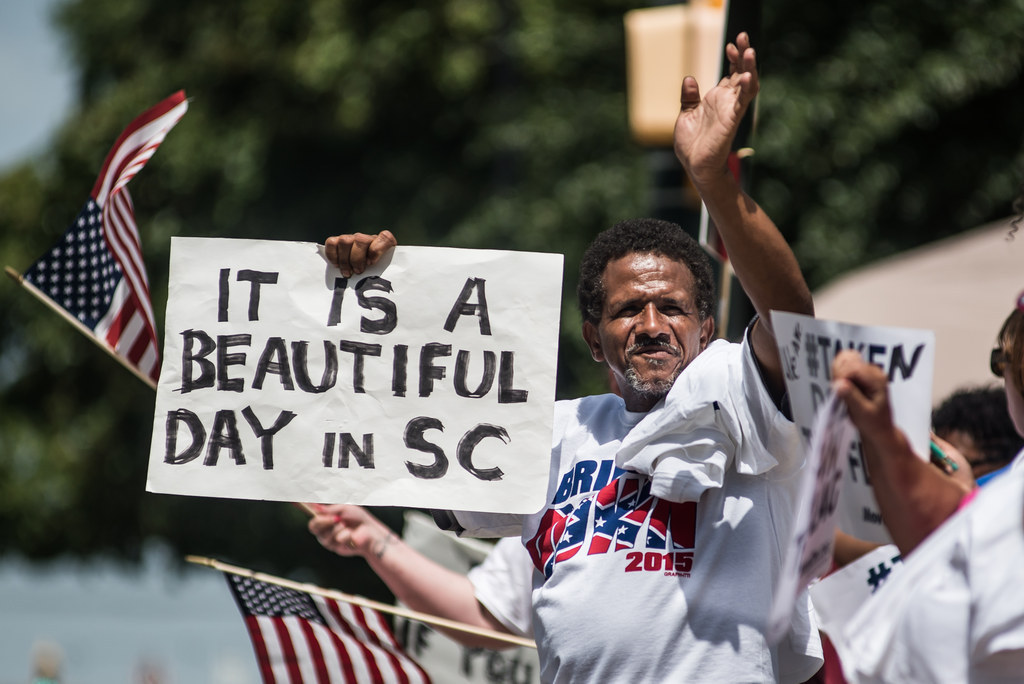 Forty-six percent of workers in America are currently paid less than $15 an hour, and a recent poll commissioned by the National Employment Law Project found that 65% of registered voters in this demographic said they would be more likely to vote if there was a candidate who supported union rights and raising the minimum wage to $15.
Fast-food worker Betsy Smalls, born and raised in South Carolina, will be striking on Sunday along with two others who work at the McDonald's on Montague Street in Charleston. Smalls told BuzzFeed News she has worked in fast food for 25 years and has four grown children — the youngest 25, the oldest 35. She joined up with the Fight for 15 after she saw the protests in the news a few months ago, and she registered to vote for the first time this year.
"The struggle is real," Smalls said. "The movement, they care."
Smalls clarified that she would not yet be supporting a particular candidate — the same stance taken by Fight for 15 itself, even as its union backer has endorsed Hillary Clinton.
"It's a movement," she said. "I support the movement."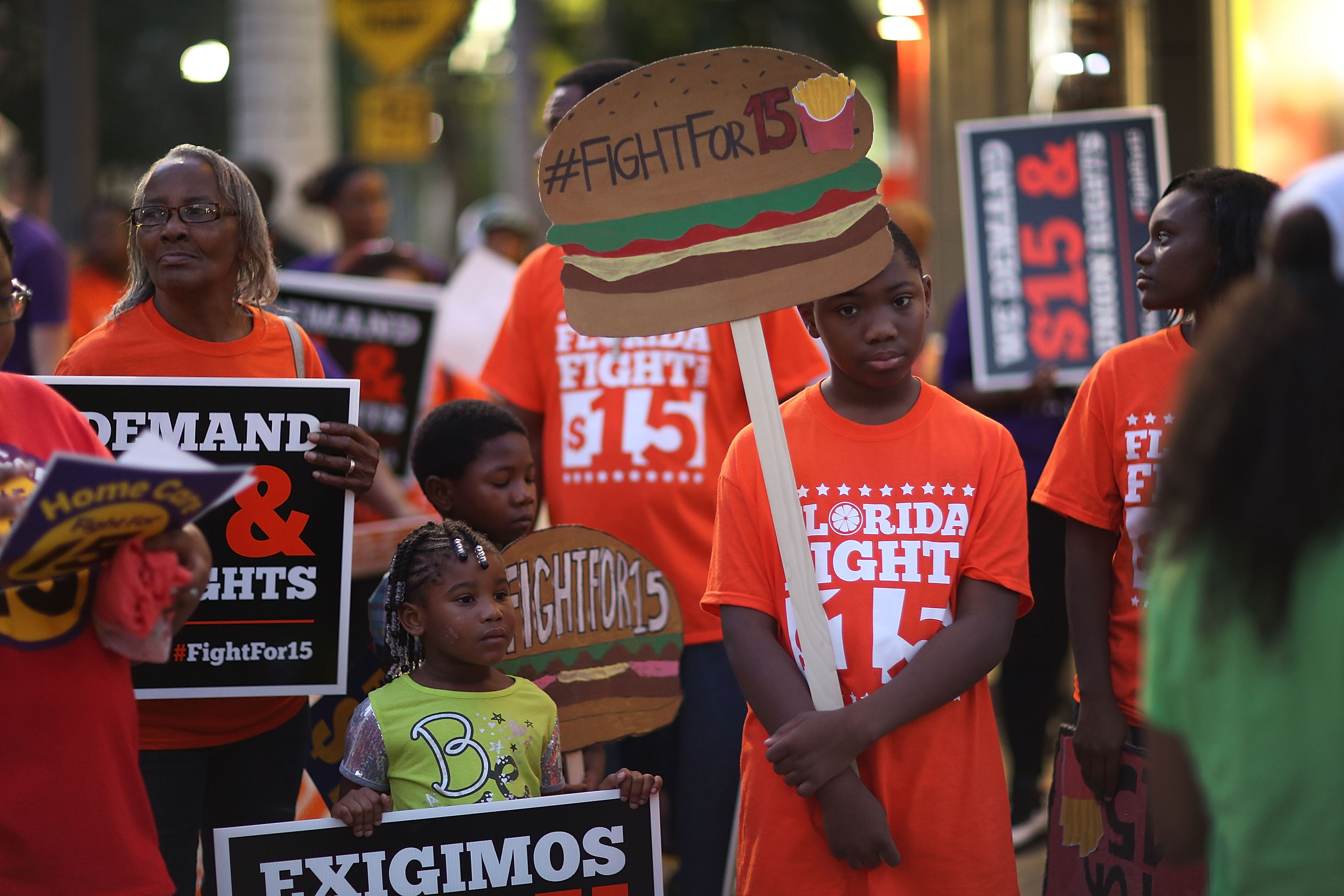 In addition to protests and marches on Sunday, workers will be collecting signatures for their agreed upon Fight for $15 voter agenda, and the Reverend William Barber II, founder of the Moral Monday movement, will be preaching and speaking in support. The weekend also marks anniversary of the birth of Dr. Martin Luther King, Jr.

"On this, the anniversary of the birth of Dr. King, we have to remember the last fight he was fighting was the poor person's fight," said Rev. Barber by phone from Charleston. "He was killed standing with sanitation workers who were making [what was then] less than $15 and who did not have union rights. To stand with the Fight for 15 is not only to celebrate his legacy but to re-commit to his legacy."