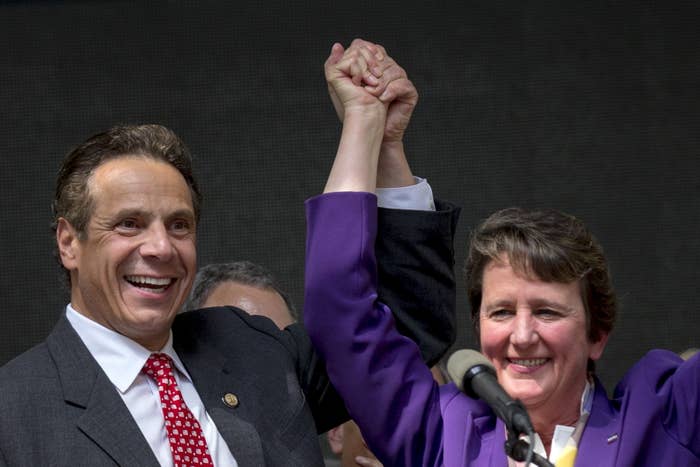 The minimum wage in New York City will rise to $15 an hour by the end of 2018, New York State Governor Andrew Cuomo announced Thursday. The rise, agreed as part of a new budget deal, will also boost wages across the state.
With the agreement, New York becomes the second state to phase in a $15 minimum wage, which has been the central demand of the national Fight for 15 campaign, backed by the Service Employees International Union, since 2012. Just hours before the New York announcement, California lawmakers approved a similar proposal to raise their state-wide minimum to $15 by 2022.
Once phased in, nearly one in three working New Yorkers – nearly 3 million total – would receive raises of more than $4,000 per year, according to Christine Owens, executive director of the National Employment Law Project, a labor law advocacy group.
"For a home health aide or a waitress who struggles to get by on $15,000 per year, that's the difference between near poverty and a life with less stress and more dignity," Owens said in a statement.
With the New York deal, which must still be approved, the state minimum wage will rise from its current $9 floor to $15 over three years in New York City, beginning at the end of 2016. City businesses with up to 10 employees will have an additional year to raise their wages.

Long Island and Westchester County will have six years to reach $15, while the rest of the state will see an increase to $12.50 by 2021, followed by a review of possible further increases to $15.
Gov. Cuomo called the tiered increase "responsible and good for the overall economy."

California Governor Jerry Brown reserved the right to delay or halt increases in the case of an economic downturn, and Gov. Cuomo has the same provision, from 2019 onwards.
According to numbers from the left-leaning Economic Policy Institute, the average worker who will see a raise under the new budget is a woman over 25 years old who works full-time and typically provides half her household's income.
The New York budget deal also earmarks $1 billion for infrastructure spending and includes 12 weeks of paid family leave.