In 97 degree heat, thousands of low-wage workers marched in Richmond, Virginia this weekend to begin the next phase of the Fight for 15 movement — one that will concentrate on raising the minimum wage in the South.
"Eyes on '16, we want $15," and "Put some respect on my check," chanted a group of cooks and cashiers from Memphis, Tennessee and elsewhere across the country, before the group took a vote on their next strategic moves.

In a written "Richmond Resolution" (embedded below), the movement pledged to "support legislative action to raise minimum wage floors across cities and states that were once part of the Confederacy" and to "challenge wealthy and powerful political interests that claim to care for ordinary families but nullify any attempt to raise our wages."
This second commitment was a reference to so-called "preemption laws" in places such as Alabama and Missouri, where state legislators have cancelled out minimum wage raises approved by local authorities in majority-black cities like Birmingham, Kansas City, and St. Louis.
In June, workers in Alabama filed a federal civil rights suit to try to overturn the state's preemption of a local raise approved by Birmingham's predominantly black city council. Mary Kay Henry, President of the more than 2-million-member Service Employees International Union, which financially backs the Fight for 15, told BuzzFeed News that more suits like this one could be part of the movement going forward.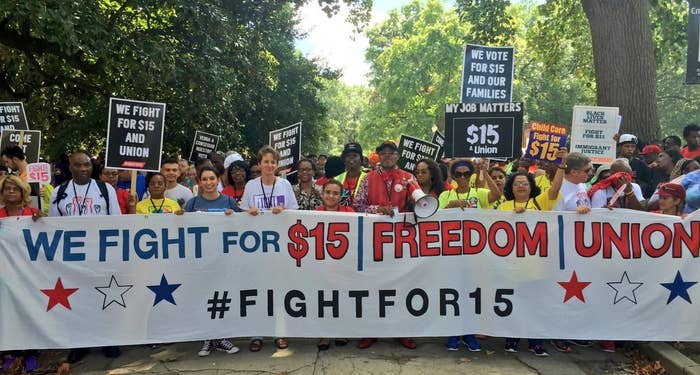 Fast-food workers have previously held conventions in Chicago and Detroit to plan their next moves, but this weekend's meeting in Richmond marked the expansion of the nearly four-year-old movement to all low-wage sectors of the economy.
Home care and child care workers, retail and airport workers joined fast-food workers in the city, which was chosen for its status as the "former capital of the Confederacy." Adjunct faculty members also marched, as part of the "Fight for $15,000" and union rights in higher education.

Reverend Dr. William J. Barber II, a leader of the Moral Monday movement and North Carolina NAACP, gave a speech comparing the Fight for 15 to the civil rights movement and connecting the need for a living wage to the need for voting rights, criminal justice reform and healthcare reform in the South.
As part of the Richmond Resolution, workers also planned a day of action for September 12th and protests timed to coincide with the Presidential and Vice Presidential debates on November 8th. The movement last struck on April 14th in more than 300 cities.
Read the full text of the Richmond Resolution below: