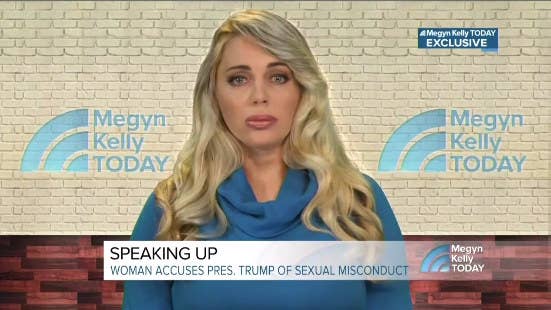 Melinda McGillivray, who has accused President Trump of sexual misconduct, spoke Tuesday for the first time on television about her accusations.
McGillivray told Megyn Kelly Today that in 2003 she attended a concert at Mar-a-Lago in Florida. Afterwards, she went backstage and with her friend Ken Davioff, where they met Regis Philbin, his wife, Donald Trump, and Melania Trump — and where Donald Trump grabbed her behind. She was 23 at the time.
"The next thing you know, I feel a grab," she said. "So, I quickly turn to look at what this is. I initially think this is Ken's camera bag. But to my surprise, it's Donald. He's standing a foot and a half away from me, so his hand had to reach out and touch me."
McGillivray said she was stunned and speechless and that Trump didn't acknowledge the groping, but she could "see it in his face, the look of guilt."
"It made me feel like I was small and inferior. I was objectified," she said. "I was sick to my stomach."

At the time, McGillivray said she told her friend what had happened — that "Donald just grabbed my caboose" — and he said, "What do you want to do about it?"
He added, "This is not the right time."
A few years earlier, in 2001, McGillivray also encountered Trump at a Huey Lewis and the News concert, she told Kelly, where he flirted with her.

McGillivray called for an investigation by the Office of Congressional Ethics. "If 16 women have come forward, why hasn't anything been done?" she asked. "Where is our investigation?"

"I think that we've got to have higher standards in this country, and we need to hold these people very accountable," she added. "He has to face the music. He can't get away with this."

The White House and Trump have dismissed allegations of harassment and assault as politically motivated and lies. Asked to respond, McGillivray said that she is not a political person, but that she has "been more political this year than any other time in my life."
McGillivray said she is not a Republican or Democrat but an independent. "I watch as much news as I can," she said. "I watch both sides."
Responding to Trump's tweets Tuesday morning, stating he did not know or had never met the women accusing him of harassment, McGillivray said, "I'm not a liar... It's time the nation wakes up to the reality we're facing."
"I was scared, intimidated, and afraid in that moment," she said, of the incident in 2003. "I want to teach my daughter, I don't care who this man is, you're going to stop it right then and there."
On Monday, three of the other 16 women who have accused Trump of harassment spoke to NBC News for the first time together about their experiences.