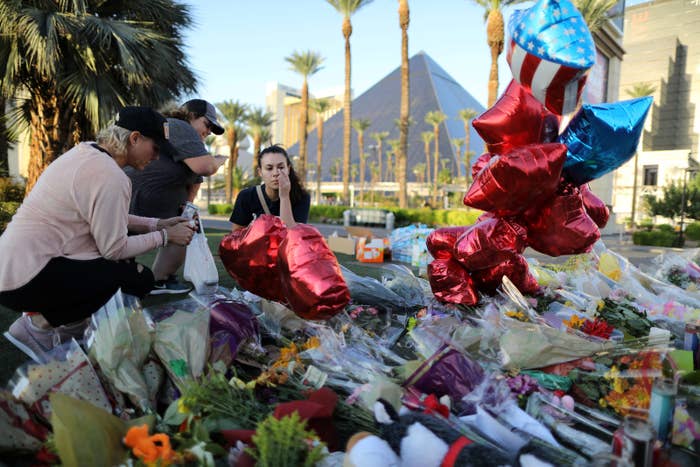 MGM Resorts International has filed two federal complaints against more than 1,000 victims of the Las Vegas mass shooting that took place last fall at the Mandalay Bay Resort and Casino, arguing it is not liable for damages.
MGM Resorts owns both Mandalay Bay and the Route 91 Harvest festival venue, where 58 people were killed and hundreds were injured in October 2017 when a man opened fire on a crowd of country music fans.
The complaints, filed Friday in Nevada and California, argue that MGM Resorts cannot be held liable for "deaths, injuries or other damages" and that claims filed by victims should be dismissed, because the company employed the services of a security vendor certified by the Department of Homeland Security for "protecting against and responding to acts of mass injury and destruction."
The argument rests on a 2002 federal act that extends liability protection to companies that use "anti-terrorism" technology or pay for services to "help prevent and respond to mass violence." According to the complaints, the contract with the certified vendor protects against liability under the act, regardless of the efficacy of the vendor.
MGM Resorts is asking that a judge dismiss future civil lawsuits against them based on its hiring of Contemporary Services, a certified vendor.
Debra DeShong, a spokesperson for the resort company, said in a statement to the Las Vegas Review-Journal that "years of drawn out litigation and hearings are not in the best interest of victims, the community and those still healing."
DeShong said that federal court "provides those affected with the opportunity for a timely resolution."
Las Vegas attorney Robert Eglet, who has represented some of the shooting victims, called the 2002 act "obscure" and argued that lawsuits belong in state court in Nevada, rather than in California.
Eglet told the Journal the company was blatantly "judge shopping."
"I've never seen a more outrageous thing, where they sue the victims in an effort to find a judge they like," he said. "It's just really sad that they would stoop to this level."
The 2002 act cited in the lawsuits was passed in response to the Sept. 11, 2001, attacks and defines terrorism as any unlawful act inside the US that causes "mass destruction, injury or other loss." That definition falls short of the FBI's, which includes an extreme ideological motivation. The motive for the Las Vegas shooter remains unknown.
BuzzFeed News has reached out to MGM International Resorts and Eglet for comment.