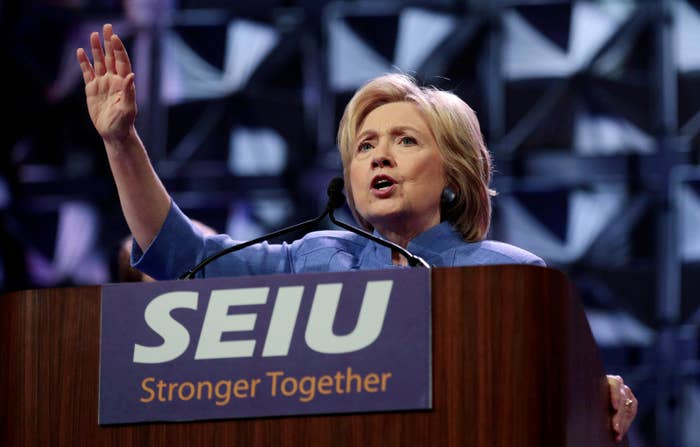 The powerhouse union that played a pivotal role in the election of Barack Obama — and in the creation of the healthcare law he went on to sign — is working just as hard to put Hillary Clinton in the White House. And it has equally high expectations for what its two million members will get in return this time around.
The Service Employees International Union wants healthcare jobs to become a foundation of the American middle class, just as manufacturing was a generation ago. And its main policy ask for the first 100 days of a Clinton presidency will be an ambitious jobs bill that invests in healthcare's "human infrastructure," SEIU President Mary Kay Henry told BuzzFeed News.
Clinton has pledged that her presidency will begin with "the boldest investments in American infrastructure since Eisenhower built the interstate highway system," and Henry's union wants its definition of infrastructure to include some of the country's fastest-growing categories of work.
"We want infrastructure to be be roads, bridges, and highways, we're for that, but we also want it to be child care and home care workers, which are the vast majority of jobs that are growing in the United States," said Henry. "We want to expand how the nation thinks about infrastructure."
The number of home care workers increased from 700,000 to more than 2 million in the last ten years, according to a recent analysis from the independent Paraprofessional Healthcare Institute. It projects the profession will add more than 600,000 new jobs in the next decade, but wages remain low and working conditions dangerous. According to the Bureau of Labor Statistics, the median pay for a home health aide in 2015 was $21,920 per year, or $10.54 per hour.
A jobs package that invested in home care workers could include a tax credit to help families offset costs of caregiving for elderly family members, or financing public programs so that more families can have access to affordable childcare, according to Sahar Wali, National Communications Director for the union.

Raising the minimum wage nationwide has become a signature issue for the SEIU, which financed the Fight for 15 movement to agitate for wage hikes both locally and nationally. A number of cities and states have since raised their minimum wages, and the issue has been taken up by Clinton, who has supported a $12/hr national minimum.
Henry said that the union, which represents a million healthcare workers, half of them home care workers, "can be proud that we can take minimum wage, non-benefitted jobs and made them better jobs, but we haven't fundamentally changed that they were excluded from most labor law."
Home care, child care, and domestic work, predominantly female professions, have historically lacked the same labor protections granted to workers in other industries.
The SEIU's focus on improving the quality of home care jobs is good news for the many other advocacy groups that are looking to improve wages and working conditions in the industry. Last week, Care.com, a platform that matches care workers with employers, launched an index documenting the cost, quality, and availability of child care across the country, in partnership with non-partisan New America think tank. Worker advocacy group Caring Across Generations participated in the launch event.
"The work we do to care for our families makes all other work possible," said Ai-Jen Poo, co-director of Caring Across Generations, in a statement. "Investing in infrastructure that allows working families access to 21st-century quality care would carry a significant price tag, but would also be a down payment on a better future with greater efficiencies and savings down the road."
Henry said the SEIU, whose membership is two-thirds black and Hispanic, will also work in the coming years to become a "21st century union with an anti-racist agenda, addressing the deep racial structures that exclude people of color in the economy and society."
"Simply putting more working people in unions, if we don't address racial exclusion, isn't going to fundamentally change the future for all of our families," she said.