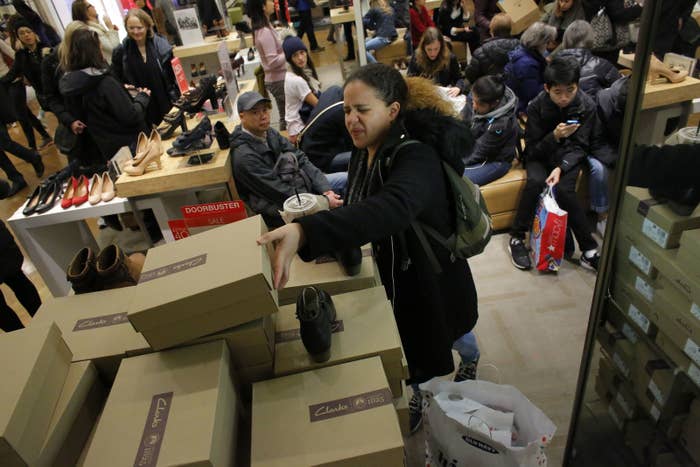 America's largest department store chain will close 68 stores and cut more than 10,000 jobs as part of a plan to slash costs by more than half a billion dollars this year.
The company estimates that 3,900 workers will be displaced as a result of the store shutterings, which are part of the 100 planned store closures announced in April 2016. Another 6,200 jobs across the company will be eliminated as part of efforts to streamline operations and cut costs.

Macy's estimates the changes will generate savings of approximately $550 million, beginning in 2017. In a statement announcing the cuts, the company said it plans to invest $250 million in "growing the digital business, store-related growth strategies" as well as new in-store concepts like Bluemercury, the chain's makeup line, the cut-price Macy's Backstage chain, and expansion in China.

The retailer had a disappointing holiday sales season, with luxury goods like watches and hand-bags moving more slowly than anticipated, and reduced shopping at brick and mortar locations.
"We continue to experience declining traffic in our stores where the majority of our business is still transacted," said Chief Executive Officer Terry Lundgren in a statement, adding that the company's strategies "continue to evolve based on the changes in our customers' shopping behaviors, including a focus on buy online, pickup in store and mobile-enabled shopping."

In June, Macy's narrowly avoided a strike by 5,000 workers at their flagship store in New York over pay and healthcare benefits.
Here's the stores being closed in 2017:
Greenwood, Bowling Green, KY
Carolina Place, Pineville, NC
Douglaston, Douglaston, NY
Downtown Portland, Portland, OR
Lancaster Mall, Salem, OR
Oakwood Mall, Eau Claire, WI
Mission Valley Apparel, San Diego, CA
Paseo Nuevo, Santa Barbara, CA
Lakeland Square, Lakeland, FL
Oviedo Marketplace, Oviedo, FL
Sarasota Square, Sarasota, FL
University Square, Tampa, FL
CityPlace, West Palm Beach, FL
Georgia Square, Athens, GA
Nampa Gateway Center, Nampa, ID
Alton Square, Alton, IL
Stratford Square, Bloomingdale, IL
Eastland, Bloomington, IL
Jefferson, Louisville, KY
Esplanade, Kenner, LA
Bangor, Bangor, ME
Westgate, Brockton, MA
Silver City Galleria, Taunton, MA
Lakeview Square Mall, Battle Creek, MI
Eastland Center, Harper Woods, MI
Lansing, Lansing, MI
Westland, Westland, MI
Minneapolis Downtown, Minneapolis, MN
Northgate, Durham, NC
Columbia, Grand Forks, ND
Moorestown, Moorestown, NJ
Voorhees Town Center, Voorhees, NJ
Preakness, Wayne, NJ
Cottonwood, Albuquerque, NM
Las Vegas Boulevard, Las Vegas, NV
Great Northern, Clay, NY
Oakdale Mall, Johnson City, NY
The Marketplace, Rochester, NY
Eastland, Columbus, OH
Sandusky, Sandusky, OH
Fort Steuben, Steubenville, OH
Promenade, Tulsa, OK
Neshaminy, Bensalem, PA
Shenango Valley, Hermitage, PA
Beaver Valley, Monaca, PA
Lycoming, Muncy, PA
Plymouth Meeting, Plymouth Meeting, PA
Washington Crown Center, Washington, PA
Parkdale, Beaumont, TX
Southwest Center, Dallas, TX
Sunland Park, El Paso, TX
Greenspoint, Houston, TX
West Oaks Mall, Houston, TX
Pasadena Town Square, Pasadena, TX
Collin Creek, Plano, TX
Broadway Square, Tyler, TX
Layton Hills, Layton, UT
Cottonwood, Salt Lake City, UT
Landmark, Alexandria, VA
River Ridge, Lynchburg, VA
Everett, Everett, WA
Three Rivers, Kelso, WA
Valley View, La Crosse, WI
Simi Valley Town Center, Simi Valley, CA
Mall at Tuttle Crossing (furniture/home/kids/men's), Dublin, OH