Leigh Corfman was 14 years old when Alabama Republican Senate candidate Judge Roy Moore tried to "seduce" her in his home, she said in her first television interview since the allegations came to light.
Corfman, in an interview with the Today show on Monday, described in detail her interactions with Moore in 1979 when he was an assistant district attorney — including how Moore spread blankets down on his living room floor, undressed her, touched her, and asked her to touch him.
"I was a 14-year-old child trying to play in an adult's world, and he was 32 years old," Corfman said.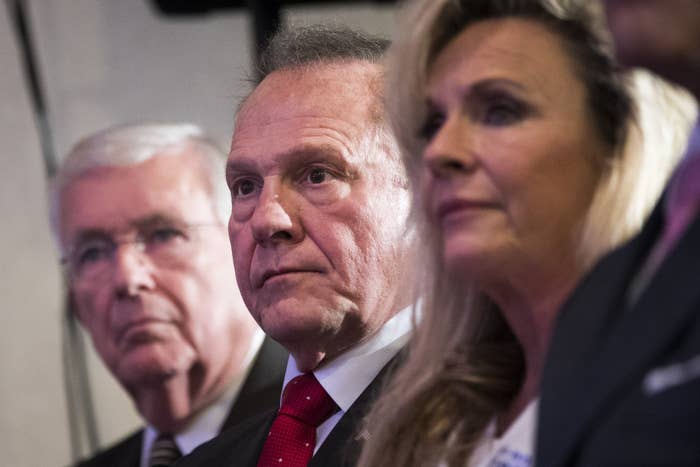 Corfman, one of nine women to come forward with allegations of sexual misconduct against Moore, originally spoke with the Washington Post when reporters approached her after catching wind of her story, she said.
She said she told the reporters, "if they found additional people, that I would tell my story. And they found those people."
More than a dozen prominent Republicans, including Senate Majority Leader Mitch McConnell, have called for Moore to withdraw from the race in light of the mounting allegations and canceled their financial agreements with his campaign. Attorney General Jeff Sessions has said he has "no reason to doubt these young women."

According to Corfman, Moore originally approached her when she was with her mother at the courthouse and asked for her phone number, then took her to his home without her mother's knowledge on more than one occasion.
"I wouldn't exactly call it a date. I would say it was a meet," Corfman said. "At 14, I was not dating. At 14, I was not able to make those kinds of choices."
The second time Moore took her to his home, he "basically laid out some blankets on the floor of his living room and proceeded to 'seduce' me, I guess you would say," she said in the interview Monday.
"And during the course of that, he removed my clothing. He left the room and came back in wearing his white underwear. He touched me over my clothing, what was left of it. And he tried to get me to touch him, as well. And at that point, I pulled back and said I was not comfortable, and I got dressed, and he took me home," she said.
"Roy Moore denies these allegations and, further, says he does not even know you," the Today show's Savannah Guthrie said.

"I wonder how many mes he doesn't know," Corfman replied.
At the time, Corfman said, she had been reading "Harlequin romances" and "expecting candlelight and roses."
"What I got was very different," she said.
She added that she hadn't realized she was being molested at the time, because that kind of sexual misconduct "wasn't part of [her] vocabulary."
In recent days, Kayla Moore, Roy Moore's wife, has posted misleading articles about her husband's accusers to her Facebook page and stated, without evidence, that the women have been paid to come forward and speak to media.
Corfman said she has not been paid for her story.

"Absolutely not," Corfman said. "If anything, this has cost me. I've had to take leave from my job, I have no tickets to Tahiti, and my bank account has not flourished — if anything it's gone down, because currently I'm not working."