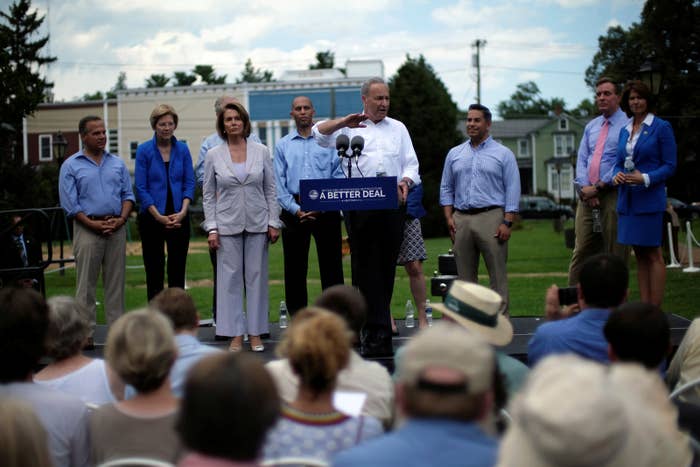 Democratic congressional leadership unveiled a new messaging strategy this month, dubbed "A Better Deal," built around an economic agenda intended to win back voters who spurned them last year for Donald Trump. But some labor activists, including those already frustrated with the party establishment in the aftermath of 2016's grueling primary, are not buying everything the party is selling.
Our Revolution, the organization spun out of Sen. Bernie Sanders' presidential bid, and other left-leaning groups argue the Better Deal could be even better, by including support for Medicare for all, free tuition for all, immigration reform, investments in jobs like care work, and an emphasis on strengthening union rights.
Xochitl Hinojosa, a spokesperson for the Democratic National Committee, said that these policies are, for the most part, included in the DNC's 2016 platform and that the new messaging is focused on a legislative agenda in Congress, led by Senate Minority Leader Chuck Schumer and House Minority Leader Nancy Pelosi.
But progressive activists like Our Revolution president Nina Turner, who rallied against the new messaging outside DNC headquarters last week, are pleading with Democratic leadership to make more aggressively progressive policy arguments ahead of the next election cycle.
"All we're trying to do is to put the Democratic party on notice," Turner said to a crowd of supporters last Tuesday as she tried to deliver an alternative platform considerably to the left of what Schumer and other Democrats had announced that day.
Senior DNC leaders met with Turner and other protesters outside headquarters, Hinojosa said, with donuts and water, in an attempt to extend an olive branch and express "gratitude" for their "work to bring about progressive change." In the end, Turner and the advocates left behind 115,000 signatures from petitioners in support of their own platform in filing boxes.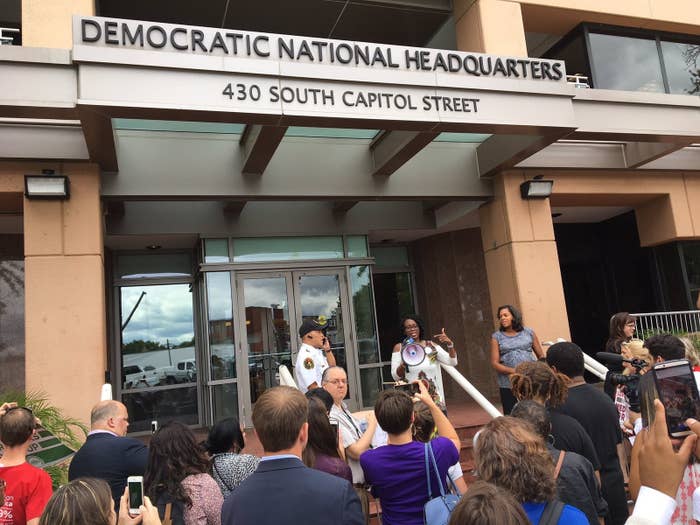 The new Democratic messaging appears designed to win some of these exact progressives over. The agenda includes proposals more left-leaning than those Hillary Clinton rolled out during her campaign, a seemingly overt attempt to appeal to the populist supporters of Sanders and Trump.
The Better Deal plan calls for a $15 national minimum wage, a $1 trillion infrastructure plan to create jobs, and 12 weeks of paid family and sick leave. It pushes against prescription drug price-gouging, backs regulation to prevent large-scale mergers, and proposes tax breaks for employers to train employees.
A spokesperson from Schumer's office said the plan's authors wanted to "focus out of the gate on going after big corporations and other special interests that had rigged the system against workers, and anti-trust and prescription drugs fit the bill perfectly."
He said more policy would be rolled out this week and throughout the fall, including bills related to college tuition, child care, and union rights, but that the decision had been made to initially focus on "pocketbook economic issues."
The messaging plan has some similarities to a platform crafted by unions and groups who had supported Sanders for president. That plan, named the "People's Platform" by its creators, also calls for a $15 minimum wage and robust paid leave, but it cuts much further to the left from there, proposing free tuition for all, Medicare for all, automatic voter registration and an end to private prisons.
As a statement of purpose, it's more of a radical expression of possibility than pragmatic messaging tied to the election cycle, which its authors say is by design.
"To inspire Americans to vote and work for political change, we need to go much further [than the Better Deal]," said Our Revolution director Larry Cohen, former president of the 700,000-member Communications Workers of America union, which backed Sanders in 2016 and only endorsed Clinton after she officially secured the Democratic nomination at the party convention. "We need to support Medicare for all and real change on health care. We need to talk more clearly about decent jobs and no college tuition for high school students who are graduating."
Democrats looking to win and maintain seats in Congress next year in areas where Trump performed well in 2016 don't all think they can afford to pitch a national strategy that far to the left. Some are already shying away from the new messaging, Politico reports.
Cohen told BuzzFeed News that Our Revolution, which draws on the Sanders campaign-era email donor list, was not focusing on the 2018 midterm congressional elections so much as on candidates "from school board to state house" who support the platform.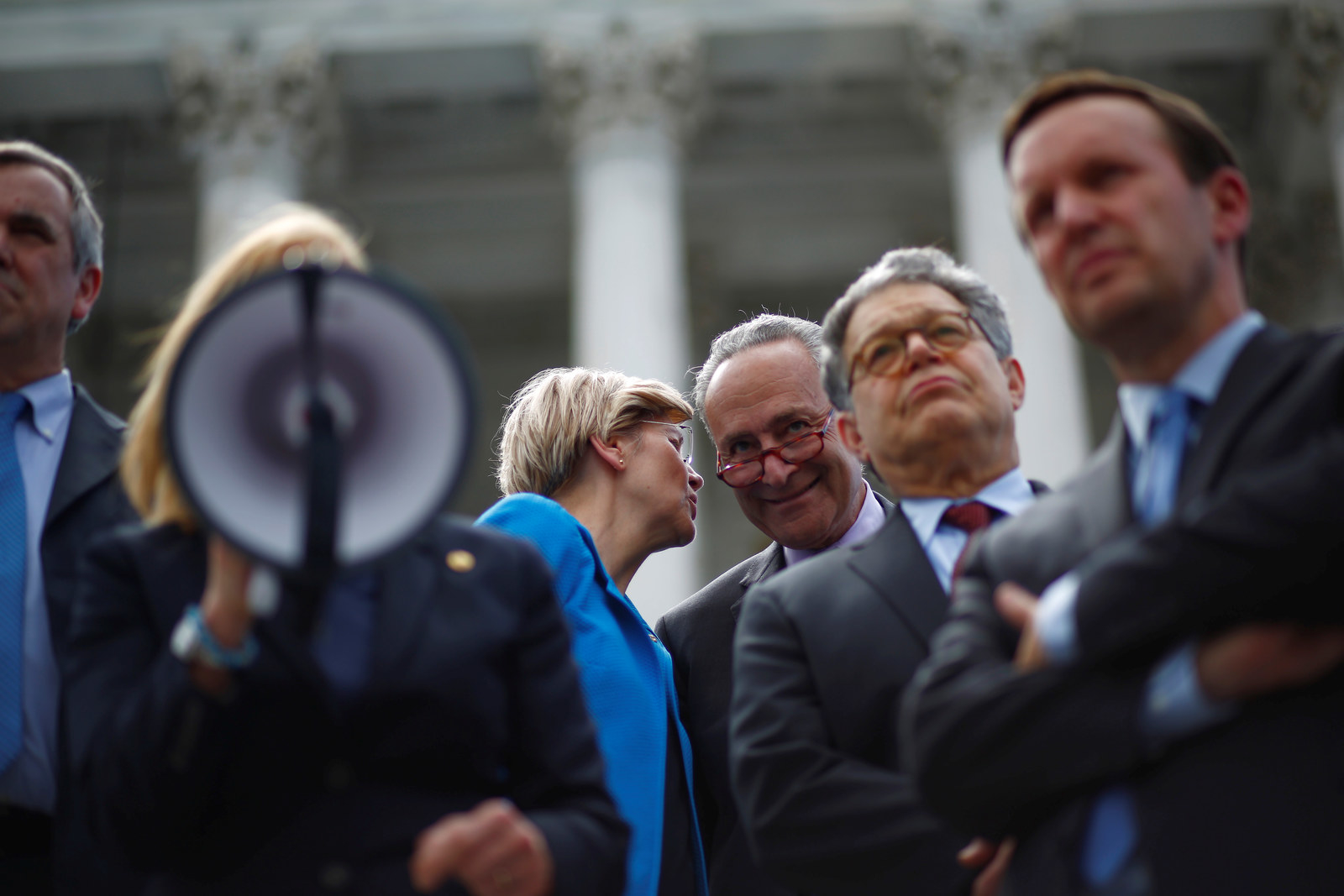 RoseAnn DeMoro, president of the 150,000-member National Nurses United union, who also attended the DNC protest Tuesday, believes the Democratic Party has not done enough for its base and that the new messaging strategy doesn't fundamentally change that.
"The Democratic Party can't square the circle between their corporate funders and a base who is demanding systemic social and economic society–based changes that are non-market-based," she told BuzzFeed News. DeMoro and NNU stood apart from other labor groups in 2016 by withholding their support of Clinton even after she won the Democratic presidential nomination, choosing to stay sided with Sanders.
Both DeMoro and Cohen specifically called out the new Democratic messaging for not including a free college tuition proposal. "'Affordable' college isn't sufficient," Cohen said.
The Democrats' new messaging plan has seen some praise from the left, though, even if it's not all extremely enthusiastic.
The 1.6-million-member American Federation of Teachers and other unions that typically support Democrats have thrown their weight solidly behind the new message. AFT president Randi Weingarten said it shows Democrats "have returned to their populist and Roosevelt roots."
Speaking by phone last week, Stuart Appelbaum, president of the 100,000-member Retail Wholesale and Department Store Union, said the message shows "the party is moving in the right direction."
"People in this country don't just want to hear what is wrong with Donald Trump," he said. "I think this was an important first step."
The Restaurant Opportunities Center, a worker center active in the restaurant industry, also called the new messaging plan "a step in the right direction," as did the National Domestic Workers Alliance, which represents housekeepers and campaigns for care workers. But both groups pointed to ways they think it could be strengthened.
Restaurant workers, who rely on tips to make a living wage, are pushing for the inclusion of the elimination of the tipped subminimum wage in any trumpeting of new priorities — something Clinton supported last year and that made it into the DNC's 2016 platform. Ai-jen Poo, director of the NDWA, said the organization was "encouraged" by the party's support for paid leave, but hopes to see "major investments" in the care economy included in the agenda going forward.
"Jobs that involve caring for our children and our aging relatives will be a large share of the jobs of the future, but they are largely poverty-wage jobs," she said. "It is critical that they become good jobs that provide real economic security."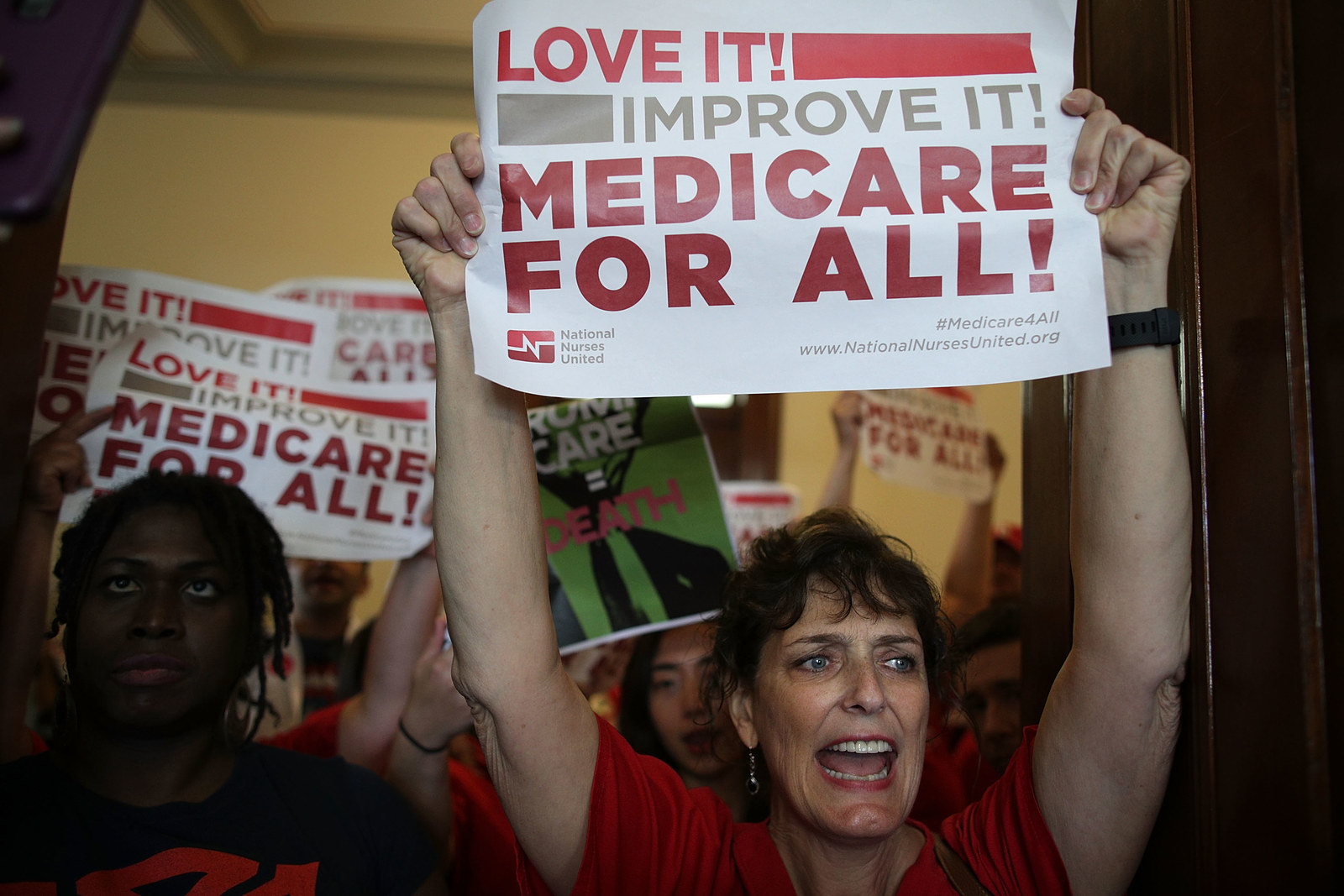 Cohen and DeMoro, as well as other labor leaders who talked to BuzzFeed News, had another gripe with the initial announcement of the Democrats' economic messaging: neither unions nor collective bargaining were mentioned once.
The omission was glaring for those who have long made up a major plank of support for the party — in both votes and campaign dollars.
"We need to talk about unions and collective bargaining as a key way to raise wages, not just raising the minimum wage," said Cohen.
Some in the labor movement hope Democrats seek guidance from across the Atlantic as they roll out more proposals. Appelbaum said the DNC should "take inspiration from what happened in Great Britain," referring to Labour leader Jeremy Corbyn's surprise success this year with a populist manifesto.
That agenda, well to the left of what Schumer and other Democrats put forward last week, called for free tuition and access to affordable health care for all. Labour supporters and others have given some credit to the plan for the party's unexpected performance in this year's elections; while Labour did not win a majority, it did gain seats for the first time since 1997. (United Kingdom Prime Minister Theresa May also made plenty of strategic errors that contributed to her party's parliamentary losses.)
"[May] called the election there because she thought she was going to win the largest majority that the Tories could possibly achieve, because everyone knew that Jeremy Corbyn had spoken out forcefully on his agenda on issues," Appelbaum said. "And when the results came in, to everyone's surprise, Corbyn — the Labour party — had achieved the largest share of the vote [in decades]."
"So I think what that says to us," he said, "is when you have a strong progressive agenda, it resonates with people, and it motivates them to come out and vote."