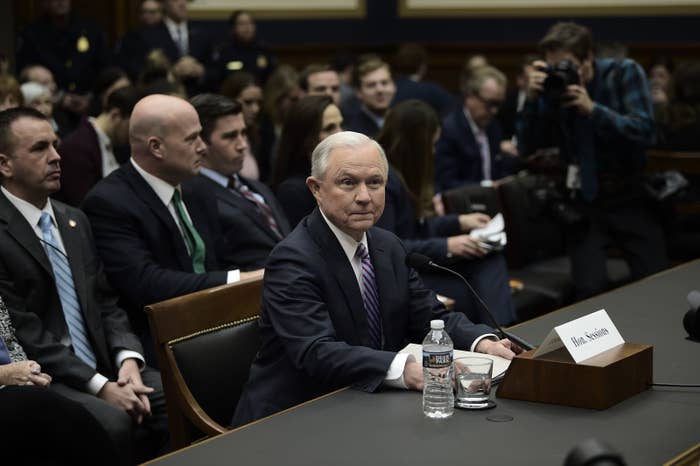 Testifying before the House Judiciary Committee Tuesday morning, Attorney General Jeff Sessions said he told George Papadopoulos, a former foreign policy adviser to the Trump campaign, not to talk to Russia or other foreign governments at a 2016 meeting.
"I do now recall the March 2016 meeting at the Trump Hotel that Mr. Papadopoulos attended," Sessions said. "After reading his account and to the best of my recollection, I believe that I wanted to make clear to him that he was not authorized to represent the campaign with the Russian government or any other foreign government for that matter."
Sessions, who has previously testified to Congress that he did not communicate with Russians to aid Trump's campaign, nor did he know of any campaign staff who did, told members he did not initially "recall" the meeting in which Papadopoulos brought up his communications with Russians, noting that it "occurred 18 months before my testimony of a few weeks ago."
"I would gladly have reported it had I remembered it, because I pushed back against [Papadopoulos's] suggestion that I thought might have been improper," Sessions said.
Sessions said he had trouble recalling specific events like the Papadopoulos conversations because of the hectic nature of the campaign, calling it "a form of chaos every day from day one."

"I can only do my best to answer your questions as I understand them and to the best of my memory. But I will not accept and reject accusations that I have ever lied. That is a lie. … My story has never changed. I've always told the truth. And I've answered every question to the best of my recollection and I will continue to do so today," Sessions told members Tuesday.
The office of special counsel Robert Mueller announced last month that Papadopoulos had pleaded guilty to lying to the FBI about his conversations with the Russians during the campaign. He is now cooperating with the investigation.
Sessions has recused himself from the special counsel's investigation into Russian interference in the 2016 election and refused to describe his private conversations with President Trump regarding the investigation.
Since Sessions last testified before Congress, a second foreign policy adviser has also revealed to Congress that he told Sessions he was making a trip to Russia during the campaign. Sessions addressed that testimony by Carter Page Tuesday, saying: "While I do not challenge his recollection, I have no memory of his presence at a dinner at the Capitol Hill Club or any passing conversation he may have had with me as he left the dinner."
Democrats on the Judiciary Committee said in a letter last week that they want to clarify "inconsistencies" between statements by Sessions and those made by Papadopoulos and Page, regarding their contact with Russia.


When asked to clarify later whether Page told him that he was traveling to Moscow during the campaign, Sessions told Democratic Rep. Hakeem Jeffries: "Yes. ... He said it was a brief meeting as he was walking out the door. I don't recall that conversation, but I'm not able to dispute it." Later, Sessions added: "I made no response and didn't acknowledge it."
Sessions served as a foreign policy adviser to Trump during his bid for the presidency. It also previously came to light that Sessions met with the Russian ambassador multiple times during the campaign.
The attorney general was also asked by the committee about the Justice Department's consideration of appointing a special counsel to investigate Trump's former political opponent, Hillary Clinton.

Asked repeatedly by Republican Rep. Jim Jordan of Ohio Tuesday whether he would appoint a special counsel to investigate Clinton, Sessions said the department was looking into it. "'It looks like' is not enough basis to appoint a special counsel," he said.
Jordan, who has signed onto two letters addressed to Sessions in recent months calling for a special counsel, continued to push Sessions on the point.

"You can have your idea, but sometimes we have to study what the facts are and evaluate whether it meets the standard that requires a special counsel," Sessions said.