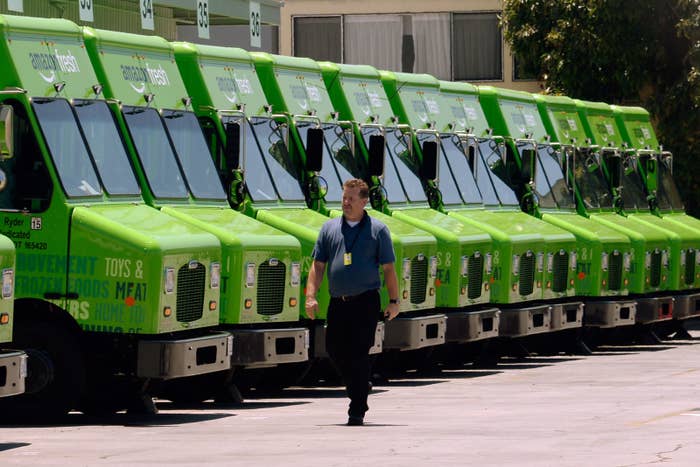 Senior management at Instacart, the exclusive online ordering and delivery service for Whole Foods, learned that Amazon was buying the supermarket chain via the same announcement as everyone else, according to a person familiar with the matter.
The fate of Instacart became a frequently asked question in the wake of the deal's announcement, as industry watchers pondered how Amazon would integrate Whole Foods into its own online commerce and delivery infrastructure. Some wondered if Instacart's Whole Foods partnership was in jeopardy.
But Instacart spoke with Whole Foods soon after the deal was announced, and the retailer re-affirmed its commitment to the contract — a five year deal that has about four years left, the source said. Amazon did not respond to a request for comment.
While Instacart may be best known for its close partnership with Whole Foods — some stores have dedicated checkout lanes and lockers for use by Instacart delivery staff — it gets less than 10% of its revenue from Whole Foods orders, the source said, without going into further detail on the figure.
A spokesperson for Whole Foods declined to comment. The company is also an investor in Instacart — meaning that once the deal is completed, Amazon will own a stake in the delivery service.
Instacart has raised almost $700 million from investors, according to Crunchbase, most recently closing a $400 million financing round that valued the company at $3.4 billion.
In Silicon Valley, Amazon's entry into the brick-and-mortar grocery business was accepted as another sign of the company's relentless march into the heart of the retail industry. But the fate of the Valley's own would-be food industry disrupters was also a subject of debate. Will Amazon eat them all?
"If you don't think of this as a wakeup call, I'm sorry, your lunch is going to be stolen," said Venky Ganesan, a venture capitalist at Menlo Ventures who has invested in Munchery, a meal delivery startup.

"It's not just Instacart, I think this affects people like Postmates and Doordash. It even affects people in the food prep space, like Blue Apron," he said.
"Think about it. Blue Apron — what do they do? They package a set of ingredients and send it to you. Well, Whole Foods has all the items, and Amazon knows how to ship. They can ship it same-day to you."
Delivery startups are hoping that the Amazon deal will show other major food retailers the importance of setting up online ordering and delivery systems. The sale "is further validation that the grocery industry is moving online," said Bill Smith, the founder of Shipt, another delivery startup.
If that transition accelerates due to Amazon's involvement, it could be good news for Instacart, which works as the delivery partner for more than 100 other businesses, including a number of grocers.
The startup has "been telling brick-and-mortar stores that Amazon is coming for years," said the source familiar with the company. "Guess what? They're here."
- William Alden and Caroline O'Donovan contributed to this article