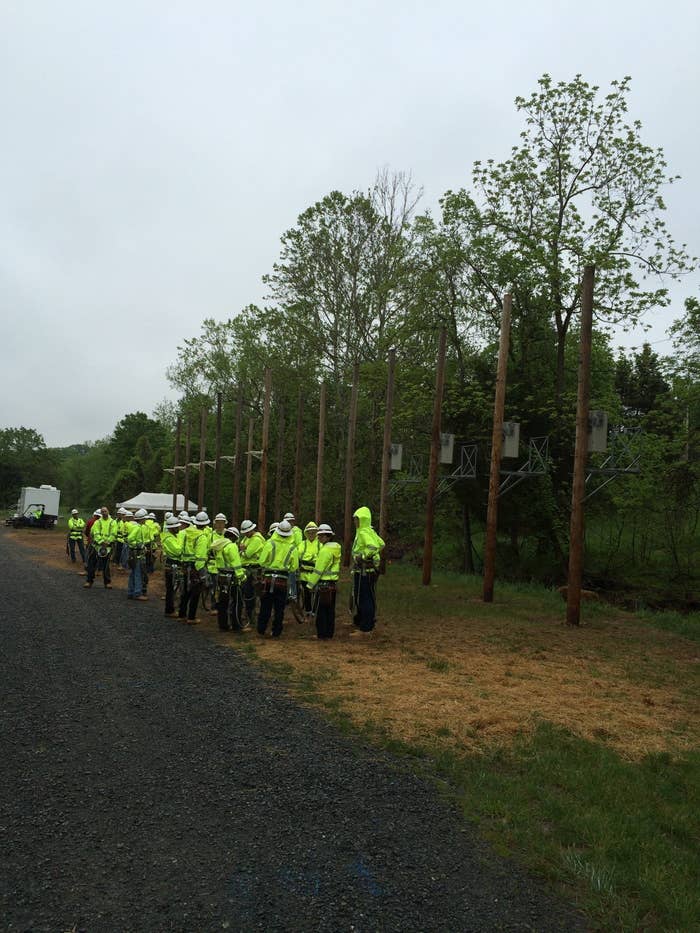 "We tell them not to be heroes," says Tom Maguire, Senior Vice President of Wireline Operations for Verizon, gesturing to temporary hires learning to climb 18-foot telephone poles in a green stretch of woods in Leesburg, Virginia.
The students, decked out in fluorescent green Verizon ponchos and company-provided steel-toed boots, are training to do the work of nearly 40,000 striking staff who walked off the job more than a month ago. They are replacement workers, known in the labor movement as "scabs," and those who have a fear of heights or lack the strength to lift 70-lb ladders in the field will be re-assigned to call center duty or other tasks.
Foxes, raccoons and deer sometimes wander through the grassy training area, equipped with state-of-the-art lightning detection technology for foul-weather classes, and cooling tents and anti-mosquito precautions for the summer.

After instruction lasting approximately a week, depending on their assignments, the workers deploy to cities and towns from New York and Massachusetts to Virginia. Their job will be to cross picket lines and supply Verizon with replacement labor, part of a sophisticated corporate operation to withstand the largest strike America has seen in a half-decade.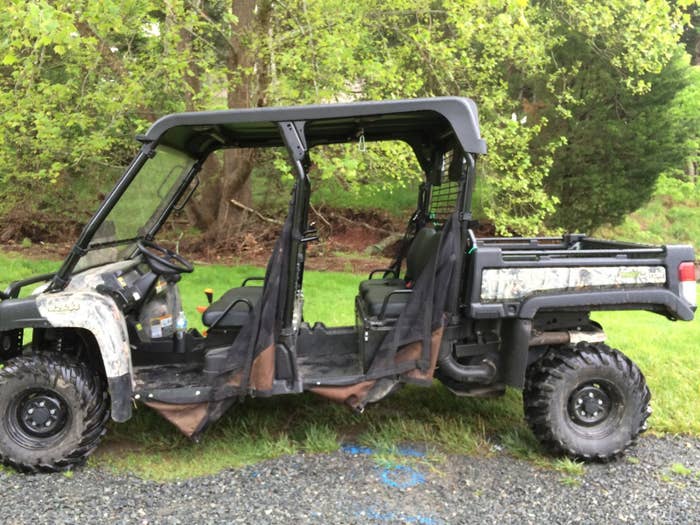 Strikes are a rarity these days, and the number of unionized private workforces has dwindled, meaning the Verizon action is a bellwether for the labor movement. It is being closely watched by unions and corporate America alike.
Now in its second month, the outcome of the action remains uncertain — on Tuesday, Secretary of Labor Thomas Perez said he had met with both parties and will "facilitate conversations" to help strike a deal — but the telecom heavyweight is working hard to show it has the resources to break a strike, even one of this size and duration.
The facility in Leesburg is proof of that investment and highlights the current corporate approach to battling organized labor: an all-inclusive spring break in the woods for mid-level management and picket-crossers to learn skills and hobnob (face-time with Senior Vice Presidents included), far removed from the front-lines of workplaces and the strikers themselves.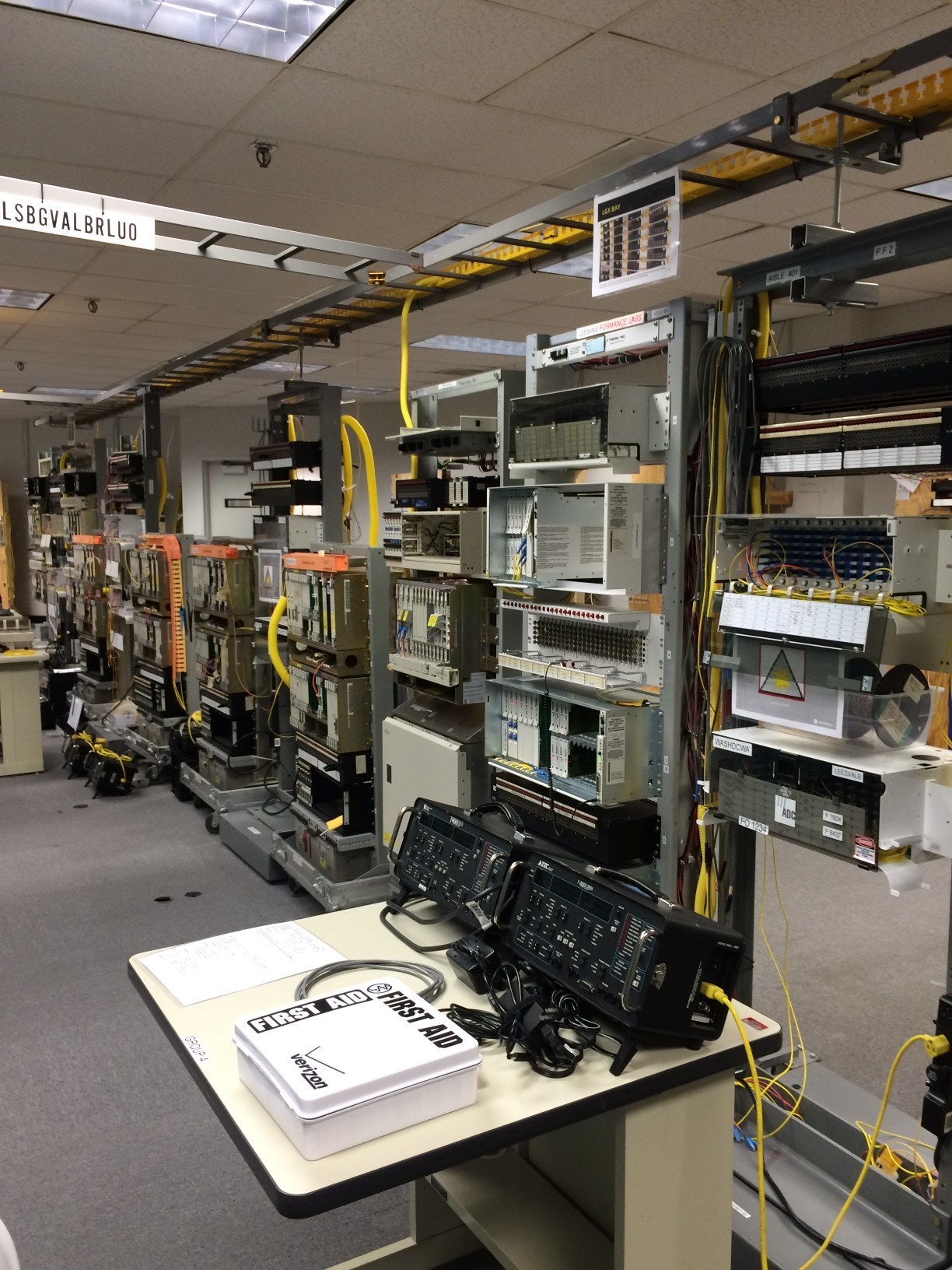 It's a strategy made possible by a 1930's-era Supreme Court decision that allowed companies to permanently replace striking workers (technically not firing or discriminating against them) and used extensively in recent decades to bust unions and dismantle worker power. But the Communications Workers of America (CWA) and International Brotherhood of Electrical Workers (IBEW), who represent the strikers, are currently holding strong.
"While 40,000 striking workers are fighting to save good, middle-class jobs, Verizon is sending untrained and unqualified replacement workers to perform highly technical tasks in homes, businesses and communities along the East Coast," said Bob Master, Assistant to the Vice President of CWA District 1. "We have received dozens of reports of delays, botched repairs, and dangerous behavior from Verizon's replacement workforce."
Despite criticism from Democratic presidential candidates Bernie Sanders and Hillary Clinton — and from some customers and union allies — Verizon proudly gives out guided tours of their methods for strike-breaking. Taking out full-page ads in major newspapers, the company is anything but shy about its approach.

Heroes and Scabs

Housed in the 973-room National Conference Center, Verizon's training camp in Leesburg takes up about 700 rooms and is equipped to operate year-round, to train temporary workers for emergency events ranging from strikes to hurricanes and terrorist attacks.
As he gives the lay of the land, Maguire speaks sympathetically of the workers he is actively replacing. The union members are striking over proposed cuts to healthcare and pension benefits, increased off-shoring and out-of-state re-location of workers.
"They're fighting to change the conditions of their jobs," Maguire says. "They're little league coaches, volunteer firemen, deacons in their churches, moms who help out. Most of them just want to come back and earn a living."

A former wire-line electrician and union member himself, Maguire joined management in '87 and remembers the unionized workers, called "associates" within the company, going out in dangerous conditions after 9/11 and Hurricane Sandy to restore service to dis-connected communities. He calls them heroes.
"These are the guys who walk into the breach," he says. "I'll call them heroic because of the things I've seen them do over my career."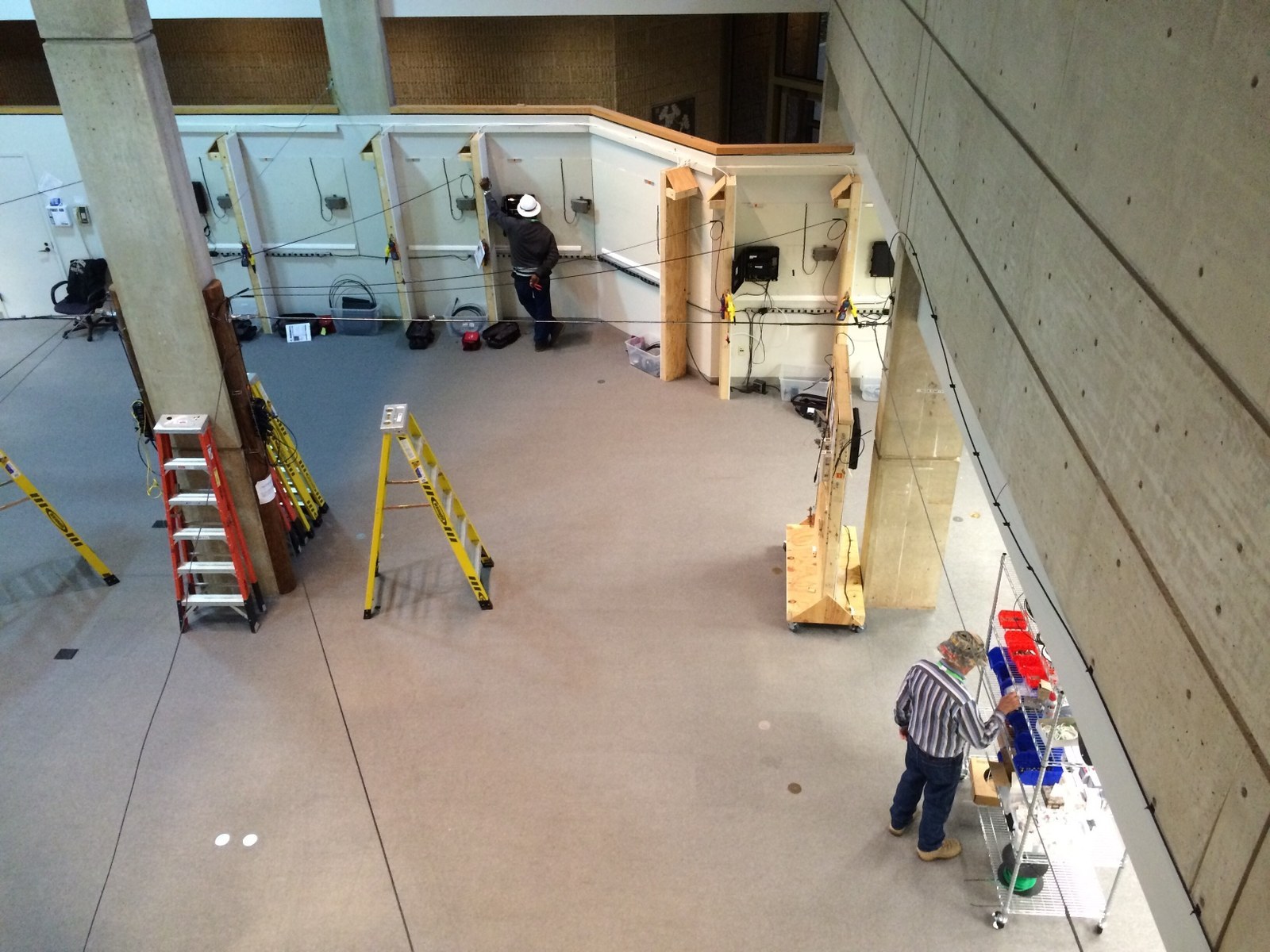 Since mid-April, Verizon has been replacing those striking moms and dads with management staff and new hires, who require significant training to do the original workforce's jobs.
The unions say this has led to safety hazards and opens up the company to new liabilities. Customers have reported everything from delayed or bungled repairs to hazardous cable-hanging and polluted streams.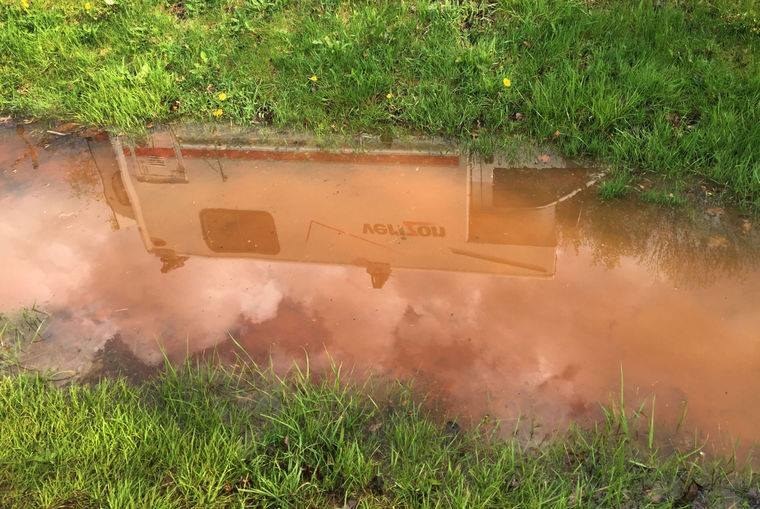 On social media and YouTube, union members document drunk or reckless driving, mis-handled equipment, and perilous work practices. Verizon disputes accounts of service lapses and defends its training of temporary hires.

Wire-line workers who perform potentially dangerous jobs at Verizon typically start their careers with an intensive month-long course and then work closely with experienced technicians for three to five years before handling all aspects of the work, the unions say.
Food Trucks and Wine Tasting

"What's neat about this area is we hired a lot of ex-military guys," Maguire says of Leesburg, about a 20 minute drive from Virginia's Dulles airport.
Government agencies headquartered nearby hold their own trainings at unused rooms at the center, and the local high school held its prom there, with teens in formal dress and rented suits passing workers in their hard hats.
Among other amenities, the camp houses a fire pit and bandshell. Verizon offers social activities in the evenings, and one night, a caravan of food trucks supplied dinner. On another, the company held a wine tasting.

The mess hall, staffed by a chef trained at the Culinary Institute of America, provides an all-you-can-eat buffet, three meals a day. "The first feedback we heard was, 'The food's good,'" said Ray McConville, a spokesperson for Verizon. "You can gain a lot of weight here."
Meanwhile, striking workers haven't drawn paychecks since mid-April and are now living on strike relief payments of a few hundred dollars a week from their unions. On May 1st, Verizon cut off heath insurance plans for the strikers, so the unions are also covering the workers' medical and emergency needs.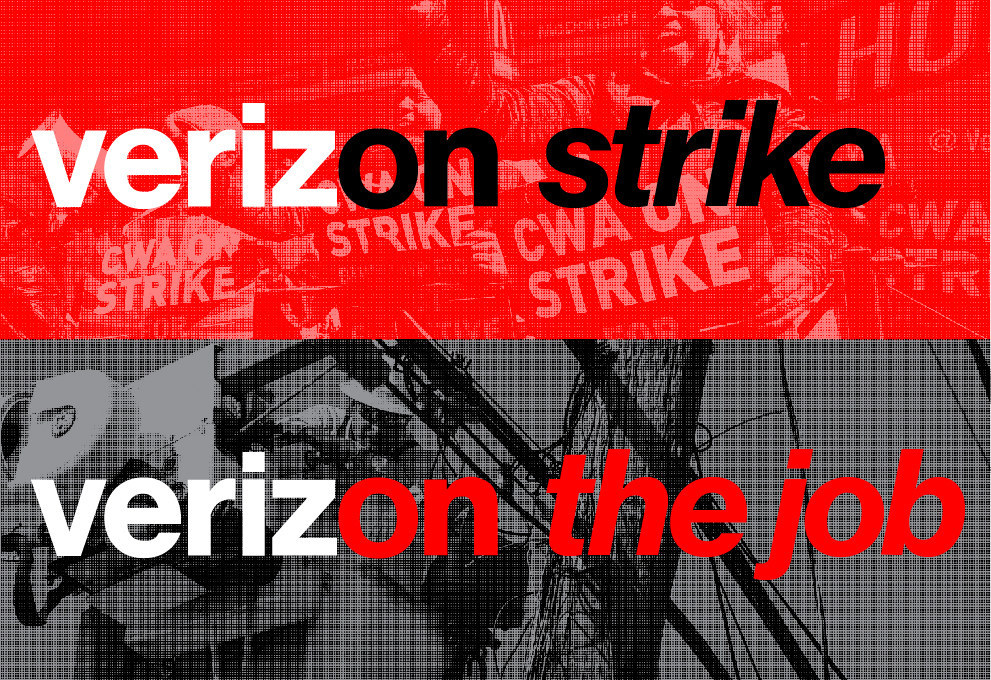 Upon arriving in Leesburg, each replacement worker receives regulation safety gear and boots. Some of the women's sizes come with pink shoelaces. They're told to pack sunscreen for their stay. Team members wear different-colored lanyards and badges to identify what skills they'll be learning: red for pole-climbing, green for FiOS installation. "It helps workers recognize each other in the cafeteria and around the fire pit," Maguire said.
The main training site for strike-breaking resembles nothing so much as summer camp, complete with awkward orientation ice-breakers.
Maguire said some managers do feel trepidation about switching roles and "filling in" for their striking employees. "There's a little bit of — 'I'm a lawyer, an accountant, a clerk, or HR person — and you want me to work outside? That's just crazy.'"
And not everything at the center is "lavish," Maguire stressed. Some workers refer to their hotel rooms as "cells."
An Old Hand

With 35 years at Verizon under his belt, Maguire was once on the other side of the picket line. He started as a technician in Queens, New York while studying biology in college, with aspirations of going to medical school. His father worked for the company back when it was New York Telephone, and Maguire initially worked as a summer hire. He stuck with it for the money, rose through the ranks, and never left.
"There are a lot of crazy people in the world, and every one of them has a telephone," Maguire used to tell people of the work, which involved going into people's homes individually to wire phones. He liked the chance to talk to customers, some of whom would give him coffee or a full meal. Maguire still knows many union members well, and every now and then he still "goes and plays in the field," he said.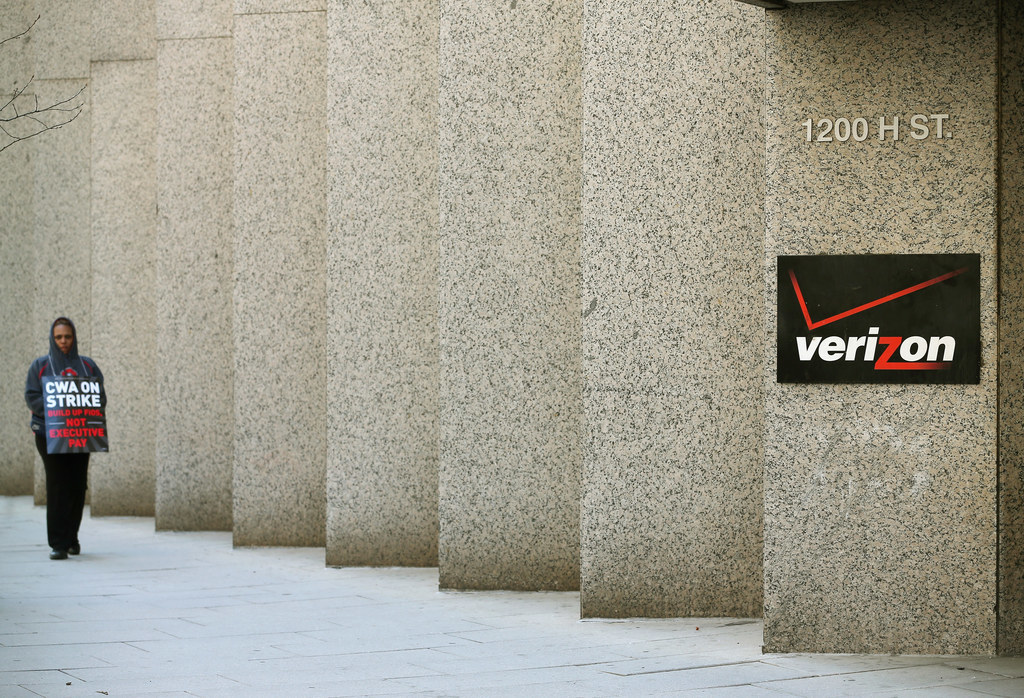 A New Era of Strike-Breaking

Prior to 2011, Verizon used more than 20 regional training centers to prepare for work-stoppages. If a trainee were to work in Queens, New York he would learn pole-climbing in Garden City and troubleshooting nearby.
"Rather than scattering our experts," Maguire thought, "Why not open a mega training facility?" This was in 2011, when the unionized workers last struck for two weeks. "It dawned on us that if there were a strike we could deal with it in a new way," he said.
After crunching the numbers, the company determined the decision made financial sense in December 2014 and set about making Leesburg a reality. Senior executives now fly in shifts to Virginia for 24 hours to meet each new set of trainees — CEO Lowell McAdam has made an appearance. During their visits, they shake as many hands as possible, but typically don't speak except to thank the workers.
Previously, when preparing for strikes, Verizon split its training of unionized workers and non-union managers by time of day. Managers would finish a their regular shifts, then begin a second shift at night, learning their employees' skills.
"It made for a long day," said Michael Sunderman, Verizon's Executive Director of Global Learning and Development. Plus there was the awkwardness for employees of passing your boss on his way to learn how to do your job for when contract negotiations rolled around. The Leesburg training camp eliminated some of the social friction.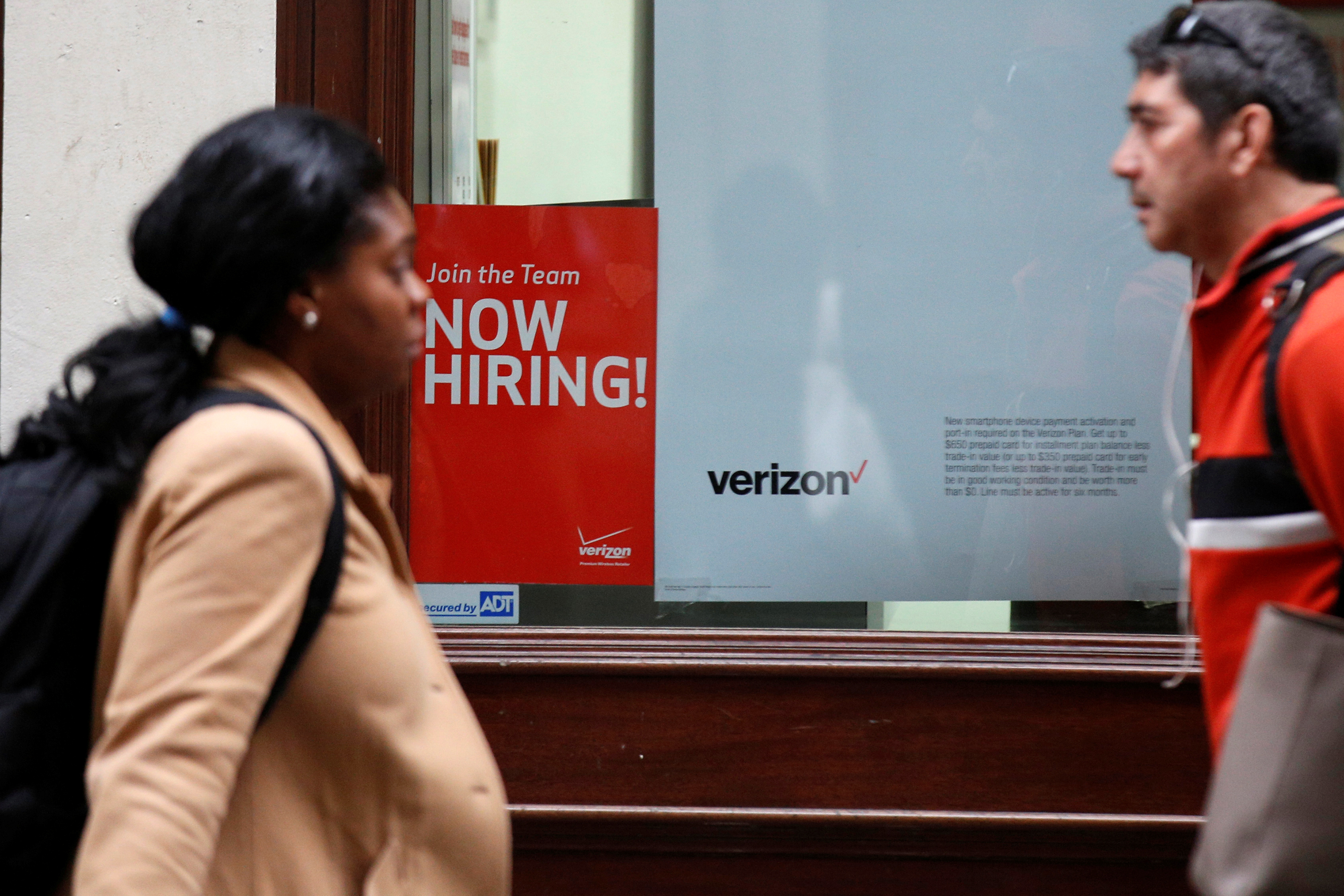 Mike Mason, the Chief Security Officer for Verizon (an ex-marine and former Associate Director of the FBI), prepares the workers for what to expect when crossing a picket line. "They're going to call you every name but 'a child of God,'" he tells the strike-breakers.
The response from strikers can surprise a first time picket-breaker. "Some people weren't prepared for the emotional intensity," Maguire says.
Safety and Fair Treatment
"The origin of the labor movement was about safety and fair treatment," says Sunderman, who has been with Verizon for 26 years and now runs the Leesburg trainings. The executive also speaks sympathetically about unions, listing off the end of child labor, the eight-hour day and the weekend, all gains the working class fought for with strikes and other labor actions.
"They weren't about entitlement," Sunderman says.
Union leadership and labor advocates say the reason striking workers have the benefits they are defending in their contracts is that they banded together to bargain for them, using the tactics Verizon is now working so hard to undermine. Labor leaders recall the days when working people supported strikers as a rule, seeing efforts to boost pay as raising the floor for everyone else in the labor market.
Company executives say the those being trained in Leesburg lack the kinds of experiences that would lead to solidarity with the strikers. They are flown in from all over the country and sent to replace workers in other markets and locations. The Leesburg operation severs local ties of geography and shared workplace conditions.
"They don't interact with associates," said Maguire. "They just don't know these guys."
CWA lineman John Briaddy from Syanac, New York, summarized the sentiments of many of the striking workers recently. "Yes, we have good benefits. They were all fought for!" he wrote in a letter. "The company did not give them freely."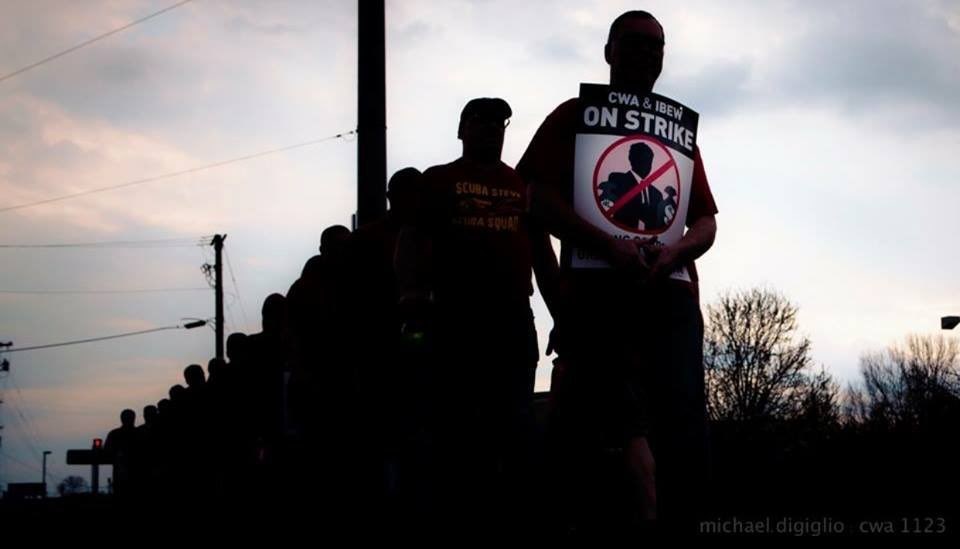 Briaddy recalls working "the 1998 Ice Storm and every storm before and after," working "in the middle of the night in all weather helping our brothers at the power company."
"Some members in the past have lost homes and our marriages are put to the test" during a work-stoppage, he wrote. "My children have done without when our union has had to call a strike... We are not only striking for our jobs, but for what is left of the middle class."