The Fight for 15 minimum wage movement marked its four-year anniversary with a string of protests and work stoppages on Tuesday, with its leaders acknowledging that as Donald Trump prepares to move into the White House — and Republicans maintain control of Congress — the next four years could be a much harder fight than the last.
"We do have a tone change," Fight for 15 National Organizing Director Kendall Fells told BuzzFeed News on Tuesday afternoon amid helping arrested protesters get out of jail in New York. "The change is to 'we're not going to back down' and 'we're not going to be bullied.'"
Minimum wage protesters would have stayed in the streets if Hillary Clinton had been elected, Fells said. "The message may have just been different — more, 'you said you wanted to be our champion, now it's time to deliver.'"
Members of the movement now speak of a renewed focus on supporting undocumented workers, partnerships with immigrant rights groups, the Black Lives Matter movement, and native rights organizations. One of the few signals during the day of the newly oppositional White House were the slogans "Not one step back" and "We won't back down, on signs and T-shirts at protests across the country.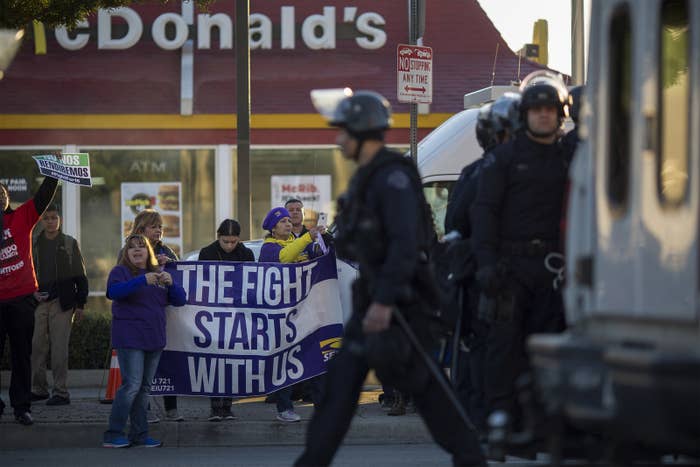 Organizers are preparing for the possibility of an outspoken opponent of minimum wage increases taking a key position in the Trump cabinet. The president-elect has yet to appoint a labor secretary, and is said to be considering Andy Puzder, CEO of CKE Restaurants, the parent company of fast-food chains Carl's Jr. and Hardee's.

As president, Trump will also appoint board members of the National Labor Relations Board (NLRB). A majority on the NLRB could reverse labor-friendly decisions made in the Obama era — including one that expanded the definition of "joint-employer," allowing fast-food businesses to be considered partly responsible for the pay and working conditions in restaurants owned by their franchisees. The ruling was a crucial step in the Fight for $15 strategy of pressuring restaurant giants like McDonald's to raise pay.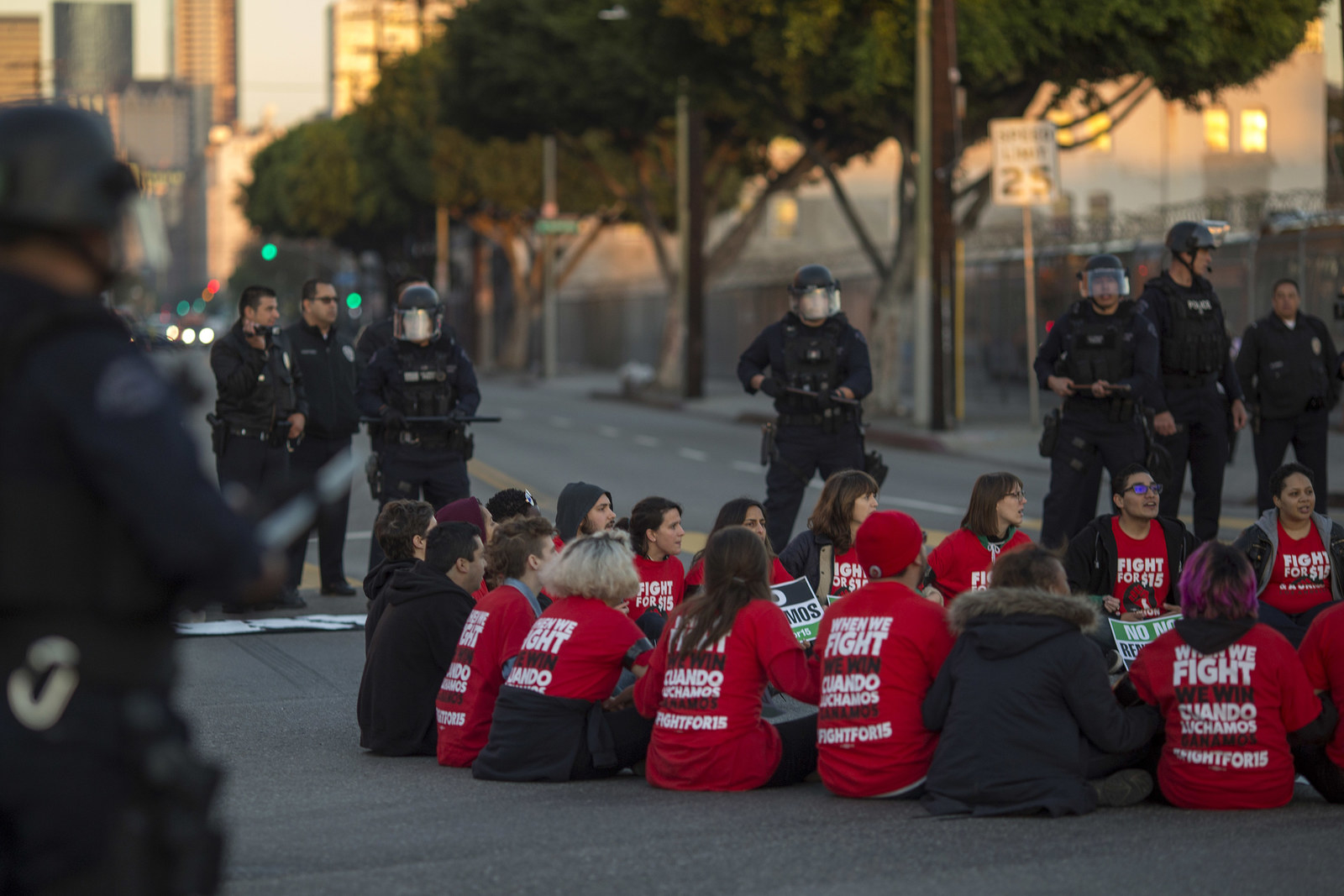 On Tuesday, allies of the minimum wage movement took stock of its achievements so far. The left-leaning National Employment Law Project (NELP) released a new report calculating that 19 million workers will benefit from raises won through worker actions in the last four years.
That number includes 2.1 million people who won raises this month, when voters approved minimum wage ballot initiatives in Arizona ($12 by 2020), Colorado ($12 by 2020), Maine ($12 by 2020), Washington State ($13.50 by 2020), and Flagstaff, Arizona ($15 by 2021). Fells said the movement will continue to focus on state- and city-level ballot initiatives.

"The Fight for $15's impact towers over past congressional action because it has been propelled by what workers need – not what moderate compromise might allow," said Christine Owens, executive director of NELP, in a statement, adding that the movement "has recast the national conversation on wages, setting $15 as the new benchmark for a strong minimum wage around the country."
Mary Kay Henry, president of the Service Employees International Union, said the successful protests demonstrate the degree to which "working people are fed up with the economic status quo," and that she expects more civil disobedience and arrests in the coming years, as activists do "whatever it takes" to draw attention to the conditions of low-paid workers.
"Just because the president-elect has said the minimum wage won't go up or that it's too high, that doesn't mean we're going to stop," said Anggie Goddoy, a member of the movement's National Organizing Committee. "If anything, it gives us an extra push to keep moving forward and keep fighting."