Striking Prisoners Say Their Guards Have Joined In
Prison officials have stepped in to help serve meals after after guards refused to show up to work at Holman prison, according to strike organizers.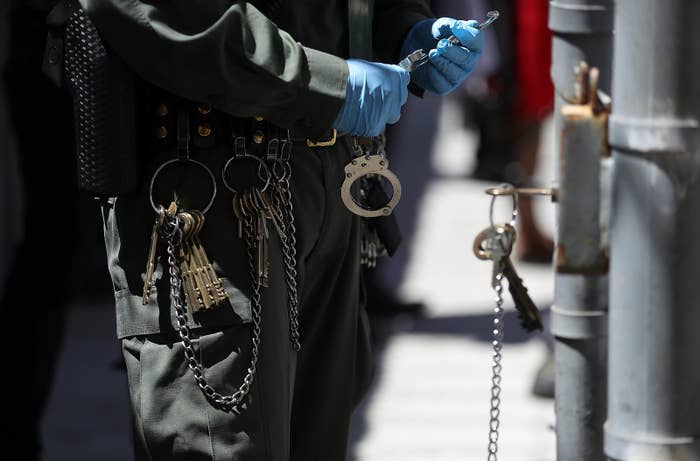 Striking prisoners at Alabama's Holman prison say they have been joined by an unlikely ally: their own guards.
Guards at the facility did not show up for their shifts at 6pm on Saturday, according to organizers of the national prison strike and audio and video accounts from a contraband cellphone inside the facility.
"The warden is pushing the meal cart," tweeted out the Incarcerated Workers Organizing Committee, one of the organizations behind the strike, which began on September 9th.
According to a organizers with the Free Alabama Movement, another of the groups that helped organize the strike, "the officers at Holman... had communicated their plans to F.A.M. members, and expressed their support for non-violent and peaceful demonstrations against the human rights conditions existent at Holman."
Prisoners at Holman and other prisons across the country — including Florida, South Carolina, and North Carolina — have been striking since September 9th to protest conditions including forced prison labor, which is carried out by about 900,000 of America's 2.4 million incarcerated population.

Prisoners do the daily work of running their correctional facilities, such as cooking, cleaning, and laundry, while others produce goods for businesses and the state. Some fight fires in California.
The Free Alabama Movement said higher-ranking officials within the Alabama Department of Corrections have stepped in to do the prison guards' work. "Assistant Commissioner Grantt Culliver was dispatched to the prison, where he then had to order supervisors from another prison, Atmore CF, to report to Holman prison just to be able to serve meals," reads a release from the group.
BuzzFeed News reached out to the Alabama Department of Corrections for comment. A representative said that the department's public information officer and everyone else authorized to speak with the press were attending an all-day offsite training event.

According to the organizers, officers at Holman have complained about "overcrowding and the need for a mass release, more education and rehabilitation programs, as well as issues with disease and filth."
A prisoner at Holman, going by the name Kinetik Justice, gave an interview to Aljazeera English on Monday, discussing the strike. He also released an audio message, which said:
"September the 24th 2016, Holman Correctional Facility, this is Kinetik Justice coming to you live. It's official. At 6 o'clock no officers came to work. None came to work. None of the officers came to work. We have Deputy Commissioner Culliver, Warden Peterson, Sergeant Franklin from across the street… Who else? Warden Peterson from across the street, Warden Stewart, the captain, a white guy, Wilson, and one another. Those are the only ones here running the facility. Right now the commissioner is passing out trays. Warden Peterson is pulling the cart. Deputy Commissioner Culliver passing out trays. I can't believe it. To my black sliding shoes, brown knitted pants, white tweed shirt with the collar bust open, sweating at the temples. It's real. No officers came to work. They completely bugged on the administration. No more will they be pawns in the game. High time it's going down."
Two tweets with video and some audio conveyed the same information: