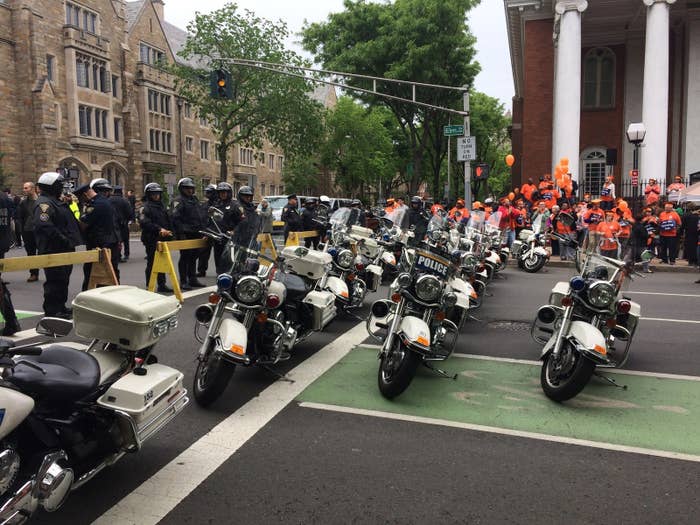 More than a thousand graduate students and their supporters protested outside Yale's commencement on Monday, with police barricades separating the demonstrators from graduating students and their families.
The protesters criticized Yale administrators for opposing the unionization of its grad students, but cheered on the undergraduates as they arrived for the event.
"We're very proud of our beloved graduates," said Emily Sessions, a PhD candidate and member of Yale's academic worker union. "I love teaching and the work I do, but it's still real work, and we should be able to negotiate a contract to spell out the terms of that work."
Some protesters remembered talking the undergraduates through biology problems; others had graded their history papers just weeks prior. Now, they filled blocked-off streets adjacent to the graduation ceremony, kept from their former students by lines of law enforcement, motorcycles and cop cars.
Earlier this month, a protest organized by the graduate student union led to 23 arrests after demonstrators blocked three traffic intersections, the New Haven Register reported.
Yale's graduate student union, a local chapter of the UNITE HERE union, has been asking the university to negotiate a contract for its members since it held successful union elections in February.
"Yale strongly values freedom of expression and respects the protesters' right to demonstrate, but does not tolerate disruption of university events and activities or interference with speakers," the university said in a statement prior to the march. "The university regrets the union's efforts to seek media attention by interfering with the day-to-day activities of our community."

While the government body that oversees union elections certified Yale's vote last winter, the university has appealed the decision, taking issue with how the vote was carried out. Professors and law students have claimed that refusing to negotiate while the appeal is pending is illegal.
Delaying the creation of a graduate student union could end up preventing it entirely. A 2016 decision by the National Labor Relations Board said graduate students could be considered both workers and students, making them elligible for unionization and setting off a flurry of organizing activity at campuses nationwide.
But with President Donald Trump expected to appoint new conservative members to the Board, last year's ruling could be overturned, halting union efforts among graduate students at all private universities.
Public university graduate students have been permitted to unionize for years.
On Monday, Yale's protesters were joined by pro-union graduate students from Harvard, Columbia, Princeton, the University of Pennsylvania, the University of Connecticut, The New School, and New York University, all of whom have faced opposition to their own union drives.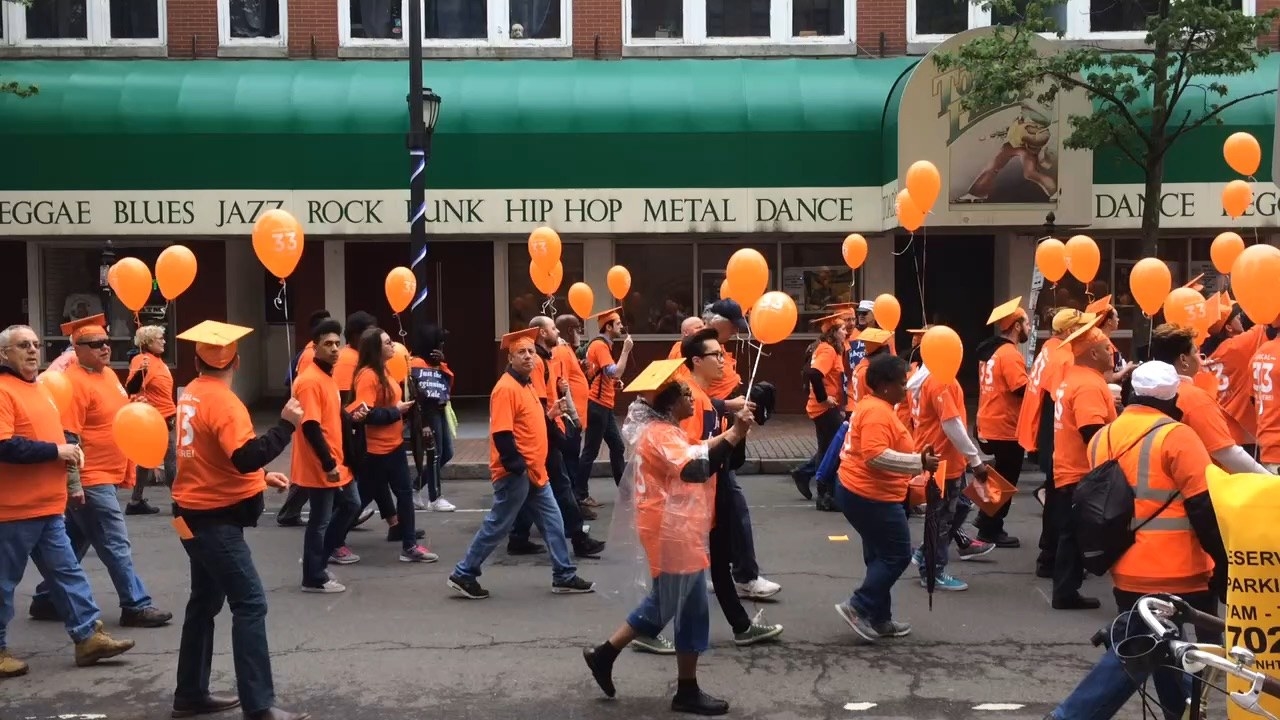 Lena Eckert-Erdheim, a PhD candidate in History and Local 33 member at Yale, said that the union "fully expects Yale will do the right thing and come to the table — and not wait for Trump to bail them out."
By marching on Commencement Day, when thousands of parents, donors, and Yale community members descend on New Haven, the union made its organizing more visible, said Julia Powers, a PhD candidate in comparative literature at Yale. Both the union and the university handed out information leaflets throughout the day, and the union kept up its encampment at the college's central Beinecke Plaza, where students have been on hunger strike for weeks.
Service Employees International Union President Mary Kay Henry released a statement of support on Monday morning, noting that the University of Chicago, Tufts University, Boston University, and Georgetown have all agreed to negotiate with their graduate worker unions.
"Yale University President Salovey has put Yale's reputation at risk, setting it apart from peer institutions by not recognizing workers' rights to collectively bargain," she wrote, calling the obstruction "unlawful" and "contrary to Yale's stated mission."