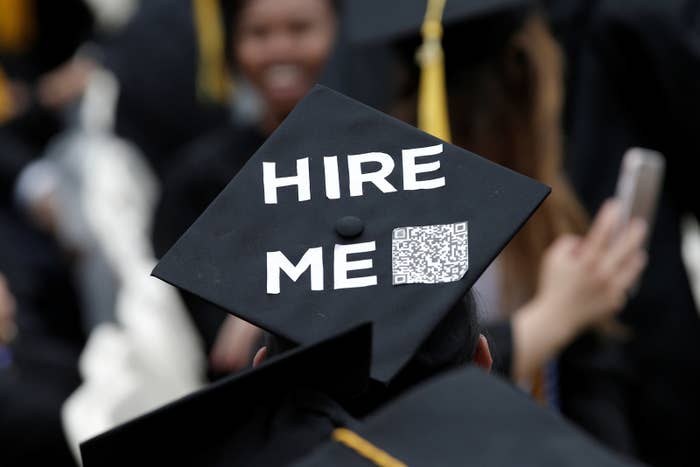 Graduate students working at private colleges and universities are now free to unionize, after a government panel ruled they should be considered employees of their school.

The ruling by the National Labor Relations Board overturned a 2004 decision that declared them fundamentally students, not employees. The new ruling determined that they are both, and should be protected by federal labor law.

It means TA's and graduate student workers at private schools may unionize and collectively bargain over working conditions, as such students at many public universities already do. (Workers at public universities are covered by state, not federal law.) As recognized employees, graduate students will also be protected by law from retaliation and sexual harassment.
Union organizing drives for graduate workers are currently underway at Harvard, Yale, the New School, Cornell, Duke, and Northwestern, in addition to Columbia University, whose unionization drive, supported by the United Auto Workers union, sparked the case.
"Student assistants who have a common-law employment relationship with their university are statutory employees," the NLRB ruled, saying the 2004 decision "deprived an entire category of workers of the protections of the Act without a convincing justification."
Graduate students and non-tenure-tracked staff have filled an increasing number of university campus positions in recent years — teaching, grading, and providing research assistance at a fraction of the cost of full professors.

"Given the critical role that TA's and RA's play in the fundamental missions of the University, from our hallmark Core Curriculum to leading the discussion sections that make large lecture classes possible, and conducting innovative scientific research, I sincerely hope the administration respects this decision, allows a fair vote, and bargains in good faith for a contract if a majority votes in favor of unionization," said Eric Foner, Professor of History at Columbia, in a statement shared with the media.
In a joint amicus brief submitted to the board, colleges including Brown, Cornell, Dartmouth, Harvard, Stanford, and Yale said that unionizing teaching staff could intrude on academic freedom. "Both collective bargaining and arbitration are, by their very nature, adversarial," the schools said. "They clearly have the potential to transform the collaborative model of graduate education to one of conflict and tension."
Following the news of the labor board ruling, the Service Employees International Union launched an immediate effort to organize graduate students across the country online.
Universities may still hold anti-organizing campaigns at their institutions, and could appeal an NLRB-mandated union election to a federal court. Alternately, they could bargain with employees outside of the labor-board-legislated process. In 2013, NYU graduate student workers reached a voluntary neutrality agreement with their university administration.