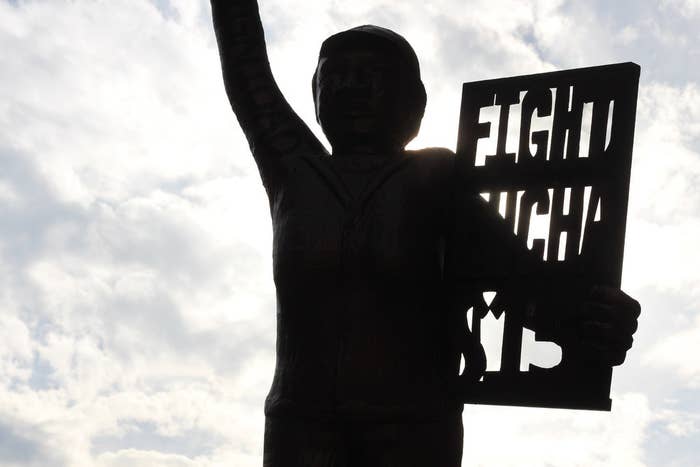 As of Thursday morning, America has its newest unionized workforce, with editorial staff at Gawker Media voting to join the Writers Guild of America, East.
The successful organizing drive — the first at a big digital media company — is a small victory for the beleaguered union movement, adding just under 120 workers to the ever-dwindling number of unionized Americans. But it's far from the only win celebrated lately by the wider labor movement, which has a spring in its step for the first time in decades.
And that is thanks in large part to the unprecedented efforts of one old-school union to fund and incubate the movements that seem set to eventually supersede it.
Central to the momentum of labor activism in recent years has been the rise of so-called alt-labor: organizing that takes place outside the traditional union system. Most prominently, the successes of the Fight for 15 minimum wage campaign, centered on fast-food workers, have given energy to organizers across the country — including at Gawker itself.
"I wouldn't even have guessed they would be that successful. It's just a hard fight, they've accomplished a lot, they seem to be still going strong," said Hamilton Nolan, a Gawker writer who played a lead role in the site's organizing drive, of the low-wage protesters. "One reason for that is America as a country has moved. It's not the same place it was ten years ago, because of the recession and widening inequality. The wider inequality gets, the more America is going to be ready for more radical action."
And if more American workers seek to join in that radical action, they will find a growing infrastructure of activist groups and resource centers waiting for them. They exist outside of the union system, but many of them are supported by the same benefactor: the Services Employees International Union, which has invested its money and people into backing the alt-labor movement.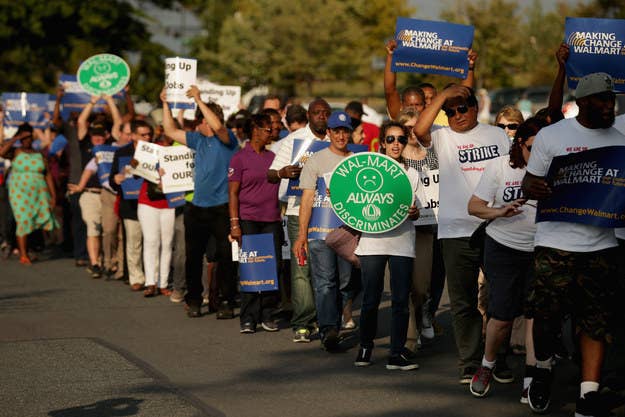 The SEIU's move is timely, given the rising number of workers that will never join a traditional union. In May, the Government Accountability Office released a report counting 40 million contingent workers in America — part-time, temporary, seasonal, or contractors — while a survey by the Freelancers Union found that 53 million people (about 1 in 3 members of the workforce) are now freelancing.
"All labor is alt-labor now — it's not just on the margins," Sacket Soni, executive director of the National Guestworker Alliance (NGA), a workers' center backed by the SEIU, told BuzzFeed News. "They're agricultural workers, adjunct professors, and construction workers — but also contract attorneys. Gardeners, but also insurance agents. The day laborer corner that used to be outside Home Depot suddenly went up to the cloud, and now there's Amazon Mechanical Turk, so you become a classic day laborer, but a digital laborer."
The NGA organizes primarily for workers that are not recognized as full employees in the traditional sense, and so lack the rights to organize that laws like the National Labor Relations Act were once written to protect. Guest workers, agricultural and domestic workers, and independent contractors are among those in a category for whom unions were never a clear recourse.
The same goes for many others, including the fast food workers that have been so visible in recent protests.
"You know the Fight for 15 is a movement and not just an institution because there's no single address you could send a postcard to," said David Rolf, president of the SEIU's Seattle Local 775. While "capital C, capital B collective bargaining has taken up all the air in the room" in past decades, in Rolf's words, he says some in the labor movement are wising up to the reality that other forms of collective action, such as wage-focused issue campaigns, stand a better chance of success going forward.
Rolf is one of the forces behind the Workers Lab, a Silicon Valley–esque incubator that aims to apply startup principles to generating new tactics for labor, as unions threaten to fade away.
"The theory is workers in America need new models," he said. "We have a choice: between turning inward and protecting what we have and transferring those talents and assets."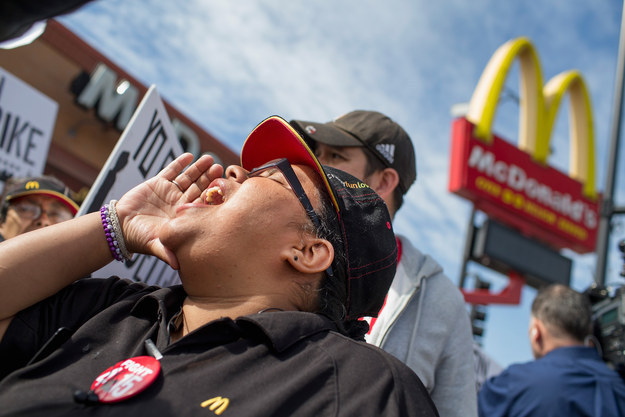 While these new models have a vibrancy and momentum missing from labor unions, what they don't have is a steady stream of money — the membership dues that pay for all those organizers to do their thing. It's unclear how protesting McDonald's workers will ever translate into dues that can sustain organizations as large and costly as modern unions, and because of that, many union members are lukewarm on financing alt-labor.
Unions have found themselves in a position where they have "enough assets to be scared of losing them - and of litigation - but not enough to win," said Stephen Lerner, the architect of the Justice for Janitors movement. That keeps them from taking risks on new models of organizing workers, he argues.
Investing diminishing streams of membership money into campaigns that mainly benefit non-members has led to reports of grumbling within both the SEIU and the United Food and Commercial Workers Union, which has backed alt-labor efforts including the Our Walmart project. The UFCW has reduced its investment in the Walmart campaign since electing new leaders in December, the Washington Post has reported.
SEIU International President Mary Kay Henry said the union is "proud to be part of an economic justice movement that's speaking more broadly" to low wage workers - including to non-union members. But like many big employers that once sent plenty of union members its way, the SEIU will eventually need to square the circle of a changing economy, where all these exciting new opportunities show no sign of making up for declining traditional revenues.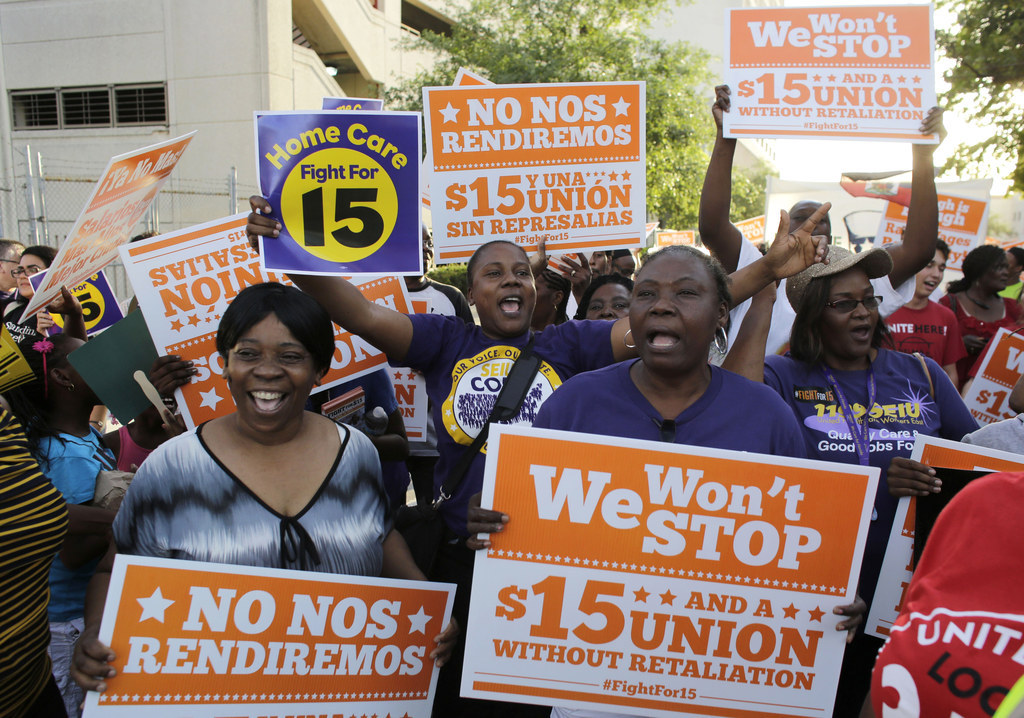 They might not be ready or able to pay dues, but the alt-labor movement has shown that organizing opportunities abound among low-paid employees and part-timers. The on-demand economy is still in its infancy, and so are efforts to advocate for the sub-contractors who do its work — the Uber drivers, TaskRabbit errand runners, and Instacart delivery people. They have plenty in common with the existing alt-worker economy, says Cathy Albisa, co-founder of the National Economic and Social Rights Initiative (NESRI), a workers' advocacy group.
"It's all become like migrant work — precarious and unstable," Albisa said. "Since workers who are not legally recognized as employees don't have the option of a union, in some ways, that's made them more innovative, fast, and flexible. Currently, in the app economy, workers are adapting."
Former union organizers, such as Lerner, agree that this kind of work is not exactly new. "Conditions that have long affected migrant workers, women, and people of color have spread via technology," he said. "Women used to do industrial piece-work and home-work under similar conditions. Now workers just get their assignments from an app."
And if McDonald's workers can rack up small wins, so can Uber drivers, the thinking goes. Those victories are emerging: one day in May, as a protest of more than 2,000 workers and activists surrounded the McDonald's Illinois headquarters during its annual meeting, the Fight for 15 reached the heart of America — at least geographically. In Kansas City, Mo., the city council spent four hours considering a $15 city-wide minimum wage that day. A similar ruling had passed in Los Angeles earlier that week, among the movement's biggest successes. This week, the mayor of St. Louis proposed raising the city's minimum wage to $15 by 2020. City by city, company by company, the Fight for 15 is getting results.
Terrence Wise, 35, a McDonald's worker and leader of the Fight for 15 movement in Kansas City, was there at the McDonald's shareholder protest, one of a handful who made it into the corporate campus to hand over a petition to a group of anonymous executives. It was the first time workers had made it onto company property in years of protests — though they weren't allowed past the driveway.
"People who worked at the store level got to talk face to face with the most powerful fast food chain in the world," said Wise. "They nodded and shook our hands, and then we went back out with the masses."