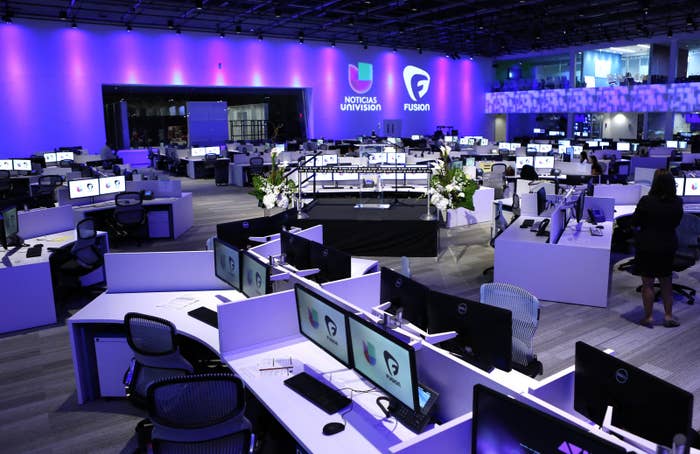 Fusion is the latest digital media company whose newsroom is working to unionize with the Writers Guild of America, East.

A majority of online staff at Fusion have signed union cards with the WGAE, the union said in a letter to the site's editorial staff on Wednesday. The union will continue to organize before eventually asking the company for voluntary recognition, a WGAE spokesperson said.
"Fusion has produced an impressive body of work about how the right to organize is critical for American workers," said the letter, which was published online. "It's time we practice what we preach."
Fusion's employees produce content for multiple platforms, including the company's website, social media platforms, and its television channel. All digital-focused staff are eligible to sign up as part of the union drive, a WGAE spokesperson said, including video producers — in total, the union has identified 80 employees that are eligible to unionize, and a majority have already signed cards.
"It's a continuation of the movement to unionize digital media that we've been public with for over a year, said Lowell Peterson, Executive Director of WGAE, of the drive. "I think what we're seeing here is a real interest on the part of digital media employees to have a voice in the decisions that affect how they work and how they're treated at work."
Fusion was launched as a joint venture between Univision Communications and the Disney/ABC Television Network in October 2013, with Disney selling its stake in the company earlier this year. There has been a wave of unionizing in digital media in recent years, with the staff of legal news site Law360 most recently voting to unionize with the NewsGuild, in a 109-9 vote in August.
Digital outlets including The Huffington Post, Salon, Vice, ThinkProgress, and The Guardian have also recently unionized, as did Al Jazeera America's online writers prior to its closure. Gawker Media, whose sites were recently acquired by Fusion, unionized in June of last year, also with WGAE.
"I think what we're seeing here is a real interest on the part of digital media employees to have a voice in the decisions that affect how they work and how they're treated at work," said Peterson. "People at Gawker definitely know people at Fusion. It's a small world, a community of editorial employees. Gawker people know people at the Huffington Post, know people at BuzzFeed."

In a statement provided to BuzzFeed News, a Fusion spokesperson said, "The company is dedicated to providing an environment where all of its employees can thrive. We respect the right of our employees to choose whether to unionize and will be discussing this important decision directly with them."

Read the full letter below.
Fusion's mission statement says, "We champion a young, diverse, and inclusive America from the inside out." We are incredibly proud of the work we've done as individuals and as a publication in pursuit of that mission. That's why we, collectively, would like a seat at the table in charting the future direction of Fusion and our role within the organization. Because we deeply believe in this mission and the ideas espoused in our inclusive body of work, we decided to organize a union with the Writers Guild of America, East.

Fusion has produced an impressive body of work about how the right to organize is critical for American workers. It's time we practice what we preach. It's important that this process is transparent and democratic, and we want anyone involved to be able to participate in the conversation about unionizing. This is just the beginning of that process and so to begin the public conversation, here are some of the reasons why we are unionizing.

Compensation & Pay: We seek to establish an equitable and transparent compensation policy, including salary minimums for all positions and a standard for raises.

Newsroom Communication & Transparency: In the world of digital journalism, job responsibilities can sometimes change very quickly. We are all aware that news relevant to our audience sometimes happens after hours or over the weekend, and we're eager to make sure we're covering it well. However, it is important to clearly communicate shifts in editorial structure, priorities, and individual responsibilities.

Establishing Standards for Hiring, Firing and Disciplinary Actions: We should have clear standards and procedures in place for judging performance. Negotiating a union contract is a way to set and enforce clear standards, as well as a way to avoid inequitable disciplinary procedures or terminations without just cause.

Diversity: It's clear this is an area our company performs better in than most, but we want to formally preserve Fusion's commitment to diverse hires. We would like to explore clear and distinct processes by which our company seeks to increase and maintain the diversity of its employees and ensure more opportunities for women and people of color to advance within the company.

Employee advancement: We seek a clear process by which an employee can begin on the path to advancement. We also seek to establish regular training programs whereby employees can learn new skills and share their own institutional knowledge with each other.

Editorial Freedom and Independence: We think that Fusion can be of the greatest service to its audience when journalists have freedom to pursue stories without fear of undue influence, intervention, or retaliation. We seek to establish clear policies on discipline and termination, as well as create mechanisms for staff to participate in crafting editorial policy.

Sustainable Career Paths: We seek to negotiate a contract that gives Fusion employees access to programs to build a sustainable career, such as but not limited to supportive family leave policies, protecting paid time-off policies and preserving and protecting benefits like healthcare and retirement.

Next Steps: We have formed an organizing committee to work on building our union. You are encouraged to join with us. If you are supportive of the union and would like to be a part of the process, it is important that you sign your union card. If you want to get more involved or have questions, you can contact us at fusionstaffunion@gmail.com and one of us will get in touch.

In Solidarity,
The Fusion Union Organizing Committee
UPDATE
In an email to Fusion staff Wednesday evening, company management responded more in depth to the unionization drive. Read the full email below:
From: Team Fusion
Date: Wednesday, October 5, 2016
Subject: Guild Representation
To Fusion All
Hi all - -
Today FUSION became aware that a group of employees is seeking to have the Writers Guild represent FUSION employees.
As an organization rooted in journalism, we believe in democratic choice made by a well-informed electorate. We feel it is important that all employees who would be affected have the opportunity to hear FUSION's perspective on the issue of union representation so that they can make an educated, personal decision from the privacy of a voting booth. We'll be sharing information directly with you and encouraging you to investigate and ask questions so that you have a complete picture on what Guild representation would mean. At the end of that process, we think you will agree that Guild representation would not be beneficial for you or FUSION.
While you may be considering the question of representation, we want to clear up a misconception regarding the ability for some employees to opt out if they are not interested in being a part of the Guild. You should know that if the Guild obtains the right to represent a group of FUSION employees, by law all employees in that group will be represented. For this reason, it is critical for all employees to participate in this decision-making process.
In the meantime if you have any questions you can reach out directly to us as always or you can submit a question anonymously here and we will get back to the broader group with responses (you will need your fusion.net email address to access the site so we know it is an employee question, but all submissions will be anonymous).
We will be coming to meet with you in person soon to answer additional questions you might have. We'll be back in touch on timing once Hurricane Matthew passes.
Boris & Danny