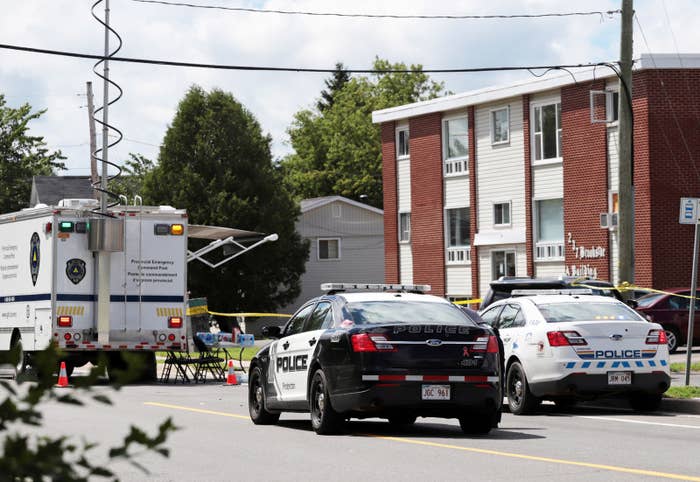 At least four people, including two officers, are dead and a suspect is in custody Friday after a shooting in Canada.
The officers were responding to an emergency call about gunfire at an apartment complex on Brookside Drive in Fredericton, the capital city of New Brunswick, just after 7 a.m. on Friday when they were shot.
"On arrival, they observed two civilian victims on the ground," said Fredericton deputy police chief Martin Gaudet at a news conference on Friday. "When they approached the victims, they were shot at as well."

The two officers killed were identified as 45-year-old Lawrence Robert Costello, a father of four children, and 43-year-old Sarah May Burns, a mother of three. Costello was a 20-year police veteran, while Burns had been on the force just two years.

"This is the worst moment for any chief of police in any agency to deliver this news," said Fredericton Police Chief Leanne Fitch.
The two civilians, a man and a woman, have not yet been named, pending notification of family.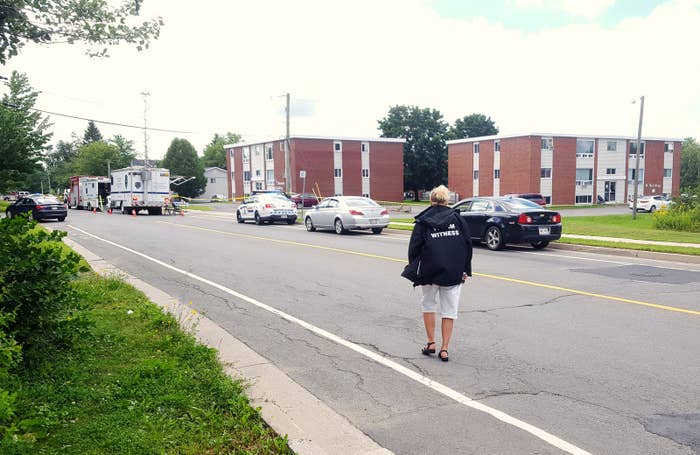 The suspect, a 48-year-old male from Fredericton, was taken into custody at around 9.30 a.m. and is undergoing treatment for "serious" injuries after being shot at by officer, Gaudet said.
No motive has been publicly identified by officials.
"The investigation is continuing to determine exactly what happened," Gaudet said.
One witness told HuffPost he saw the suspect and the barrel of his gun in a window upstairs in an apartment building during a firefight with police.
"I just woke up to gunshots outside my window," he said. "I just looked outside my window, and it was a cop firing at the suspect, I assume."
The man, visibly shaken, said he had been "very, very startled."
Authorities who responded to the scene had encouraged reesidents to stay in their homes with the doors closed and secured. Employees at a Tim Hortons on the street told local news they complied with law enforcement, locking the shop's doors so customers couldn't exit or enter.

Around 8:20 a.m., a journalist for CTV reported that he heard four shots fired near Brookside Drive.
Shortly after 10 a.m., police said there was no longer any threat to the public and that they had taken a suspect into custody who was being treated for serious injuries.
Multiple other people were also treated for injuries at a local hospital. On Friday afternoon, police would not confirm any other injuries.
Prime Minister Justin Trudeau said on Twitter Friday that his heart went out to all those affected by the shooting. The Minister of Public Safety also said that all of Canada stood with the police officers who were killed.
Friday afternoon, residents left flowers and signs at the Fredericton police headquarters.
The incident in New Brunswick comes three weeks after two people were killed and 13 others injured in a mass shooting in Toronto.

The shooting has also resurfaced memories of 2014, when three Royal Canadian Mounted Police officers were killed in a shooting in Moncton, New Brunswick.