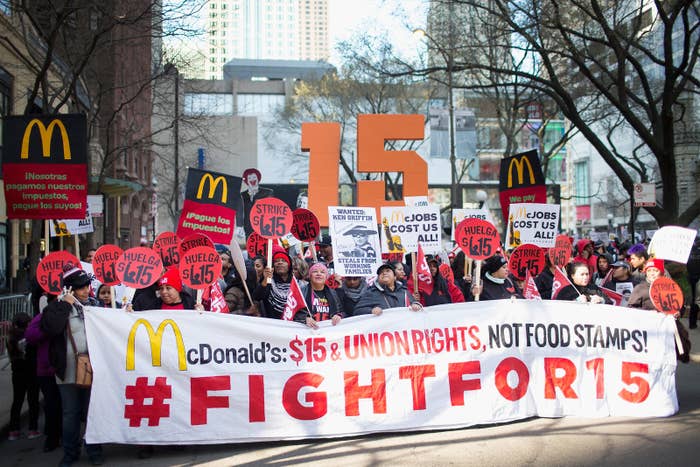 The financial backer of the Fight For $15 minimum wage campaign spent more than $10 million bankrolling the effort in 2016, with almost $2 million more paid to the influential New York public relations firm that promotes it.

The Service Employees International Union, which is the main backer of the minimum wage effort, disclosed the numbers in its 2016 financial disclosure submitted to the Labor Department on Thursday. The filing also showed that the SEIU — a powerful force in progressive politics and the Democratic party — gained more than 13,000 members in 2016, reversing five years of decline.
The union counted 1,901,161 dues-paying members for the year, the highest since 2011, when it peaked at 1,921,786 members.
The data point may hearten advocates for SEIU's unorthodox, forward-looking organizing methods, which some have criticized. While the Fight for $15 has been celebrated as one of the most vibrant and visible elements of the labor movement in recent years, it has relied on continued union funding while its beneficiaries — millions of low-income workers whose incomes have begun rising thanks to minimum wage hikes — do not pay union membership dues.
"While the SEIU has scored some legislative victories, the union continues to bleed money with no major restaurant organizing win to show for it," said Richard Berman, Director of the right-leaning Center for Union Facts, in a statement emailed to BuzzFeed News.

Defenders say the Fight For $15 has built up worker power at a time when traditional unions are losing clout. They credit the effort with increasing local minimum wage laws through executive legislative action (in New York and California, for example) and at the ballot box. A total of 19 states implemented minimum wage raises in 2017.
Those laws in turn lift the wage floor, leading to gains for workers throughout the economy, the SEIU says. That gives unionized workers, including its own members, more leverage at the bargaining table.
"For our members, investing their energy and resources into supporting this movement has helped address the worst economic inequality of our time," SEIU spokesperson Sara Lonardo wrote in an email to BuzzFeed News.
"Thanks to the fearlessness and courage of working people nationwide — including thousands of SEIU members, fast food, home care, child care and airport workers — working people in California, New York State, Seattle, and Washington, D.C. are on a path to $15 an hour."
She said that unionization in those industries remains a goal of the movement.