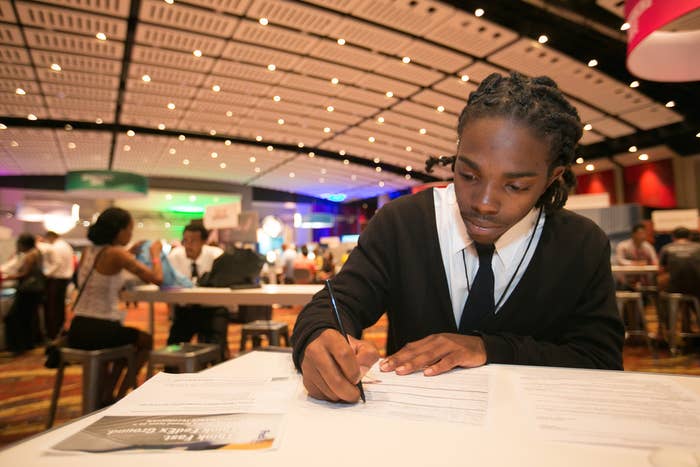 The "100,000 Opportunities Coalition" launched in Chicago this month, which is another way of saying several hundred people between 16 and 24 were hired for entry-level jobs. Also, Common gave a concert, and some Fortune 500 company executives held a press conference.
Companies aligned with the coalition are calling their target hiring demographic "Opportunity Youth," a term originating with a 2012 White House commission on the approximately 6.7 million young people who are neither enrolled in school nor participating in the labor market.
"When lost revenue and direct costs for social supports are factored in, taxpayers will shoulder roughly $1.6 trillion over the lifetimes of these young people," the council's report notes. "The cost to the nation of inaction is high."
Members of this "disconnected" generation, more isolated from the workplace than previous generations, often lack the experience or education necessary to land a first job based on a résumé alone, the commission found. They also have less access to work in the neighborhoods where they live.
Led by Starbucks CEO Howard Schultz, the 100,000 Opportunities Coalition is a group of 30 large companies that have said they will hire 100,000 such young people by 2018. But some say the new jobs in question have real problems: they lack good hours, fair pay, and the promise of future careers — and young people deserve better.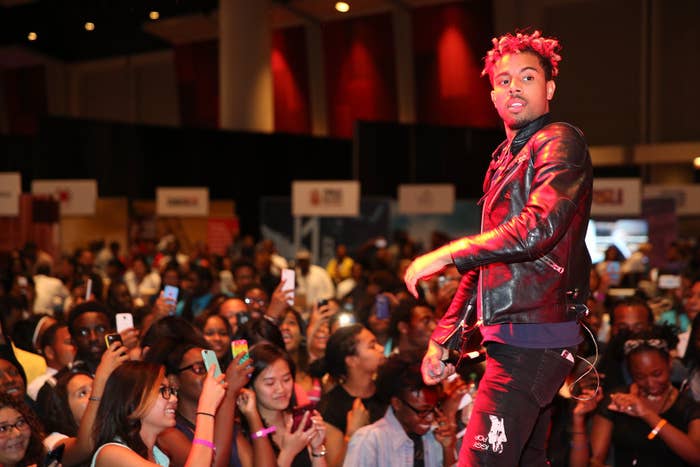 At the Coalition's kick-off event in Chicago, 4,000 "opportunity youths" attended a job fair with panels (résumé-crafting, interview skills), roundtables (CEO story-swapping), and pop music performances. Usher and will.i.am were there. Companies extended about 600 job offers on the spot, according to Daniel Pitasky, executive director of the Schultz Family Foundation.
"These kids are bright, innovative, resilient. They're ready to work," said Pitasky, who attended the event.
Pitasky said that he was heartened by the "unprecedented showing of interest from the corporate sector" in the initiative, which also includes collaboration with public and philanthropic programs. A $30 million investment from Schultz leads the coalition's funding, with additional contributions from the Joyce, Rockefeller, MacArthur, and other foundations.
Companies committed to hiring for apprenticeships, internships, training programs, and full-time, entry-level jobs included major employers such as Starbucks, Wal-Mart, FedEx, CVS, Chipotle, Domino's, Hyatt, Nordstrom, Pizza Hut, T-Mobile, Walgreen's, Hilton, Hyatt, Macy's, JC Penney, and Target.
While new workers may benefit in the short-term from any kind of employment, advocates also say these companies should have instituted better training and hiring practices independently, as responsible employers, instead of receiving foundation and nonprofit dollars to do so.
"These being poor quality jobs with no real solid living wage or career pathway, it's a shame to see that there are private foundation dollars going to support this," said Rachel Laforest, Director of the Retail Action Project, a workers' group focused on reforming labor conditions in the industry.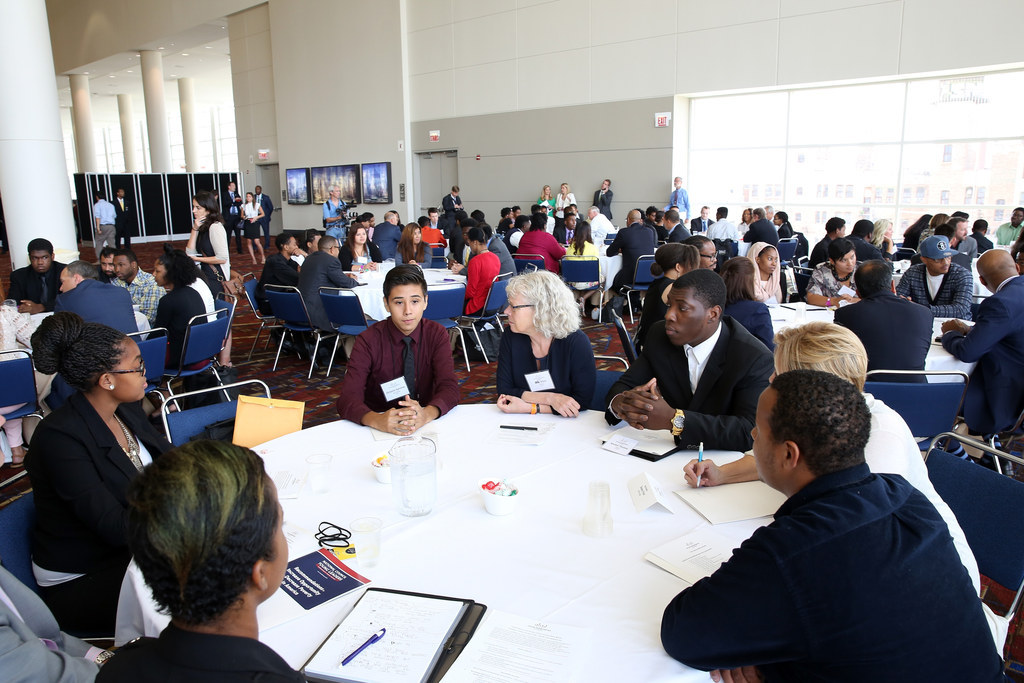 Tawa Mitchell, the program officer at the MacArthur Foundation handling their grant to the coalition, acknowledged the commitment to entry-level hiring does not explicitly extend to the guarantee of a career. At the fair, employers discussed the need to create new paths for advancement beyond the low-level retail and service sector jobs available, she said, while emphasizing that customer service skills at one company could be transferred to another.
"What you learn as a barista at Starbucks could then give you a leg up at Taco Bell or Pizza Hut," said Mitchell, in response to questions about the high turnover and low retention rates in many service industries.
MacArthur's funding was not intended "in the service of the companies' target employment numbers or their corporate bottom line," Mitchell clarified. Instead, the goal is to engage young people in the labor market who want gainful employment.
"I think what's been lost in this country, with YouTube sensations and overnight tech millionaires, is the reality that everyone starts somewhere," she said.
To be clear, the companies also haven't said they are creating new positions as part of the campaign, on top of their standard hiring practices. Pitasky said at least Starbucks is filling openings that were available before the coalition formed.
Matt Ehrlichman, CEO of 2-year-old company Porch.com, which connects home-owners with repairmen and renovators, said he was looking to make engineering and sales hires at the event.
"We need young people who are hungry," he said. As a network of trade professionals, Porch.com could be a source of research for young people looking to link up with carpenters, plumbers, and others in need of apprentices, he added.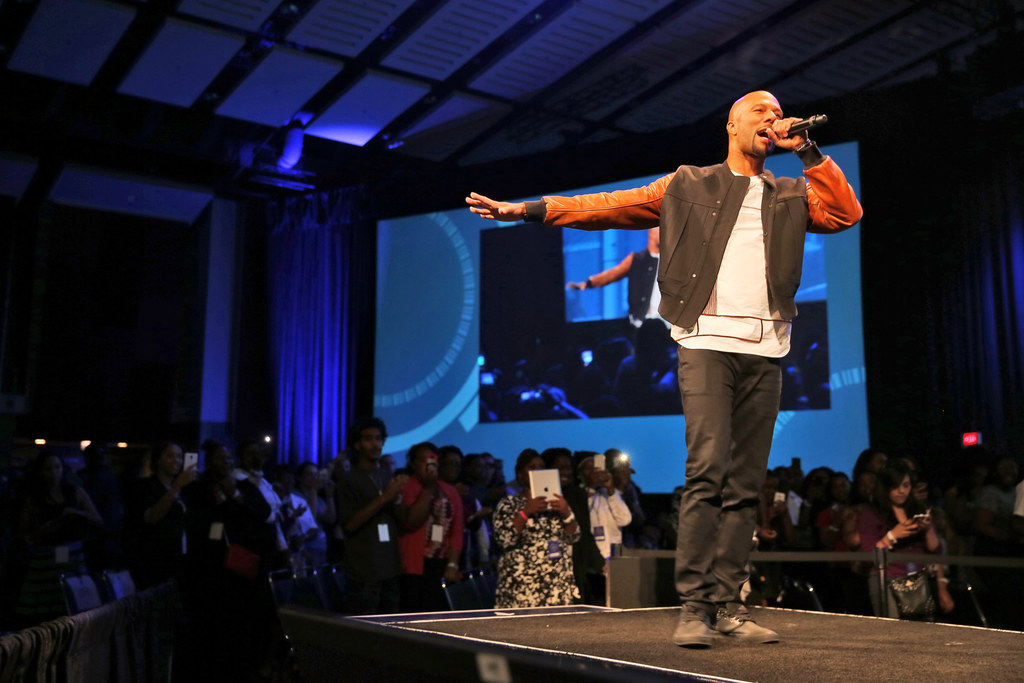 Ehrlichman's company got involved with the coalition because their headquarters neighbors Starbucks' — a case of proximity generating opportunity. When he was in his 20's, Ehrlichman said, he left college to found his first startup, Thriva, which he eventually sold for a little over $60 million. He cites mentors during his youth as giving him a leg-up.
"it's such a key moment in people's lives," he said, of the 16-24 age range. "I feel like I had some people at that time in my life that put me on a certain track."
Advocates argue that investment in skills training and workplace rights education, rather than isolated hiring blitzes, would be a more lasting way to create mobility for this segment of workers, mostly young people of color.
"When there are existing employees who have been a part of a workforce, who are trying to make clear the jobs aren't sustainable, new employees could be incorporated into that struggle," said Erica Smiley, campaigns director for Jobs with Justice, who has worked on actions aimed at reforming labor conditions at Wal-Mart.
Instead, with foundation funding and non-profit partnerships, major employers are capitalizing on this under-accessed labor source to meet existing needs, Smiley argues, while responding to the White House's call to "re-connect" a hard-to-reach group with big employers.
Tara Darrow, a spokesperson for Nordstrom, said on the day of the job fair, the company gave 143 interviews and made 64 offers on the spot, and that many of the young people in attendance expressed a strong enthusiasm for customer service.
"There was a huge, energetic buzz in the air," she said. "We were overwhelmed with candidates and exceeded our expectations for the day."
Did the candidates differ greatly from the kind of people who were typically hired at Nordstrom through the website? "No, not really. We get a cross-section," said Darrow. "What makes this event unique is we have an opportunity to connect specifically with youth." Opportunity youth.