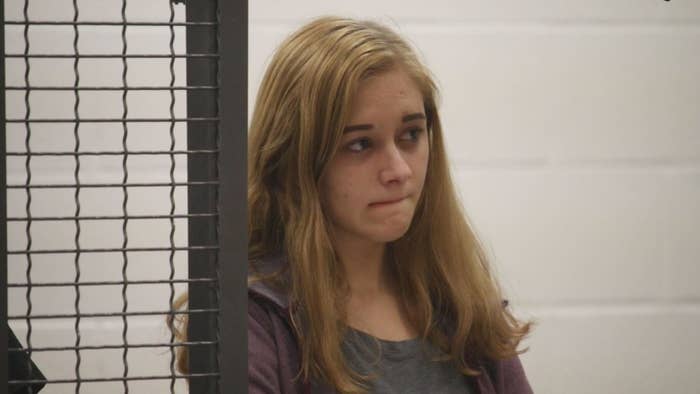 Morgan Roof, the younger sister of Dylann Roof, who shot and killed nine people in a historic black church in Charleston, South Carolina, in 2015, was arrested Wednesday on charges of possessing weapons and marijuana, on the day of the national student walkout against gun violence, records from the Richland County court show.
Roof has been released on a $5,000 bond and has not been allowed to return to school, according to local reports.
The teen also posted a hateful Snapchat message in reference to the walkout, which read, in part: "I hope it's a trap and y'all get shot," and "we know it's fixing to be nothing but black people walkin out anyway."
The principal of Roof's school, AC Flora High School in Columbia, South Carolina, wrote in a statement that "the posting was not a threat, but was extremely inappropriate. That student was dealt with in a swift and severe manner as the posting caused quite a disruption."
The post also criticized Roof's classmates for participating in the protest, which lasted 17 minutes in honor of the 17 students killed in the Valentine's Day massacre at Marjory Stoneman Douglas High School in Parkland, Florida.
"[T]hey are letting you do this, nothing is gonna change what tf you think it's gonna do?" Roof wrote.
In separate incidents at the high school Wednesday, officials investigated two instances of reported suspicious activity, the principal said in her statement. In one case, officers found the rumor of a student possessing a weapon to be untrue. In the second case, they recovered an unloaded weapon.
South Carolina Gov. Henry McMaster wrote on Twitter that "potential tragedy was avoided at AC Flora High School," crediting the school resource officer with acting "quickly and decisively" on information of potential threats. He also called for the state General Assembly to pass legislation to put a police officer in every school.
Dylann Roof, 23, was found guilty on 33 federal counts and sentenced to death for the murder of nine people. He is a self-professed white supremacist, and a friend of his once told investigators that he had hoped to start "a race war."