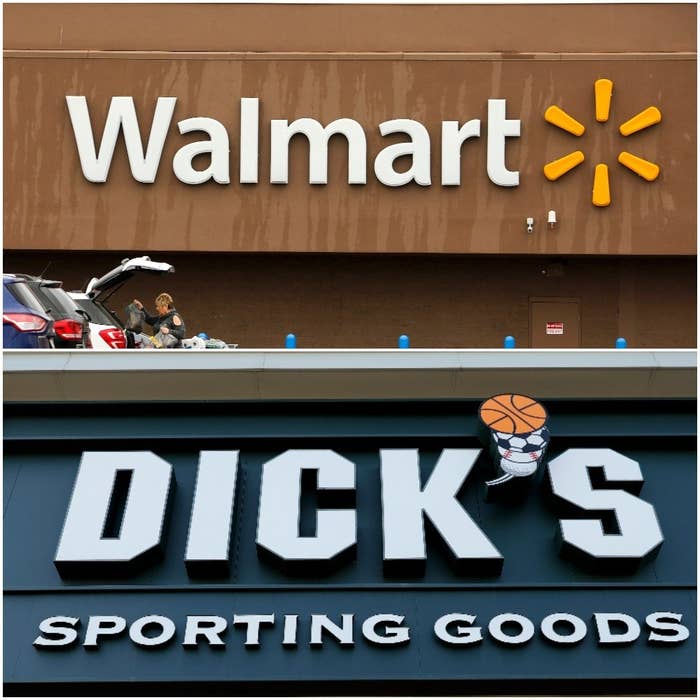 Major gun retailers are raising the minimum age for firearms purchases from 18 to 21 in response to the Florida school shooting, in which a 19-year-old allegedly used a semiautomatic rifle he legally purchased to kill 17 people.
Walmart and Dick's Sporting Goods, two major sports equipment retailers, announced the new policy Wednesday.

Dick's also announced that it would stop carrying assault-style rifles and high-capacity magazines.

The retailers emphasized that their actions were in response to the massacre at Marjory Stoneman Douglas High School.
Dick's Sporting Goods also said in a statement that "now is the time to have a meaningful discussion about common-sense reform with the intent of finding a solution."
Walmart, which stopped selling AR-15–style rifles years ago, said in a statement that "in light of recent events, we've taken an opportunity to review our policy on firearm sales." It also will not sell ammunition to anyone under age 21.
Other large retailers have since followed suit. L.L. Bean said it would no longer sell guns to people under 21, though it only sold firearms at its flagship store in Freeport, Maine. The grocery chain Kroger also said it would no longer sell guns to those under 21 at its Fred Meyer stores, which operate in Alaska, Idaho, Oregon, and Washington.
Recreational Equipment Inc (REI) said it would no longer carry products from Vista Outdoor, whose brand Savage Arms manufactures assault-style rifles and other weapons. Brands under Vista Outdoor's umbrella sold by REI include Camelbak, Giro, Bell, Camp Chef, and Blackburn.
Dick's said Friday that it was "very appreciative" of all the other companies that have taken similar action.
In the past week, major companies including Hertz, MetLife insurance, and Delta have also publicly withdrawn from promotions and business relationships with the National Rifle Association (NRA). The actions of major companies come in the wake of the #NeverAgain movement driven by the lobbying of survivors of the Parkland shooting.
"We have tremendous respect and admiration for the students organizing and making their voices heard regarding gun violence in schools and elsewhere in our country," Dick's said in a statement. "We have heard you. The nation has heard you."
The company added that it respects the Second Amendment, and recognizes that the vast majority of gun owners in the US "are responsible, law-abiding citizens."
"But we have to help solve the problem that's in front of us. Gun violence is an epidemic that's taking the lives of too many people, including the brightest hope for the future of America — our kids."
However, Dick's also suspended sales of assault rifles in December 2012 after the shooting at Sandy Hook Elementary School in Newtown, Connecticut, which left 26 people dead. But a year later, the company began selling the type of rifle that shooter Adam Lanza used at a separate chain of stores geared toward hunting enthusiasts, NBC News reported. Dick's did not respond to BuzzFeed News' request for comment on whether its latest move would be permanent.

In the statement, Dick's also acknowledged that it legally sold a shotgun to the Parkland shooter in November.

"It was not the gun, nor type of gun, he used in the shooting. But it could have been," the company said. "Clearly this indicates on so many levels that the systems in place are not effective to protect our kids and citizens."
In 2015, Walmart said that it would no longer sell high-powered rifles in its US stores, although it attributed that decision to lower demand.

Now, the company said it was taking its obligation to be a "responsible seller of firearms more seriously and go beyond federal law by requiring customers to pass a background check before purchasing any firearm."
Other gun sellers, however, have said they do not plan to change their policies, including Hyatt Gun Shop, one of the nation's largest independently owned gun stores, which has been in business since 1959.
Buds Gun Shop issued a statement on Facebook saying that policies "should be based on principal [sic], and principals [sic] should not be changed as often as public opinion changes." The owners of Buds Gun Shop also said that, if they "believed guns were the actual cause of these school, church, concert or movie theater shootings, we would have stopped selling them long ago ... and we would NOT have started back up."
Don Stewart, a gun shop owner in Oregon, told BuzzFeed News in an email that he "will continue to work towards changes that actually makes a difference."
He detailed steps that would help keep society safer, such as identifying and aiding people with mental illness and more severe punishment for anyone who uses a firearm to commit a crime.
Dick's also tweeted a list of suggested gun reforms, including banning assault-style firearms and raising the age of gun ownership to 21.

Fred Guttenberg, the father of a student who died in the Parkland shooting, said Wednesday on CNN that he was "so proud and happy to hear" of Dick's decision.

"I will be going to Dick's Sporting Goods today to buy something," he said. "They are taking a voluntary step to make our kids safer, to make all of us safer in any public facility, and I couldn't be happier."
L.L. Bean, REI, and Vista Outdoor did not immediately respond to a request for comment.