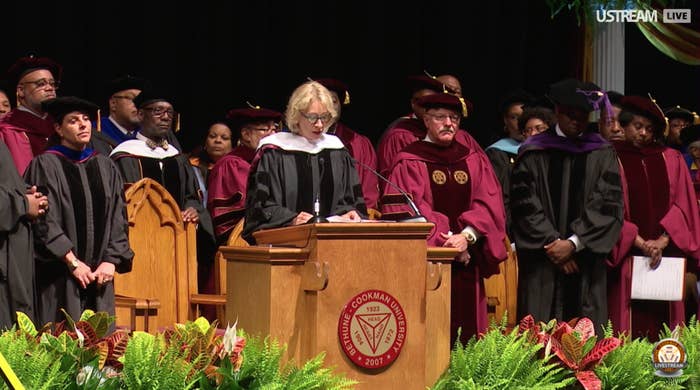 Secretary of Education Betsy DeVos was met with deafening boos as she gave a commencement speech at a historically black college in Florida on Wednesday, a disastrous scene for an administration that has made repeated overtures to HBCUs.
An incessant chorus of booing and shouting from students and parents at Bethune-Cookman University in Daytona Beach caused DeVos to briefly stumble over her words and speed through portions of her speech, which was at times almost inaudible. At one point, the school's president stepped up to the podium and ordered students to stop the booing, threatening to mail them their diplomas instead of presenting them in front of their families.
DeVos, whose nomination for education secretary was deeply controversial from the day of her confirmation hearing, angered black college students early in her tenure by suggesting that HBCUs were "the original pioneers of school choice."
More than half of Bethune-Cookman's graduates stood with their backs to DeVos as she was introduced, and a dozen remained there for the entire speech. Some members of the crowd, including a student, were escorted from the room with their fists raised in the black power symbol.
DeVos's speech tracked familiar thematic territory, inviting students to follow a legacy of public service and focus on giving back to their communities. But, with a few exceptions, she was deluged with shouts and boos from the crowd. When DeVos said that she "wanted to acknowledge the different life experiences" of those in the crowd, chants of "hell nah" rang out around the arena.
In a statement following the event, DeVos said Bethune-Cookman is home to "many remarkable students" and that "their strength and leadership make me optimistic for America's future."
"One of the hallmarks of higher education, and of democracy, is the ability to converse with and learn from those with whom we disagree," she said. "I have respect for all those who attended, including those who demonstrated their disagreement with me. While we may share differing points of view, my visit and dialogue with students leaves me encouraged and committed to supporting HBCUs."
Perhaps the loudest disapproval came when DeVos mentioned her plans to visit the gravesite of the school's founder and namesake, Mary McLeod Bethune, a pioneering educator and civil rights activist who is deeply beloved on the 3,600-student campus.
Then there were the raucous boos for Donald Trump, who was mentioned as DeVos was awarded an honorary doctorate from the university. Just this past weekend, Trump stirred up a firestorm of controversy when he suggested that a funding program for black colleges might be unconstitutional because it was based on race. He and DeVos later walked back that statement, saying HBCUs had their "unwavering" support.
As DeVos spoke on Wednesday, a group of protesters stood outside in the Florida heat, holding signs that decried the education secretary. On the backs of signs were congratulations for B-CU's graduates.
Cassandra Wallace, whose daughter is a sophomore at Bethune-Cookman, said she had come to support the school's graduates. "They absolutely love Mary Bethune, and it's sad that they're being pulled into politics on a day like this," she said. "We are here for them."
The controversy over DeVos had been brewing since the announcement, with students, alumni, and outside groups calling on the university to rescind her invitation. Students and parents said they had been left with no other choice than to bring their protest to the graduation Wednesday.
"I wasn't surprised at all," said Darius Washington Sr., whose daughter was graduating. She was among many students who stood and turned her back on DeVos, Washington said. "They should have known, given what she stood for, that this wasn't the right forum for her to come here."
The Rev. Jeffrey Dove, an African Methodist Episcopal Church pastor, stood on the sidewalk with a sign that said "No Justice, No Peace." He and other black clergy leaders had met with B-CU's president, Edison Jackson, to ask him to rescind the invite for DeVos.
"I don't hate Betsy DeVos, but the fruit from the poison tree is poisonous. Donald Trump is a racist and a sexist, and my job as a preacher is to speak up against that," Dove said. "There's no problem with a dialogue, but this is not a dialogue — it's a monologue."
But Jackson has staunchly defended his decision, telling reporters Wednesday, "God is on our side, and when he's for you, what does it matter who's against you?"
He called DeVos's visit an opportunity to "engage and educate" the secretary, and said she had met earlier with 12 Bethune-Cookman students who had offered her concrete policy suggestions.
But he also presented the decision as pragmatic. "We are always about the business of making new friends," Jackson said. "Her department controls 80% of the revenue that comes into our school. Why wouldn't we want to do that?"
Here's the full speech.