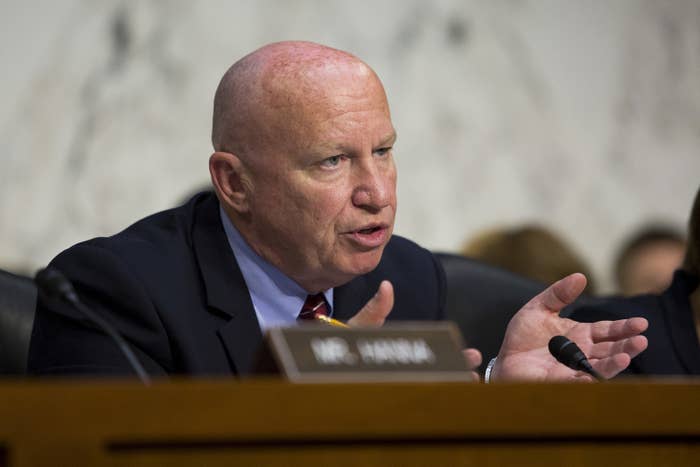 Congress is moving to expand drug testing of unemployed people seeking government benefits, with the Republican-led House passing a bill last week that would overturn Obama-era restrictions on the controversial tests.
Texas GOP Rep. Kevin Brady, who sponsored the bill, said it seeks to reverse "blatant executive overreach that all but prohibits states from implementing important reforms to help qualified unemployed workers in their quest to find a new job."
The bill does not enable unchecked drug testing of benefits applicants, instead reversing a rule, finalized in the last year of the Obama administration, that limited who could be tested.
In 2012, as part of the Middle Class Tax Relief and Job Creation Act, Congress passed a law (which was signed by then-President Obama) allowing states to drug test applicants for unemployment benefits in two instances: when unemployed workers had been fired from a job because of illegal drug use, or if they were looking for work in an industry with regular drug testing.
In August 2016, Obama's Department of Labor finalized a rule for the latter category, defining a limited set of jobs that involve regular drug testing, such as pilots, bus drivers and jobs requiring use of a firearm. The House bill passed last week seeks to overturn that rule.
But opponents worry it could be the first step by Republican lawmakers seeking to undo restrictions on drug testing unemployed people as a condition of public assistance. Nearly 50 labor and civil rights groups signed on to a letter last week arguing that such testing is unconstitutional and stigmatizing, and that the legislation would lead states to waste taxpayer dollars on testing already performed by employers during the hiring process.
The bill passed the house 236-189, largely along party lines, and must now be passed by the Senate and signed by President Trump before going into effect.
"It's appalling that instead of helping people who have lost their jobs, the Republican leadership in Congress is choosing to drug test them," said Grant Smith, deputy director of national affairs with the Drug Policy Alliance, which advocates for drug-related policy reform. "It's shameful that Congress would demonize people who use drugs, especially when there has been so much recent rhetoric about helping people who struggle with opioid and other forms of addiction."
Kevin McCarthy, the Republican House Majority leader, said reversing the drug-testing rules "is a moral, economic, and constitutional issue." The change "allows for problems to be solved at the most local level," McCarthy said in a statement on his website. "It could also shore up struggling social insurance programs and help people overcome drug abuse."
Mandatory drug tests have been looked at skeptically by judges. A Florida law that required drug testing for welfare applicants was struck down in federal court in late 2013, with the judge ruling there was "no set of circumstances under which the warrantless, suspicionless drug testing at issue in this case could be constitutionally applied." Florida Governor Rick Scott pledged to appeal the case to the Supreme Court, but later chose not to.