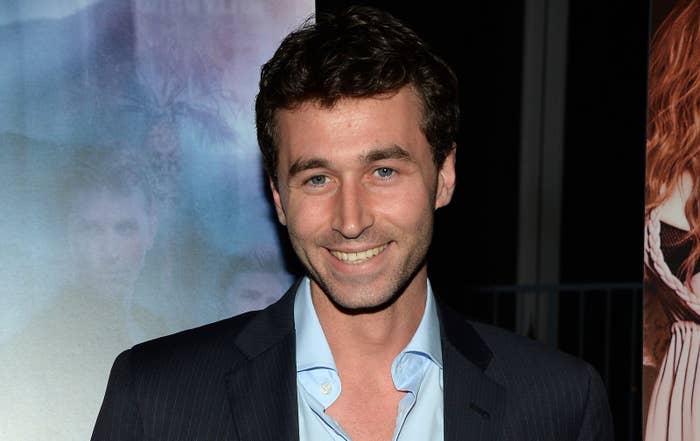 California's main occupational health and safety agency is investigating adult film star James Deen's eponymous company — James Deen Productions, also known as Third Rock Enterprises Inc. — a spokeswoman told BuzzFeed News Wednesday.
Prompted by a complaint from the AIDS Healthcare Foundation (AHF), the state's Division of Occupational Safety and Health (Cal/OSHA) information officer, Julia Bernstein, confirmed the investigation was opened on Tuesday for a complaint filed before that date. She said she was unable to comment further until the investigation is closed.
Deen currently stands accused of sexual assault by several women, and on Tuesday the AHF held a conference call with reporters to say Cal/OSHA was investigating "serious workplace health and safety violations" at his company. The investigation, AHF officials said, came after the organization in September filed a formal "Notice of Alleged Safety or Health Hazards" complaint against Deen's company with the agency.
A spokesperson for AHF said on the conference call that the foundation initially filed its complaint against James Deen Productions for videos showing actors perform without condoms — which the group considers a workplace health and safety issue. AHF Public Health Consultant Adam Cohen said the group amended its complaint last week, asking Cal/OSHA to "address issues of possible workplace violence" based on the sexual assault allegations against Deen.
"In order to make a complaint we don't have to prove there is a problem, just reasonable suspicion to investigate," Cohen said. "We can't say what the outcome of the investigation will be, but it will give a chance for female performers to prove their case."
AHF President Michael Weinstein said he believes the women accusing Deen of assault have nothing to gain by lying.
"They deserve to have their day in court," Weinstein said. "They deserve to have people give them the benefit of the doubt."
A representative for Deen declined to comment to BuzzFeed News regarding the investigation and complaints.
Cal/OSHA said all formal complaints are investigated "by conducting an on-site investigation within three working days for serious complaints, and within 14 calendar days for non-serious complaints, unless the complaint is without reasonable basis or is intended to harass the employer."
A formal complaint can be "filed by an employee, employee representative, employer of an employee at a multi-employer worksite, or a government agency." Employee representatives could include attorneys, union reps or health and safety professionals who have a relationship with an employee at the place of employment where a hazardous condition allegedly exists.
"Serious complaints from state or local prosecutors are investigated within 24 hours, and imminent hazard complaints are investigated immediately," according to Bernstein. "If someone's life is in danger, we'll investigate right away," she said.
Ged Kenslea, senior director of communications for AHF, said he could not provide BuzzFeed News with a copy of the complaint, "as it is under OSHA's jurisdiction now."
Michael Stabile, a spokesman for porn production at Kink.com, told BuzzFeed News that there's a "low bar" for Cal/OSHA complaints and that AHF periodically calls them in.
Kink.com, which has produced more than 250 shoots with Deen, is also under investigation by the agency for workplace safety violations.
"It speaks volumes that AHF would equate performer choice over condoms with sexual assault," said Stabile, adding that performers have spoken out against AHF in recent years, signing petitions, attending hearings and protests, and testifying at Cal/OSHA about "the importance of maintaining control over their own bodies."
Stabile said AHF has also ignored performer concerns over a new ballot initiative that would allow private citizens to sue if performers are not using condoms.
"This has never been about performer or performer safety. It has been about forcing an outdated morality on an industry that it believes should be teaching sex ed," he said.
In response to Stabile's comments, Kenslea told BuzzFeed News on Wednesday he believes the porn industry is trying to draw attention away from complying with the law.
"They've done everything possible but try to comply with the law," Kenslea said. "Federal and state law requires condom use regardless of the advocacy AHF has been involved in."
"We do not believe the lives of these workers are any less disposable," Kenslea added. "They are entitled to the protections of every California worker."
As for the ballot initiative that would allow citizens to file a complaint or sue over lack of condom use, Cohen told BuzzFeed News the subject of that suit would have to be a producer or someone who has a financial interest in the production.
Cohen added that AHF amended existing complaints against Kink.com last week to include "possible workplace violence" after the allegations against Deen surfaced.