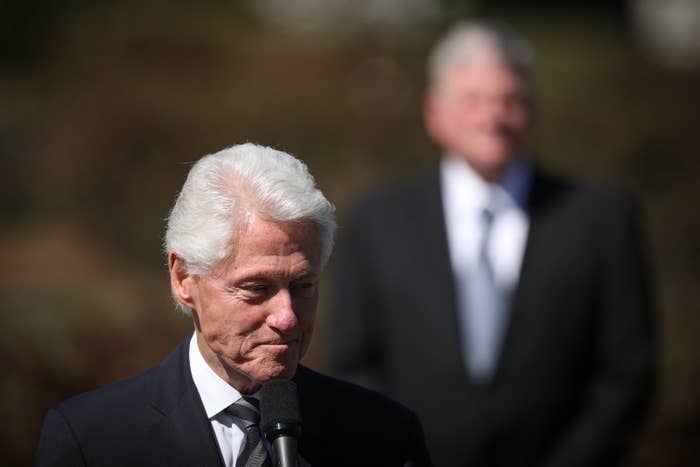 Former president Bill Clinton said Monday that he had "apologized to everyone in the world" for his involvement while in office with then-White House intern Monica Lewinsky but has never personally apologized to her.
"I have never talked to her. But I did say publicly, on more than one occasion, that I was sorry. That's very different. The apology was public," Clinton said in an interview with NBC News' Craig Melvin on Today.

Clinton said that he "felt terrible" at the time and that he apologized to "everyone in the world."

"It is important to me that everyone who has been hurt know that the sorrow I feel is genuine. First and most important, my family [and] Monica Lewinsky," he said at the time.
In 1998, Clinton was impeached after admitting to being sexually involved with Lewinsky, who was 22 at the time.
In March, Lewinsky wrote an op-ed in Vanity Fair stating that she had been diagnosed with post-traumatic stress disorder from the public scrutiny following the scandal and that the #MeToo movement had made her reconsider her views on harassment.

"He was my boss, he was my senior, he was at the pinnacle of his career, when I was in my first job out of college," she wrote.
Asked whether Clinton thinks differently or feels more responsibility for his actions now in the wake of the #MeToo movement, he said, "No. I felt terrible then, and I came to grips with it."
Clinton said that the events in question had been litigated 20 years ago and that he believes critics of his conduct have come forward again because of the ongoing national conversation sparked by the #MeToo movement, the downfall of disgraced Hollywood mogul Harvey Weinstein, and alleged conduct by President Trump.
"I think partly because they're frustrated that they got all these serious allegations against the current occupant of the Oval Office and his voters don't seem to care," Clinton said.
Asked whether he believes Trump has gotten a pass with regards to his sexual harassment, Clinton said, "No. But it hasn't gotten the coverage you would expect."
Clinton defended his decision to fight impeachment at the time, saying he believes he "did the right thing," "defended the Constitution," and had broad public support.
"This was litigated 20 years ago," he said. "Two-thirds of the American people sided with me. They were sensitive that I had a sexual harassment policy when I was governor in the '80s. I had two women chief of staff when I was governor. Women were overrepresented in the attorney general's office in the '70s. I've had nothing but women leaders in my office since I left. You are giving one side and omitting facts."
The interviewer responded that he was not trying to "present a side."
"I think this thing — it's 20 years ago, come on," Clinton then said. "Let's talk about JFK. Let's talk about, you know, LBJ. Stop already... I don't think — you think President Kennedy should've resigned? Do you believe President Johnson should've resigned? Someone should ask you these questions because of the way you formulate the questions. I dealt with it 20 years ago, plus, and the American people — two-thirds of them stayed with — and I tried to do a good job since then with my life and with my work. That's all I have to say to you."
Clinton added that "nobody believes [he] got out of that for free," and that he "left the White House $16 million in debt."

According to Melvin, after the cameras stopped rolling, the former president again reiterated that the facts of his case to differentiate it from other high-profile cases of sexual harassment that have come to light in recent months, such as those of Trump and Weinstein.