Fast food CEO Andy Puzder's nomination to become President Donald Trump's Labor Secretary could be in jeopardy, as four Republican Senators have reportedly said they will withhold their support for the candidate — enough to torpedo his nomination, given universal opposition by Democrats.
Senators Susan Collins of Maine, Lisa Murkowski of Alaska, Tim Scott of South Carolina and Johnny Isakson of Georgia have all voiced serious concerns to Republican leaders about the nominee, CNN reported Monday. Sen. Collins has reviewed footage of Puzder's ex-wife, Lisa Fierstein, appearing in disguise on the Oprah Winfrey show to discuss spousal abuse prior to the couple's divorce, Politico reported.
A representative for Sen. Isakson told BuzzFeed News he has "not taken a position one way or the other" on Puzder's nomination and will make a final decision after the hearing, scheduled for Thursday. Sen. Murkowski has "not yet weighed in on the nominee," a spokesperson said.
A spokesperson for Sen. Scott told BuzzFeed News the senator will not comment on the nominee until after his hearing, and a representative for Sen. Collins did not immediately respond to request for comment.
George Thompson, a spokesperson for Puzder, wrote in an email to BuzzFeed News: "There is a big difference between not supporting and withholding judgment."
On Tuesday, the left-leaning Campaign For Accountability will argue in St. Louis County court to unseal Puzder's divorce documents, detailing the abuse allegations. Fierstein has since retracted the allegations, including in a letter to the Senate committee considering his nomination.
The news of wavering support among some Republican senators came as fast food workers and their supporters targeted the companies Puzder leads, with protests occupying the lobby of the Hardee's corporate headquarters in St. Louis, Missouri, and of its parent company, CKE Restaurants, in Anaheim, California Monday.
At the Hardee's headquarters, protesters unfurled banners reading "wage thief" and "discriminator," decrying the labor law violations at outlets of Hardee's and Carl's Jr. during Puzder's tenure as CEO.
Business groups have joined the fray in support of the CEO, who is an outspoken opponent of efforts to raise the federal minimum wage. The International Franchise Association, the National Restaurant Association and the Chamber of Commerce have all made their support for the candidate clear, while the right-leaning Center for Union Facts took out a full-page ad in the Wall Street Journal Monday, attacking Puzder's critics at the Service Employees International Union. The SEIU has been the main backer of the Fight For $15 minimum wage movement, which has led protests against Puzder.
"Employees have filed thousands of unfair labor charges against the Service Employees International Union," the ad reads. "Incredibly, this is the same union waging war on Labor Secretary-designate Andy Puzder—despite the many skeletons hiding in its own closet."
The Senate Committee on Health, Education, Labor and Pensions will hold Puzder's nomination hearing on Thursday. The candidate is expected to face questions about his labor record as a fast food executive, as well as his employment of an undocumented domestic worker.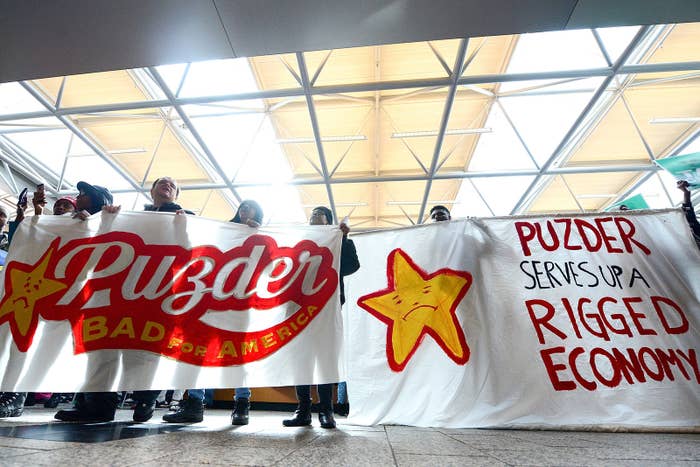 Democratic Sen. Elizabeth Warren of Massachusetts sent a 28-page letter to the nominee Monday, with questions on everything from potential conflicts of interest and plans for divestment to gender- and race-based discrimination cases at his fast food business.
The stated mission of the Department of Labor, which Puzder would head as Secretary, is to "foster, promote, and develop the welfare of the wage earners, job seekers, and retirees of the United States; improve working conditions; advance opportunities for profitable employment; and assure work-related benefits and rights."
Warren's letter read, "You've made your fortune by squeezing the very workers you'd be charged with protecting as Labor Secretary out of wages and benefits... Your long record of public comments reveals a sneering contempt for the workers in your stores, and a vehement opposition to the laws you will be charged with enforcing."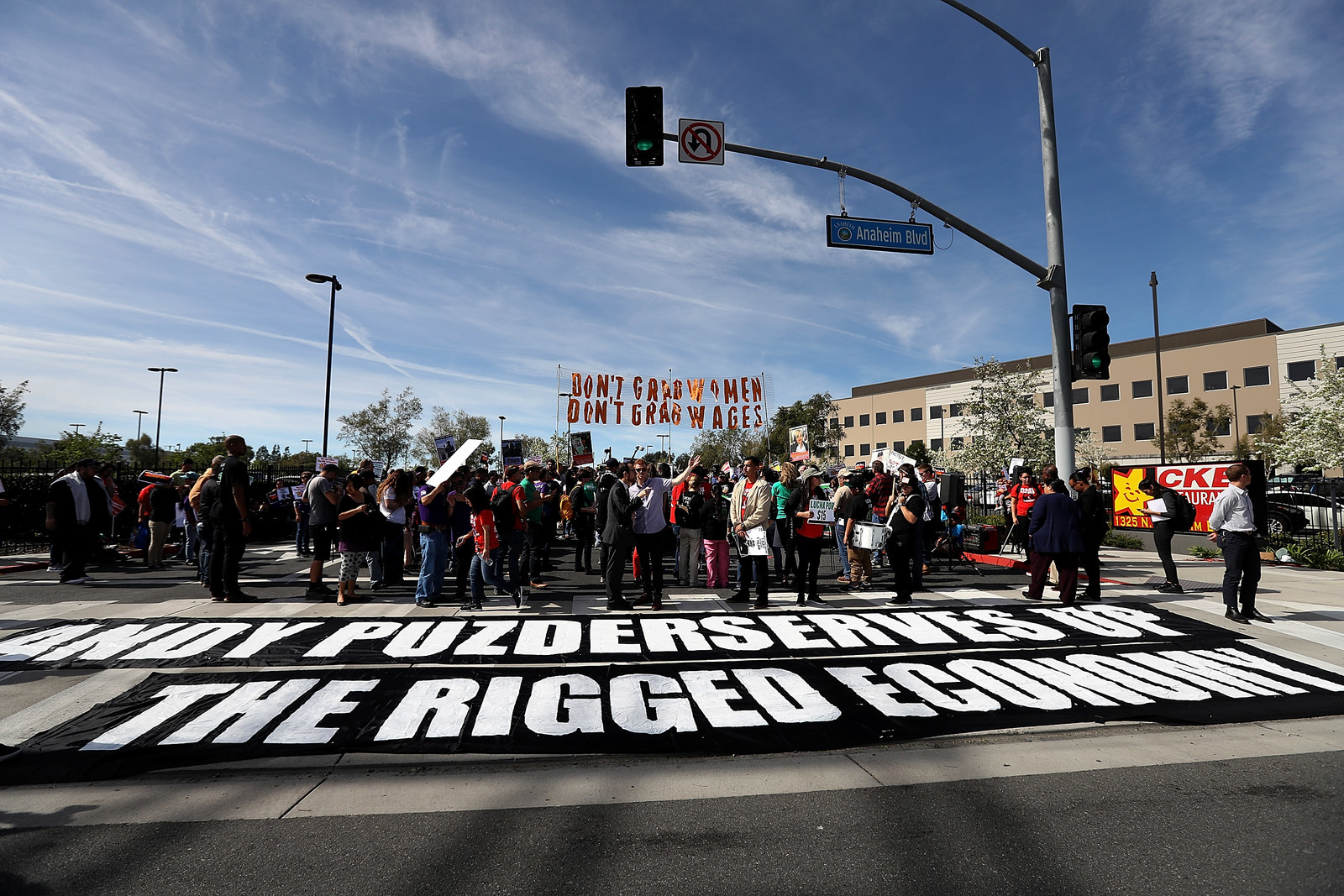 Following Thursday's hearing, Senate Majority Leader Mitch McConnell and business groups will have a week of congressional recess to try to regain the support of at least two senators to restore Puzder's chances of confirmation, or the nominee could become the first cabinet nominee to be successfully blocked by Democratic opposition in the first weeks of President Donald Trump's administration.