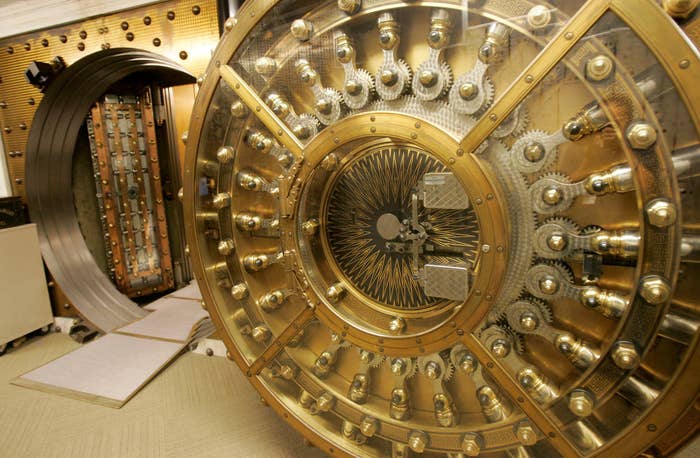 Under their freshly negotiated contract, tellers and all other workers at union-owned Amalgamated Bank will make at least a $15 an hour as a starting wage, President and CEO Keith Mestrich told BuzzFeed News Wednesday.
Negotiated and ratified last week, the contract took effect retroactively on July 1, making the country's largest union-owned bank the first financial institution to throw its weight behind the national Fight for 15 campaign to raise pay for low-wage workers.
"We think it's the right thing for our bank to do, and frankly we think it's the right thing for all banks to do," said Mestrich. "If any industry in this country can afford to set a new minimum for its workers, it's the banking industry."
Founded by garment workers in 1923, Amalgamated today counts both the Democratic National Committee and Occupy Wall Street as clients. Its workers are unionized through the Office and Professional Employees International Union (OPEIU) Local 153, and the raise will primarily affect tellers, mail-room workers, and security guards.
Mestrich said he hopes the raise will signal to others in the sector that banks can and should pay their workforces living wages. Other private companies, such as Aetna and Facebook, have independently raised pay for their workers to at least $15 an hour over the last year; cities such as Seattle, San Francisco, and Los Angeles have passed local minimums at that rate. Most recently, a New York state wage board recommended a $15-an-hour minimum wage for fast food workers.
The move by Amalgamated comes as a union-backed effort is pushing the banking industry to raise pay for its frontline staff. A coalition of community groups called the Committee for Better Banks, supported by the Communications Workers of America (CWA) union, has been organizing tellers and other low-wage bank workers since before last October.
They also rally workers on Twitter around the pre-existing hashtag #tellerprobs, a natural forum for grievance-airing, from interactions with space-cadet customers to talk of pay and hours.
Erin Mahoney, a CWA organizer with the Committee for Better Banks, said the campaign has grown from fewer than a dozen official members in April to six active chapters, in Florida, California, Minnesota, Missouri, New Jersey, and Rhode Island. The group has members working at banks including Wells Fargo and Bank of America, meeting on a regular basis to draft petitions for changes to workplace conditions, including wages.
"This is something we've been saying for a while," said Mahoney. "In the most profitable industry in the world, the fact that we have people still making less than $15 an hour is outrageous."
There are almost half a million bank tellers nationwide, according to a recent report by the National Employment Law Project (NELP), making it the largest banking-related occupation in the United States. Of these, three-quarters earn less than $15 an hour, with a median hourly wage of $12.44.
"Many people hear about bank profits and lavish CEO compensation and assume that all jobs in banking pay well. But the reality is far different," said Christine Owens, executive director of NELP, in a statement accompanying the study's release. "Though they handle other people's money all day, many tellers struggle to survive on wages too low to sustain families."
The workforce is overwhelmingly female, and tellers are more likely than the general workforce to rely on public assistance, a recent study by the UC Berkeley Labor Center found. In New York, the families of nearly 4 in 10 bank tellers rely on programs such as Medicaid, food stamps, and housing and heating assistance; nationally, the number is almost 1 in 3.
While a full-time bank teller makes on average about $25,800 per year, compensation packages for executives are frequently more than 500 times this, the NELP study found. In 2014, Capital One Financial, Wells Fargo, and Bank of America awarded their CEOs compensation valued at $19.6 million, $19.3 million, and $13 million, respectively, the report notes.
At Amalgamated Bank, the CEO-to-worker pay ratio is just 17:1.