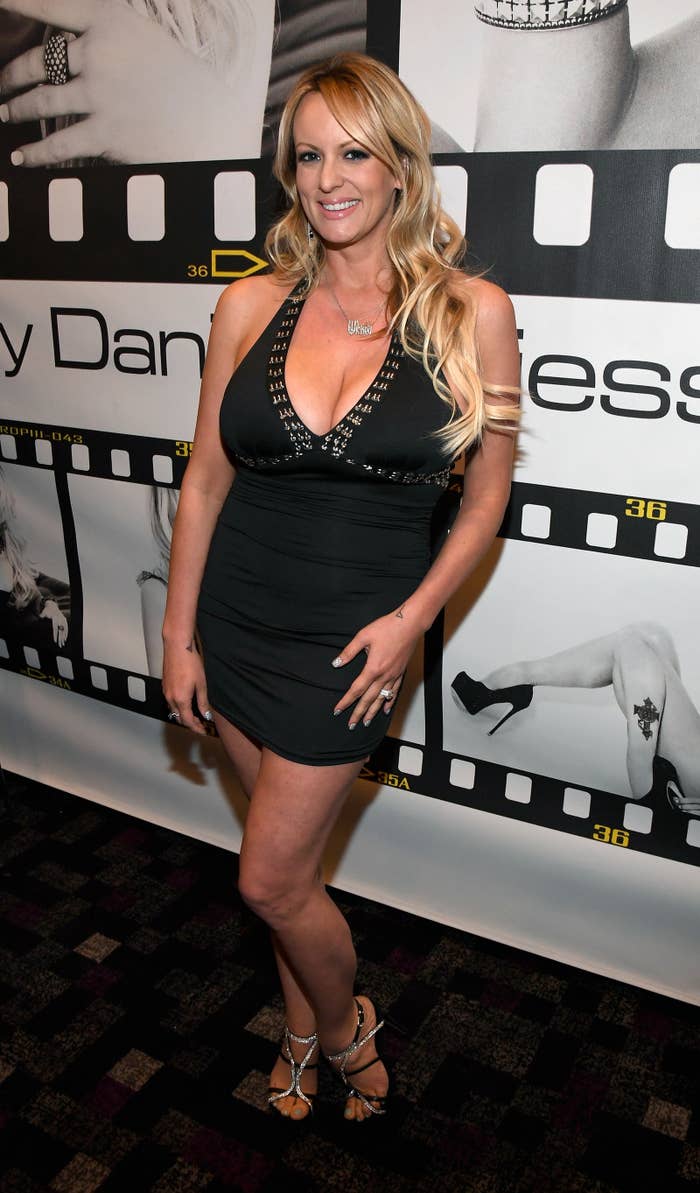 The adult film star who claims she had a sexual relationship with Donald Trump in 2006 said in an interview with a magazine in 2011 that she could "describe his junk perfectly" and that they did not use protection when having sex.
In an interview with InTouch Weekly that year — a full transcript of which was released Friday — Stephanie Clifford, known as Stormy Daniels, said that sex with Trump was "textbook generic," that he "never mentioned" his wife Melania, and that he watched TV obsessively.
The transcript was published two days after the magazine published a story featuring some of these details, as well as the fact that Trump promised to get Clifford a role on the TV show The Apprentice, which he hosted at the time, and that he compared her to his daughter.
Clifford's interview was set to be published by the magazine in 2011, but the story was scrapped when Trump's personal attorney, Michael Cohen, threatened to sue, the Associated Press reported.
Four former employees of the tabloid told the AP that Cohen sent an email to the magazine's attorney, Greg Welch, saying Trump would "aggressively pursue legal action." The interview published by InTouch this week did not say why the magazine held back the story in 2011.
The encounter between Clifford and Trump allegedly took place in July 2006 at a Nevada golf tournament in Lake Tahoe, Nevada — several months after Trump's wife, Melania, had given birth to their son Barron.
According to a Wall Street Journal report, Trump's longtime lawyer Michael Cohen arranged a $130,000 payment to Clifford to prevent her from going public about the affair.
In the interview, Clifford describes how she came out of the bathroom in Trump's hotel room to find him in bed, following a conversation the two had had over dinner.
InTouch: Going to the bathroom, did you think you were going to come out and encounter that?

Stephanie Clifford: That he was going to be in bed? No, I just had to pee. So anyway, the sex was nothing crazy. He wasn't like, chain[ing] me to the bed or anything. It was one position. I can definitely describe his junk perfectly, if I ever have to. He definitely seemed smitten after that. He was like, "I wanna see you again, when can I see you again?"
IT: Was the sex romantic?
SC: It was textbook generic. It wasn't like, "Oh my god, I love you." He wasn't like Fabio or anything. He wasn't trying to have, like, porn sex.

IT: Did he say anything to you during?
SC: Nothing freaky. Like, "Oh yeah, that feels good. That's amazing." You know. It was one position, what you would expect someone his age to do. It wasn't bad. Don't get me wrong.
Clifford also said the two did not use protection when they slept together in his hotel room, which upset her.
IT: Did you use protection?
SC: No.
IT: Was that a conversation or was it kind of in the moment?
SC: It was kind of in the moment. And I was really kind of upset about it because I am so, like, careful. The company I work for is condom-only. But I remember for a fact that we didn't because I'm allergic to latex. And I didn't go up there with condoms on me. I know that for a fact because 99% of men don't carry non-latex condoms on them, so I usually always have one in my backpack but I thought I was going to dinner, so I only had a tiny little cocktail purse.

Clifford describes how Trump was watching Shark Week when they had dinner a second time and said that Trump is terrified of sharks.
SC: We had dinner once again in his room. I had swordfish that time. Once again, no alcohol. The strangest thing about that night — this was the best thing ever. You could see the television from the little dining room table and he was watching Shark Week and he was watching a special about the USS something and it sank and it was like the worst shark attack in history. He is obsessed with sharks. Terrified of sharks. He was like, "I donate to all these charities and I would never donate to any charity that helps sharks. I hope all the sharks die." He was like riveted. He was like obsessed. It's so strange, I know.
During their encounters and subsequent interactions, Clifford said Trump never mentioned his marriage to Melania. Clifford said the affair continued for several years.
"[I]f I was his wife and I found out that my husband stuck his dick in a hundred girls, I would be less mad about that than the fact that he went to dinner and had like this ongoing relationship," Clifford told the magazine, adding that Trump "never mentioned" Melania.
Asked about what she thought about the fact that the president was married, Clifford said, "At the time, I didn't think that much about it. But now that I have a baby that's the same age that his was at the time, I'm like, 'Wow, what a dick.'"
Asked whether she had a message for Trump or his wife at the time, Clifford said, "I don't know. Karma will always bite you in the ass."