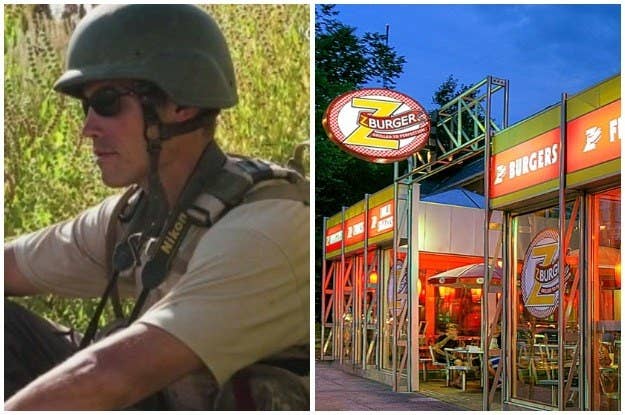 Social marketing company Valor Media has issued a series of apologies for a tweet that used a photo of a journalist killed by ISIS in an ad for the fast-food brand Z-Burger.

The text of the tweet for the Washington, DC–based chain read, "When you say you want a burger and someone says okay let's hit McDonalds."
The now-deleted tweet showed a photograph of reporter James Foley moments before he was beheaded by ISIS in Syria in 2014, with the words "you disgrace me" underneath.
In response to the meme, Foley's mother, Diane Foley, said in a statement Tuesday that she was "saddened that Z-Burger would be so insensitive and ignorant of others' pain while marketing their hamburger," and that she looked forward to an apology and their promised donation to the foundation created in honor of her son.

The burger chain's owner, Peter Tabibian, apologized in a statement shared by the Z-Burger Twitter account Tuesday and said the tweet was the work of contracted marketing company Valor Media.

"The inappropriate and offensive photo post was removed as soon as I was made aware of it," Tabibian said, adding that he promised "to ensure that established controls over the placement of amateur promotional posts on our Twitter page are more closely followed, immediately."
The attempt at a meme had been posted by North Carolina social media contractor Valor Media "without a review by anyone at Z-Burger, and without expected oversight by Valor's managers," Tabibian said.
In a three-part video apology, Michael Valor, the 23-year-old founder of Valor Media, took full responsibility for the content and apologized, stating that the tweet was "an act of ignorance, not of maliciousness" and that the company had "never faced anything like this before."

Valor called the tweet "completely unintentional" and a "mistake" that he "acted on as fast as he could."

Both Tabibian and Valor said they planned to call the Foley family Wednesday, local media reported. Valor also promised to make a donation to the James W. Foley Legacy Foundation.
According to Valor, the employee who created the tweet was an art student who had never heard of Foley and thought the image was from a movie.

"She's a good person," Valor said in one video, referring to the art student. "She would never hurt a fly."
"I'm deeply sorry for anything that has come out of this situation," he added. "Literally from the people who were offended, all the way up to the family."
Tabibian told local news that he has cut ties with Valor Media.