Saturday evening, a Twitter user promoting the long-disproved "Pizzagate" conspiracy theory posted a thread accusing model–chef–Twitter star Chrissy Teigen of being a member of the nonexistent celebrity pedophile ring supposedly run out of the basement of a pizza parlor.
In the tweet, which has since been deleted, the user, @LizCrokin, posted photos of Teigen's infant daughter Luna in costume, told readers to "note the pizza emoji," and used hashtags associated with the alt-right and white supremacists, including #TheStorm.

Pizzagate is a conspiracy theory in which some Donald Trump supporters claimed, with no evidence, that top Democratic party officials were running a satanic pedophilia ring out of Comet Ping Pong, a pizza parlor in Washington, DC. Crokin's tweets apparently suggested that the pictures of Luna were evidence that Teigen and her family were members of the ring.
Alright.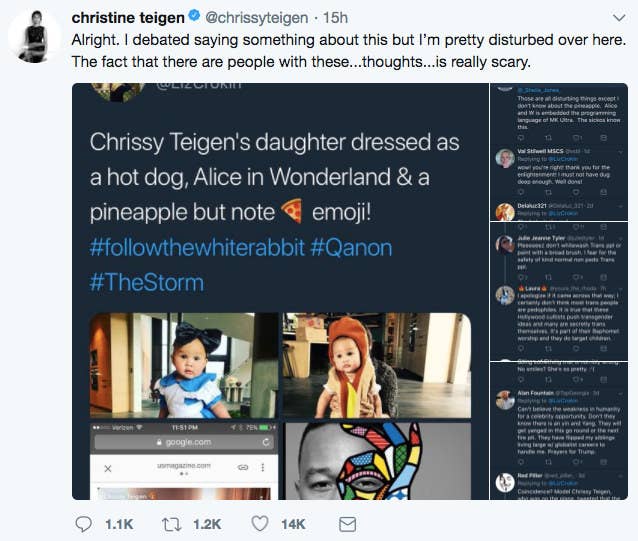 Teigen tweeted Saturday that she had "debated saying something about this," but that she felt "disturbed" and "scared."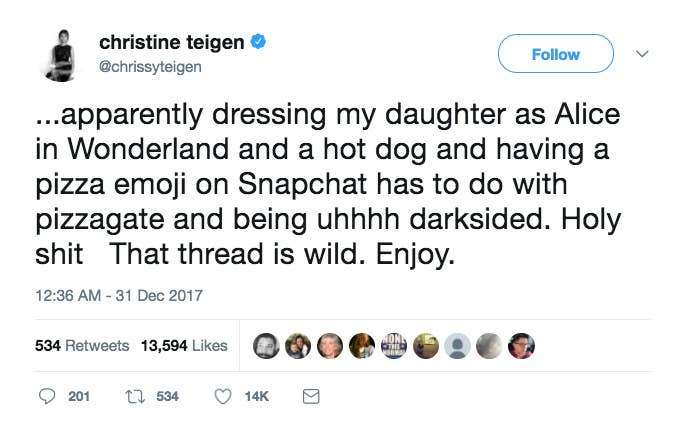 Particularly worrisome for Teigen was the fact that the Twitter user had mentioned Luna, Teigen's 1-year-old-daughter with musician John Legend, in the attacks.
Crokin then went on to say that Teigen runs "in circle [sic] with people who rape, torture & traffic kids."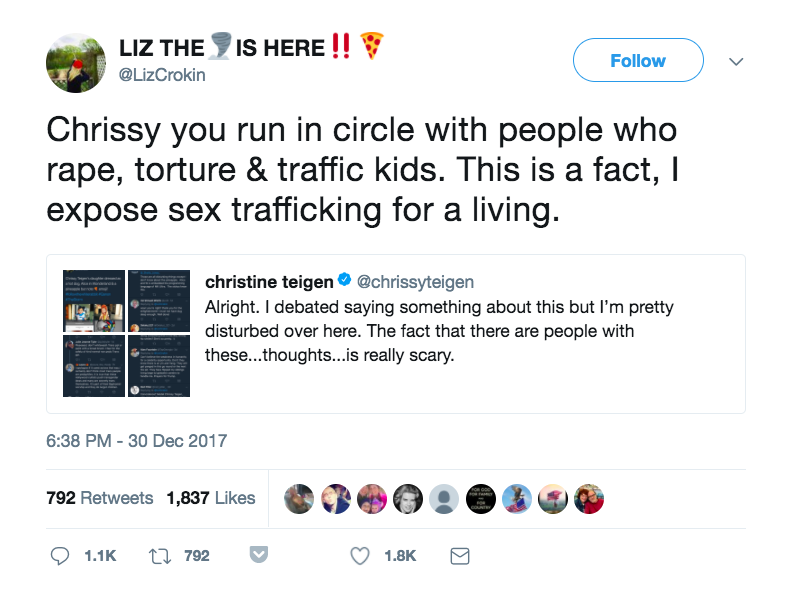 At the time, Crokin was a verified Twitter user and had nearly 50,000 followers.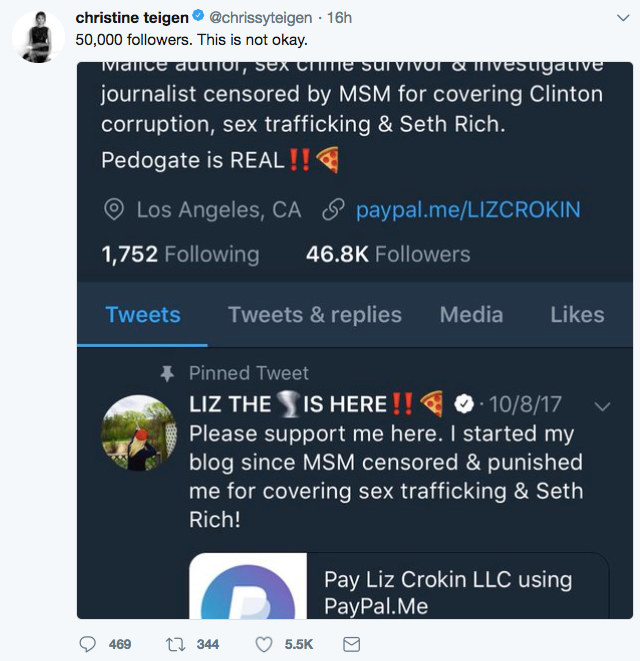 Teigen spent some time trying to understand the Pizzagate theory, which is spread in part by posts with code phrases like "follow the white rabbit."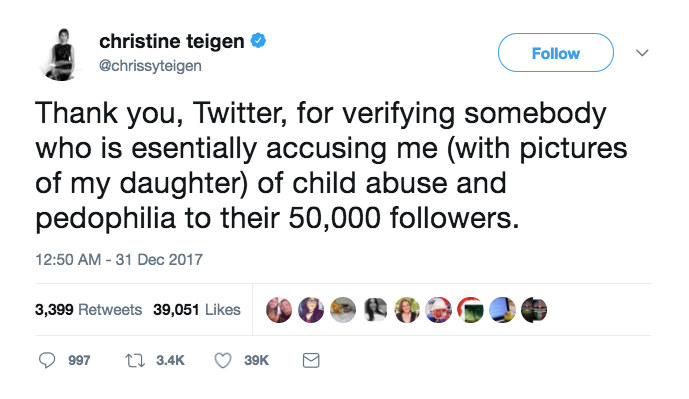 Teigen also asked for an apology directly from the original Twitter user, who kept up the attacks.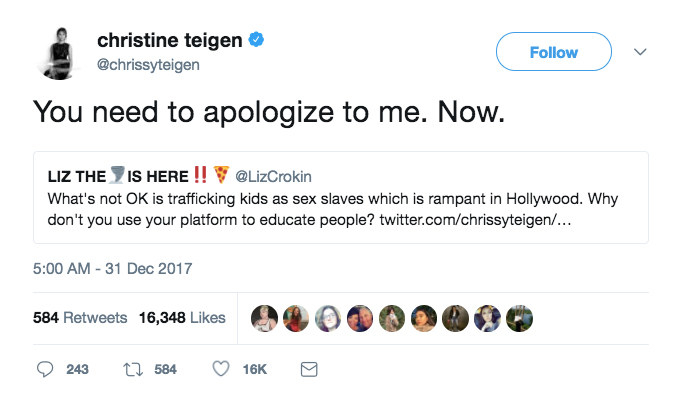 Teigen and Legend eventually threatened legal action.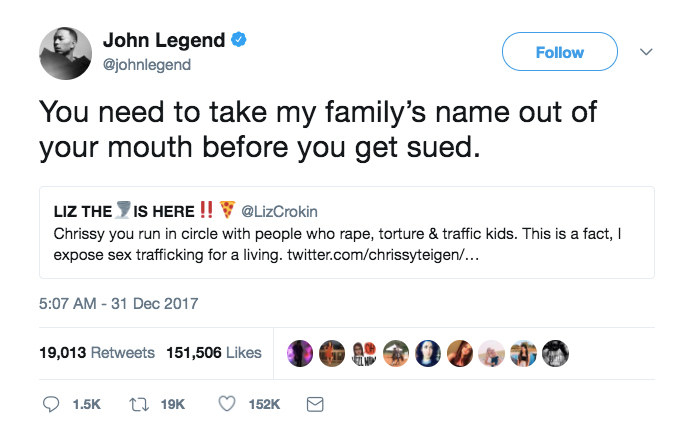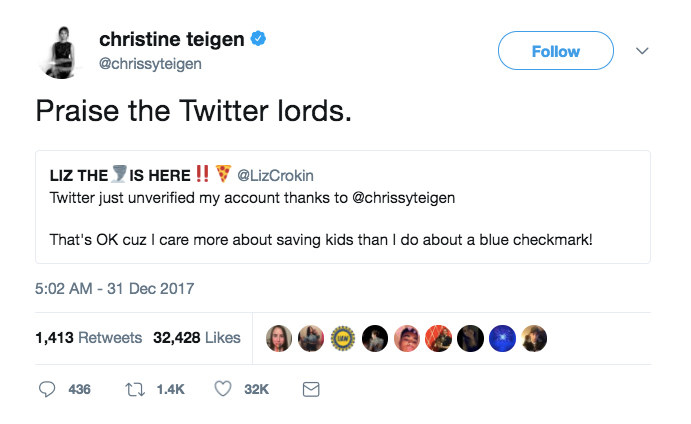 Reached for comment Sunday, a Twitter spokesperson said that "if an account is under review for breaking our rules, we can re-evaluate the account's verification at that time."

Legend and Teigen both retweeted threads that explained some of what has happened to the Pizzagate conspiracy theory since the 2016 election.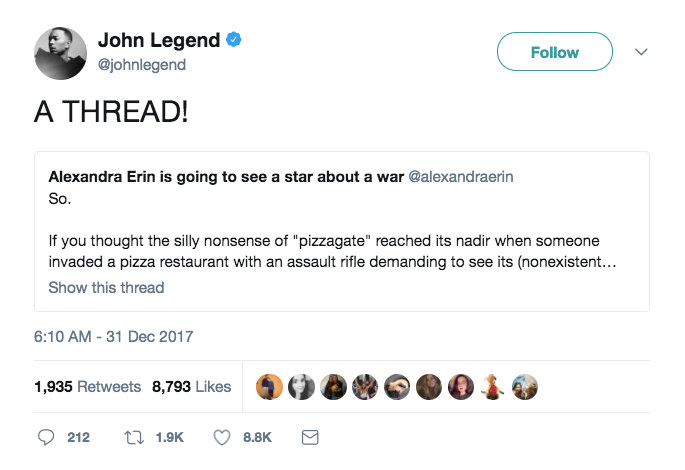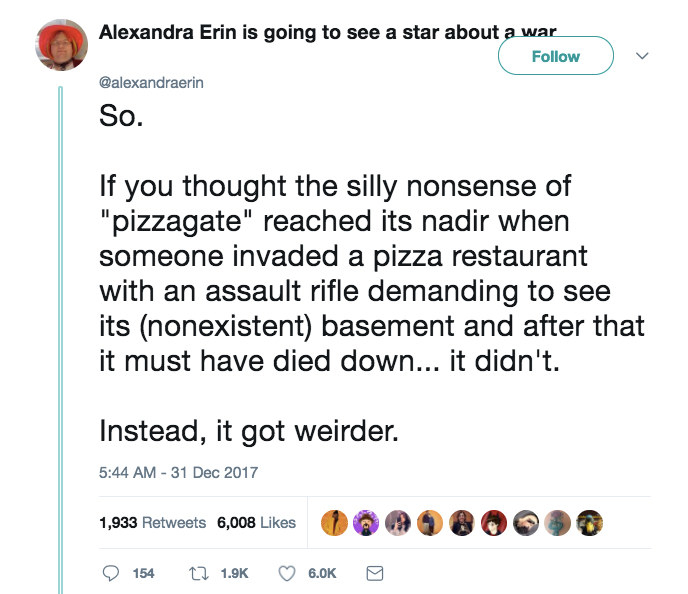 In the thread, author and Twitter user @alexandraerin explains some of the code words and contours of the conspiracy theory as it stands at the close of 2017, delving into the Kafkaesque alternate reality.

Teigen concluded the whole experience was INCREDIBLY weird and chalked it up in part to the nature of the year.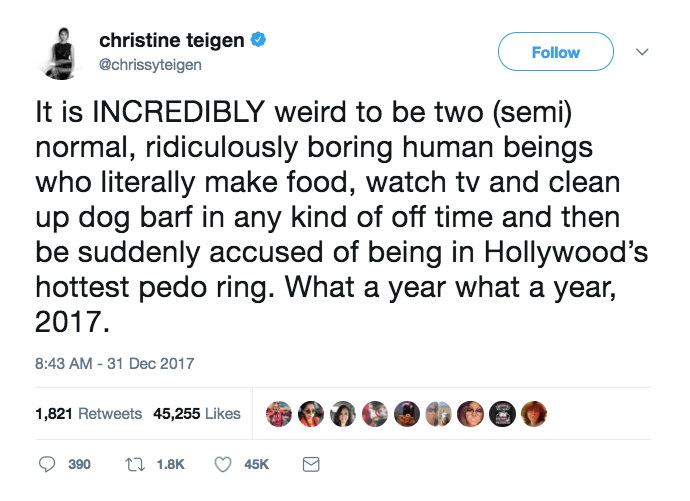 A BuzzFeed News analysis recently found that viral fake news generated more engagement on Facebook in 2017 than in 2016, when it was widely credited with helping to elect Donald Trump, and when the Pizzagate conspiracy first came to light.
Asked about Twitter's role in the fake news ecosystem, a spokesperson pointed BuzzFeed News to a company blog post on misinformation, specifically a section stating that "Twitter's open and real-time nature is a powerful antidote to the spreading of all types of false information."
"This is important because we cannot distinguish whether every single Tweet from every person is truthful or not," the section continues. "We, as a company, should not be the arbiter of truth. Journalists, experts and engaged citizens Tweet side-by-side correcting and challenging public discourse in seconds. These vital interactions happen on Twitter every day, and we're working to ensure we are surfacing the highest quality and most relevant content and context first."
BuzzFeed News has reached out to Teigen through her representatives and will update with any comment.
In conclusion: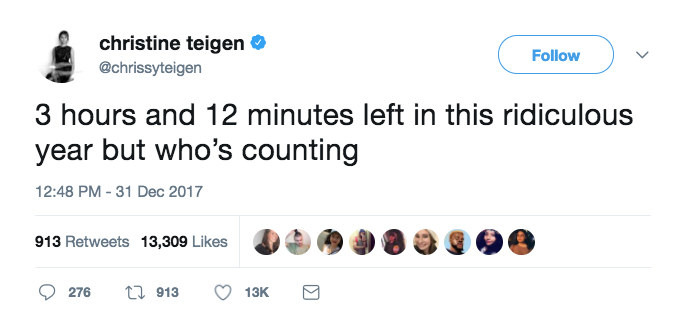 UPDATE:
As of Sunday night, Teigen's Twitter and Instagram accounts had been made private.