Why Have Facebook's Ads Been So Dystopian?
The world's leading website is having a lot of difficulty advertising itself.
Media critics wondered for years if and when Facebook would ever to do any self-promotional advertising. (Did the site even need it? Its user number kept rocketing, unchecked.) The critics wondered what such an ad would look like, and what it would have to say.
Then, last fall, with no warning, Facebook released "The Things That Connect Us," a 90-second beautifully produced video opus that would also later air on prime-time TV.
Here's the text of the ad:
Chairs. Chairs are made so that people can sit down and take a break. Anyone can sit on a chair and, if the chair is large enough, they can sit down together.
Doorbells. Airplanes. Bridges. These are things people use to get together, so they can open up and connect about ideas and music and other things that people share.
The Universe. It is vast and dark. And it makes us wonder if we are alone. So maybe the reason we make all of these things is to remind us that we are not.
It was created by Wieden & Kennedy, arguably the best ad agency in the world, and directed by Alejandro Iñárritu, who lensed Babel.
But the ad was received about as well as yet another photo of your cat sitting there doing nothing. The spot had somehow pulled off the double whammy of being both infantile and pretentious.
This was my immediate takeaway from the ad — Facebook is everything, and humanity's only hope against the universe — the "vast and dark" universe. It left me feeling very uneasy.
Adweek's leading critic, Tim Nudd, said this about the video: "That a billion people find Facebook useful doesn't mean they find it transcendent. It may cover the planet, but it doesn't speak for the planet."
Pulitzer Prize–nominated tech author Nicholas Carr said something that more closely aligned with my feelings: "If Terrence Malick were given a lobotomy, forced to smoke seven joints in rapid succession, and ordered to make the worst TV advertisement the world has ever seen, this is the ad he would have produced."
Speaking of Malick, the ad even featured a shot of kids climbing the tree of life.
The Tree of Facebook Life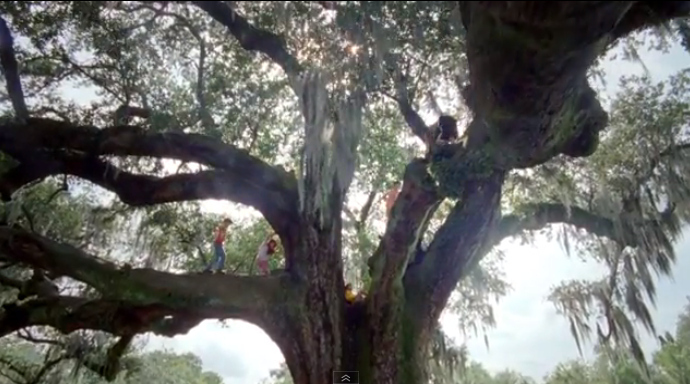 In very short order, internet parodies of the ad popped up like PDA updates on your Facebook News Feed, the best response being the below hilarious "_____ are like Facebook" images (see more of them here).
The upper management folk of Facebook are not idiots. They saw the world's reaction to the ad, and thankfully, didn't produce a second commercial.

Then last month, Facebook introduced Facebook Home (mobile apps that put Facebook on the home screen of your Android smartphone) and with it, new support commercials.
These ads, strategy-wise, are diametrically opposite of the "Chairs" spot. While the "Chairs" spot featured almost no technology, the Home commercials focus directly on technology.
And yet, they are, maybe, even more depressing than the Chairs ad, particularly the below "Dinner" spot. The "home" scene is bleak. The wallpaper is bleak. The wall paintings are bleak. And the babbling aunt is very bleak, and maybe even mentally ill.
So, WHISK yourself away, cool teen, to your Home away from home. Go hang with your cool friends, and yet not really hang with them. So really, you're neither here nor there. Where are you, then?
Evan Selinger at Wired came to this conclusion: "That to be cool, worthy of admiration and emulation, we need to be egocentric. We need to care more about our own happiness than our responsibilities towards others."
Facebook is about connecting people? No reflection of that here.
But the most remarkable thing about this "Dinner" ad is that it completely contradicts the "Chairs" ad. Said Carr:
"Our place on this earth? Doorbells? Bridges? What a load of crap! The earth sucks! Things are boring! People are ugly! Go online and stay online!"
Facebook did make one genuinely funny spot: the amusing Home "Launch Day" ad (below) — which featured Mark Zuckerberg playing straight man to other actual Facebook employees (very nice acting job by the bearded employee, by the way). But while well executed, the ad was ultimately saddening: It made your, my, and their work environment feel pretty joyless.
What makes Facebook's missteps even more glaring is how wonderful Google's ad have been: The Dear Sophie spot; the Search Stories videos, on and on, one right after the other, all fucking brilliant.
Having spent 20 years as an ad copywriter/creative director, I of course have wondered how these Facebook ads came to fruition. I wonder if Wieden & Kennedy had other, better ideas that were killed by the client. I wonder how hands-on the Facebook creatives were during the process. (My educated guess: VERY).
But all this really brings us back to the beginning: Why the heck did Facebook advertise it in the first place?
The Best Ad Blogger in the World™ (™ pending), which is akin to being the best ice hockey team in Paraguay, but there it is. I rant about ads, good and bad. SEND ME TIPS: copyranter@gmail.com

Contact copyranter at mark.duffy@buzzfeed.com.

Got a confidential tip? Submit it here.