Men's Magazine's "Demeaning" Facebook Image Banned
Zoo Weekly asked its readers to pick which half of this woman they preferred, and why.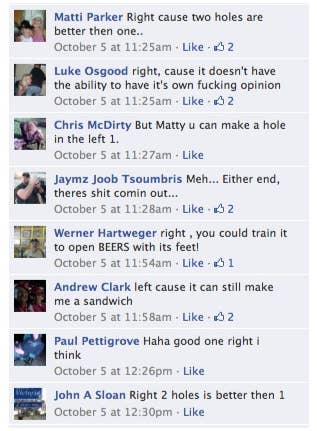 The October Facebook post was just censored this week by Australia's ad watchdog, the Advertising Standards Bureau.
The complaint read, in part:
"The image, disturbing nature of having a disembodied woman and the offensive, clearly sexist and even abusive nature of some responses on a page being used to advertise this product should not be allowed. Both the pictures, the questions that are posed and the responses are regularly demeaning and unacceptable to women. Women are objectified and sexualised."
Zoo publisher ACP argues, however, that the post is editorial material, not advertising. They added that "(men's) choice of Zoo magazine is for a purpose — to engage with content that doesn't require too much thought."
Looking at their Facebook page, they've got that right.
But is a brand's Facebook page's content advertising or editorial?
It's a sticky wicket that's going to see lots of courtroom action in the coming years.
The Best Ad Blogger in the World™ (™ pending), which is akin to being the best ice hockey team in Paraguay, but there it is. I rant about ads, good and bad. SEND ME TIPS: copyranter@gmail.com

Contact copyranter at mark.duffy@buzzfeed.com.

Got a confidential tip? Submit it here.