The Big Debate Loser Was KitchenAid
Their social team tweeted a horribly tasteless non-joke about Barack Obama's dead grandmother.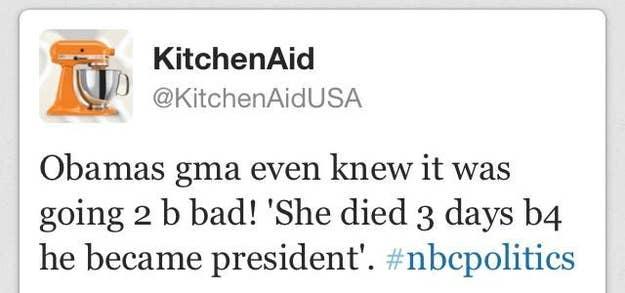 The tweet was posted on the Whirlpool brand's US page.
It was quickly deleted.
Obama spoke about his grandmother, Madelyn Lee Payne Dunham, during the debate. She died on Nov. 2, 2008, right before he was elected.
KitchenAid's Cynthia Soledad sent an email to several media sites that read, in part:
"During the debate tonight, a member of our Twitter team mistakenly posted an offensive tweet from the KitchenAid handle instead of a personal handle. The tasteless joke in no way represents our values at KitchenAid, and that person won't be tweeting for us anymore..."

The Best Ad Blogger in the World™ (™ pending), which is akin to being the best ice hockey team in Paraguay, but there it is. I rant about ads, good and bad. SEND ME TIPS: copyranter@gmail.com

Contact copyranter at mark.duffy@buzzfeed.com.

Got a confidential tip? Submit it here.