French PlayStation Ad Features Woman With Four Breasts
Two in the front, and two in the back. There's a (sort of) logical reason for this.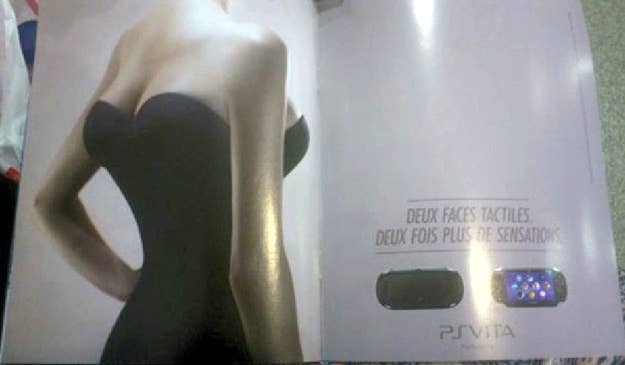 Copy translation: "Touch both sides. Twice the sensations."
See, the Vita has a front touchscreen and rear touch panel, which means something to gamers, I guess. I am not a gamer.
Several people have blasted the ad on Twitter, according to Digital Spy.
Also, a spokesperson for Sony Computer UK told them that "this advert is not creative that we are (or would) consider running in the UK."
The ad is more stupid than sexist—though it is that too.
She does one up the Totall Recall three-boobed escort.
Read more about the ad and the Vita on Digital Spy.
The Best Ad Blogger in the World™ (™ pending), which is akin to being the best ice hockey team in Paraguay, but there it is. I rant about ads, good and bad. SEND ME TIPS: copyranter@gmail.com

Contact copyranter at mark.duffy@buzzfeed.com.

Got a confidential tip? Submit it here.