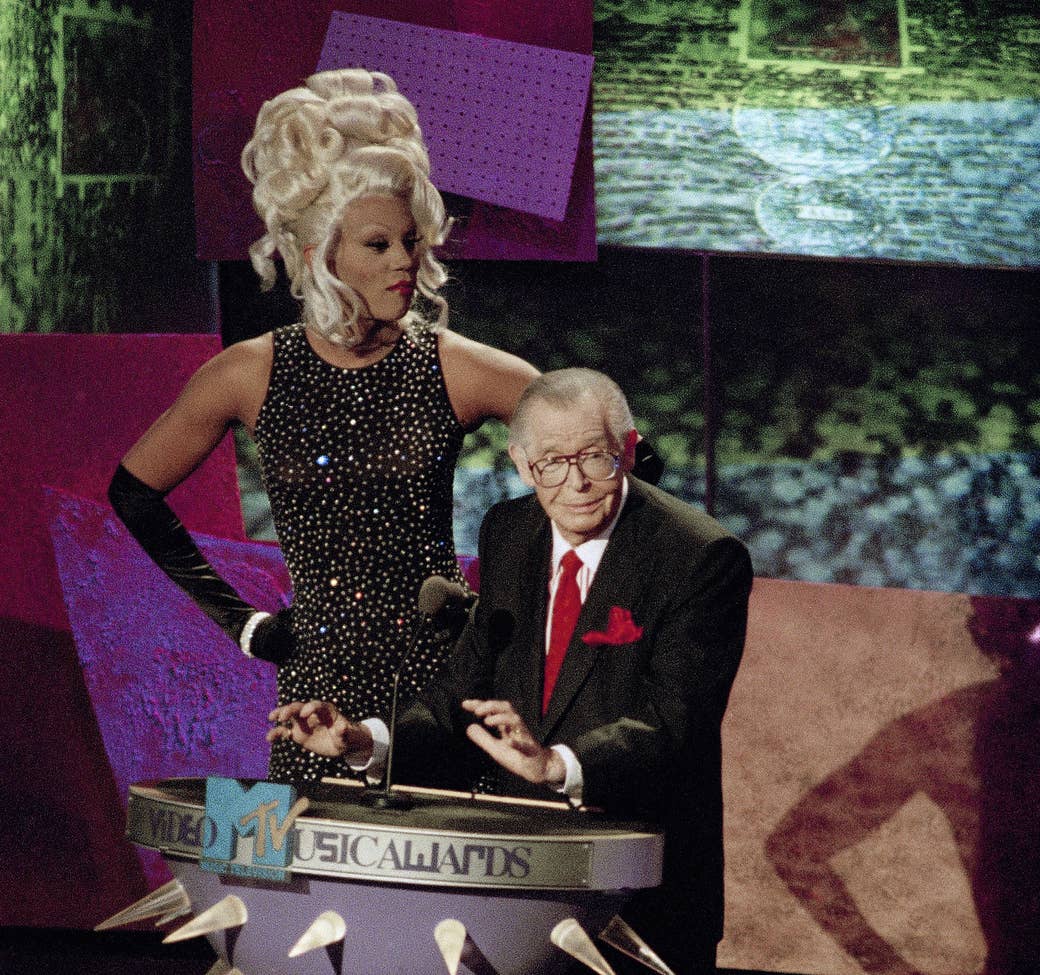 In September 1993, RuPaul Andre Charles, who was still in the glittery naissance of a monumental career, swanked onto the MTV Video Music Awards stage in a twinkling gown, flanked by actor and comedian Milton Berle. Beside the vertical grandeur of RuPaul's impressive six-footedness, Berle looked like a neglected accessory.

The pair was expected to cordially present the night's Viewer's Choice award — which would go to the classic rock band Aerosmith, for their political anthem "Livin' on the Edge" — in the same diplomatic fashion in which two politically opposed heads of state might meet publicly, at a national press conference, to feign camaraderie. But RuPaul's face betrayed twitches of irritation; from the minute Berle began his routine, he was ogling RuPaul's chest and smirking at the audience. "I love that gown," he teased. "You should, queen," RuPaul replied. "It's one of your old ones!"
Berle's exhibition of mockery and harassment — he insistently groped Ru's breasts and, allegedly, grabbed her butt backstage — infuriated RuPaul, who undressed the comedian with martial wit: "You used to wear gowns and…that's funny, now you wear diapers."
In this iconic moment of candid brazenness, RuPaul was not performing, though she was onstage. Instead, she was a regular person nursing a bruised ego, standing before millions of viewers and refusing to be ridiculed; refusing, as the poet Claudia Rankine writes, to carry what didn't belong to her. Here, RuPaul immortalized herself as an image of black rage and defiance. (Years later, she would rescind and apologize for her remarks, explaining that she'd allowed Berle's inappropriate behaviour to pierce her statesmanship: "Of course, what I should have done backstage is told him, 'Get your dirty hands off of me, you motherfucker!'")
But this was in 1993, long before RuPaul's career peaked; long before she learned to edit her speech for the cameras and white executives; long before she became the world's most famous drag queen; long before the first season of her lauded reality competition series, RuPaul's Drag Race, in 2009; long before the recent conclusion of the show's 10th season, during which she would berate another black drag queen for exhibiting the very same candor and fighting spirit she eventually learned to swallow.
The drag queen in question, the Vixen, whose real name is Anthony Taylor, arrived on the show like a deleted scene from an alternate Bad Girls Club. "I'm just here to fight," she announced, bullhorns mounted atop her wig, fists positioned on the defensive. The other contestants gasped, visibly intimidated. "Oh, she's mad, y'all," one queen said. And mad she was. The Vixen, a native of the South Side of Chicago, the United States' most racially segregated city, was largely known for her protest art and political vocality — her drag show, Black Girl Magic, was born from a desire to make visible the talent and elasticity of black drag queens. In some of her routines, she explained on the show, the queen would cover a giant crucifix with racial slurs and beat it to splinters.
Throughout the season, the Vixen drew ire for her outspokenness and the unprecedented conversations she raised about the culture of racism in drag. On one occasion, when a fan-favorite white queen unceremoniously shaded her ("Can we talk about how your best drag is someone else's wig, though?"), then broke down after being confronted, the Vixen predicted how the racial optics of the argument would affect the audience's empathy: "Now you've created the narrative that I am an angry black woman who has scared off the little white girl," she said. "That will always read [to the cameras] as a race issue." (The Vixen allegedly received death threats from white viewers after this episode aired.)
As the show progressed, the Vixen developed a profile for her refusal to be polite in the face of what she perceived to be injustice. During a climactic moment in one Untucked, the behind-the-scenes segment of the show, as she and another black queen discussed their runway looks, Eureka, a veteran white queen, interjected: "But see, you get that kind of drag, because you're a crafty queen."
In the drag world, the Vixen says, this is gilded language — to call someone's art "crafty" is equivalent to calling it "cheap." This kind of commentary is the decayed fruit of white supremacy; it isn't uncommon for black art to be seen as "crafty" or "pedestrian" where white art is accepted as polished and avant-garde. When the Vixen shrugged off this comment, though, Eureka continued to try her patience, until the entire conversation devolved into a shouting match, ultimately ending with the Vixen yelling: "Go have your cigarette, bitch, because it's done." (Later, in the same episode, Eureka would privately reveal to another queen, Mayhem Miller, that she had intentionally incited the fight as a means of "testing" the Vixen.)
The Vixen's issues with some of the other queens, we learned, after an emotional conversation between her and Asia O'Hara, were just a microcosm of her larger frustrations with whiteness and the exclusive privilege it affords others. Naturally, the same inherited qualities that advantage a person's life also privilege their drag. Still, for viewers and many of the queens on the show, it was easier to dismiss the Vixen as the "angry black bitch" than to fully engage with her concerns.
For viewers and many of the queens on the show, it was easier to dismiss the Vixen as the "angry black bitch" than to fully engage with her concerns.
Despite being among the most diverse shows on television — and certainly one of, if not the most popular LGBT series — RuPaul's Drag Race rarely addresses how race operates in the halls of its gospel. Year after year, black queens have continued to endure racist threats and commentary from the fandom. On Season 9, someone hacked Shea Couleé's Instagram account and published images of slaves, jesting that they were of Shea's bloodline and hashtagging racist slurs. On All Stars 3, after BeBe Zahara Benet eliminated Aja, people flocked into her social media comments, leaving trails of monkey emojis and calling her the n-word. When, on Season 8, Derrick Barry called Bob the Drag Queen "ratchet," he employed the same racist language prevalent in white drag fandom.
"Queens of color are less celebrated than our white counterparts," Shea Couleé said in a recent Billboard interview with writer Mikelle Street. "But that's life; we have to work twice as hard to get half the recognition. Just because you're on TV doesn't mean people are going to change the way they've been trained to think and feel."
The Vixen, though sometimes uncongenial in her ways — her juvenile short fuse, her limited ability to separate trolls from fair critiques — appeared to be hyperaware of this discrepancy while on the show. She seemed to understand that her voice was her greatest tool and exercised the freedom of using it frequently. But as a pastiche of other reality TV series, Drag Race consistently falls prey to the distortionary practice of sensationalistic editing: It was far too tidy, too neat in its construction of the Vixen as the antagonist, as the queen who is so hard to love yet easy to despise. The Vixen has stated, multiple times, that the most profound and important conversation on the season, and perhaps the entire show, about racial optics, was edited out.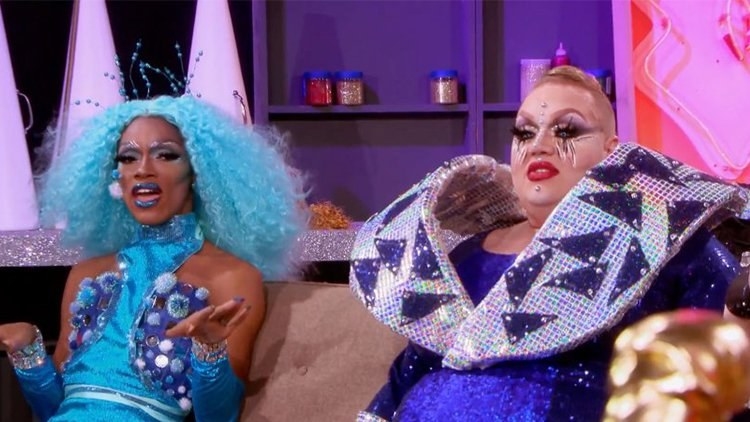 One might think that RuPaul, formerly a portrait of intrepidness, would have seen fragments of herself in the Vixen. Surely, from her stratospheric vantage point, I imagined, she could relate to and appreciate the root of the younger queen's struggle. But when it came to the season reunion, when the eliminated and remaining queens convene to reflect on their experience on and after the show, RuPaul failed to receive and responsibly address the Vixen's bonafide racial anxieties; she preferred to remain a complicit element in the show's ongoing race problem.
Not 10 minutes into the reunion, RuPaul leapt at the chance to recap the Vixen's theater of conflict. When she recounted the Vixen's skirmish with Eureka — which, recall, Eureka had previously admitted to orchestrating — RuPaul crucified the Vixen for having engaged Eureka's "bait," reminding her of her inexhaustible "choice not to say anything." Silence, she offered, was the antidote to injustice. "I think what Ru is saying is that you do not have to accept the goat when you are goated," Miz Cracker added. These comments were all reminiscent of directives the Vixen had received throughout the season.
"I think that sends a horrible message to people of color ... that their only option is to be silent or persecuted. … You feel like you have no voice in this world. Why would anyone want to put that message out?" the Vixen would later tell Into.
An integral and fulfilling feature of the Drag Race project has always been its ability to give contestants the space to be entirely authentic — the show's mantra, which is repeated at the end of each episode, is "If you can't love yourself, how in the hell you gon' love somebody else?" Yet for an excess of 10 minutes, RuPaul besieges the Vixen's character until, seeing no imminent resolution, the Vixen opts to leave the room.
"Apparently, based on how things went, the reunion wasn't designed to help me," the Vixen told Into. "They weren't interested in talking about the good I'd done or interested in addressing issues or celebrating what my journey has really been. I think they wanted to teach me a lesson about speaking up and they failed horribly."
After the Vixen's preemptive exit, Asia O'Hara, who emerged as the season's selfless matriarch, was emotional: "It's ridiculous that our thought process about people is so self-centered that if it's hard to help somebody, we'll just let them struggle. We're not just drag queens; we're people," she said, fighting back tears. "And now we've got one of our people outside; here we are filming through Pride season, and we let one of our sisters walk out of the fucking room because nobody wanted to fucking help her."
Asia's sisterly kindness didn't move RuPaul. When she responded to Asia, she was Tyra Banks in her second coming, equal parts angry and moralizing: "But look at me! Look at me, goddamnit! I come from the same goddamn place she comes from! And do you see me walking out? No, I'm not walking out! I've fucking learned how to act around people and I deal with shit! … You can't just make excuses for bad behavior, or for inconsiderate behavior!"
RuPaul's racial philosophies, which include a classic white American "pull yourself up by your bootstraps" maxim and a generational distance from the queens who compete on her show, are indicative of her deep-seated respectability politics. The "advice" she offered the Vixen was just a stone's throw away from the notorious language once espoused by Bill Cosby, or Charles Barkley, or Ronald Reagan — exhortations to black personal responsibility and rules of behavioral comportment; it implied that the Vixen, in her loudmouthed navigation of the world and her insistence on addressing racism, is lacking in self-discipline and respectability.
So long as black progression is presumed to be linked with white acceptance, liberation is nothing more than a fever dream.
Too often the burden of civility and amenity falls on the backs of those enduring oppression. For RuPaul to demand that the Vixen engage in a culture of silence, to expect her to choreograph her anger in order to appear less dissonant, less threatening, is to rob her of her voice for the sake of disproving the white myth of black inferiority. There is no "right" way to comport oneself in the midst of inequity. Such archaic criticisms directly contradict everything the art of drag itself stands for. When has protest art, or protest at large, ever been courtly?
Certainly Ru's tone-policing, gaslighting, and Good Negro performance stem from a primordial survival instinct. RuPaul hails from a time when she needed to dilute herself in order to be more palatable for her predominantly white audiences. But this vexed and tired debate about keeping quiet in order to be more appeasing is entirely at odds with the direction the show should be, and has been, moving toward. So long as black progression is presumed to be linked with white acceptance, liberation is nothing more than a fever dream.
"I felt like … we spoke a different language. The point is to make it better for the next generation, not become part of the problem and make it harder for the next one," the Vixen told Into. "But she's just become a part of the system."
In recent months, RuPaul's tightly knit image as a polished, reputable figure in the drag community has been slowly unfurling at the seams — particularly after she revealed she wouldn't allow transgender women who have medically transitioned to compete on the show. "You can take performance-enhancing drugs and still be an athlete, just not in the Olympics," he tweeted, seemingly oblivious to the genealogy of veteran male queens who have competed on the show with various implants, injections, and other bodily modifications. (She later seemed to vaguely apologize.) Increasingly, Ru seems to be showcasing just how out of touch she is from the cultural tempo — from her manifesto of black respectability to her anachronistic ideas about transgender people.
Of course, the world of drag is largely indebted to RuPaul. Drag Race has inarguably carried the art of drag into mainstream culture, making visible an art form that once existed only in the shadows. But she is not keeping up with the times. I'm not arguing that the Vixen was perfect — she makes occasional mistakes and misjudgments, like everybody else. It is telling, however, that Asia O'Hara, who is just 20 years RuPaul's junior, seems centuries ahead in her own progressive vision. It speaks to how antiquated RuPaul, and therefore her show, has become. To Ru, the Vixen is beyond salvation, enveloped by her rage and sporadic bouts of childishness; to Asia, she is simply human.
Perhaps it's time for a new iteration of Drag Race, one where Asia O'Hara, or someone like her, is its president. That, to me, would be the beginning of something bigger — of something like love. ●