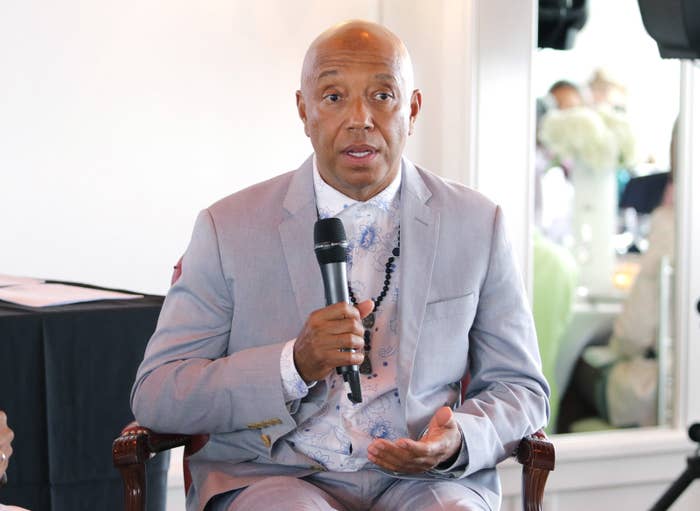 A woman said in a lawsuit that music mogul Russell Simmons raped her after she chaperoned her young son at a Def Jam concert.
The woman, identified only as Jane Doe in the complaint filed Friday in Los Angeles County Superior Court, is suing Simmons for $10 million, alleging rape and intentional and negligent infliction of emotional distress.
The woman said Simmons approached her and her then–elementary aged son and invited them backstage in Sacramento to meet the artist. According to the lawsuit, she later accepted Simmons' request to join him at an after-party and dropped her son off at home with a babysitter.
When she met Simmons at the now-closed Clarion hotel, where he was staying, he allegedly asked her to show him some of the local clubs. When they later returned to the hotel, Simmons asked her to accompany him to his room to retrieve something, and allegedly assured her he had nothing sexual in mind it because he was dating a well-known model at the time, the lawsuit states.
However, once in the room, Simmons allegedly shut the door and told her "I am going to f__k you." According to her lawsuit, when she told him no, Simmons responded by saying, "I am going to f__k you or I'm going to f__k your son. You decide."
Simmons then allegedly threw her on the bed and raped her.
According to the complaint, at least one witness saw her leave the hotel room in tears and that she told several people about the rape soon after.
Simmons vehemently denied the woman's allegations.
"They have shocked me to my core as I have never been abusive or violent in any way in my relations with women," he said in a statement to BuzzFeed News. "I have submitted myself to multiple lie detector tests. I denied forced sex and sexual harassment allegations brought against me in each test; I also answered 'no' to the question, 'Have you ever physically forced any woman to have sexual intercourse?' I passed all of the lie detector tests."
This is the second sexual assault lawsuit against Simmons. Another woman is suing him for $5 million, alleging he raped her in 2016 at his Los Angeles home. The New York Police Department also opened a sexual assault investigation into Simmons after multiple women came forward in December with allegations against him in the New York Times and Los Angeles Times.