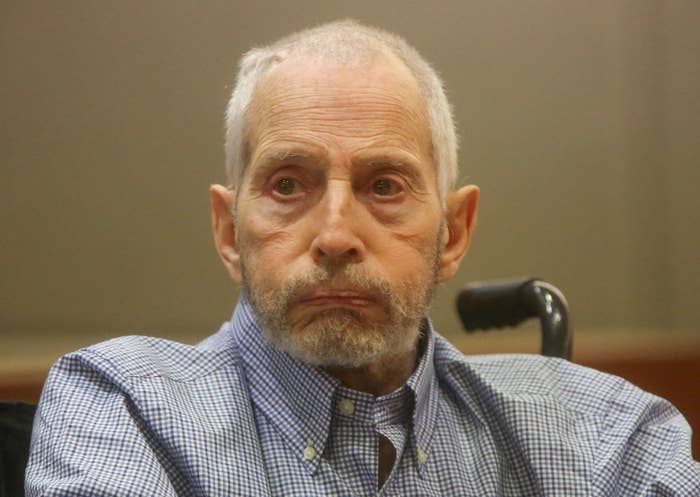 Three witnesses in the murder trial of millionaire Robert Durst gave explosive testimony Tuesday regarding the death of his friend Susan Berman and the investigation into the disappearance of Durst's first wife, Kathie Durst, including details from a police report that said Kathie had begged neighbors for help after claiming her husband had beaten and threatened to kill her.

Durst, 74, is currently on trial for the murder of Berman, who was gunned down in her Benedict Canyon, Los Angeles, home in 2000. Police were reopening the investigation into Kathie's disappearance when Berman was killed. The witnesses were called in Tuesday for conditional testimony due to the possibility that they may not be available to testify at the murder trial currently set for 2018 because of their age and health.
Retired New York police detective James Varian testified that after Kathie Durst's disappearance in 1982, he interviewed neighbors in the couple's Manhattan apartment building. Varian, now 77, said neighbors Anne and Kevin Doyle, who lived in the adjacent penthouse in the 16-story apartment building on Riverside Drive, told him that one night, during a fight with Durst, Kathie had crawled out of her apartment window wearing only pajamas, climbed around a parapet of their terrace, and begged her neighbors to let her in.
She told the couple that Durst had beaten and threatened to kill her, had a gun, and wanted her to sign away any rights to the Durst fortune. Kathie, the Doyles told Detective Varian at the time, was so scared she didn't want to sit near a window and spent the next two hours in the couple's bathroom. Kevin Dolye told Varian he later went over to speak to Durst who said 'he was not mad' and denied hurting Kathie.
Next on the stand was a doorman for the Dursts' building, Rafael Prado, 57, who said he has worked in the building for 37 years, and testified that he last saw Kathie on Friday, Jan. 29, 1982.
His testimony contradicted the account of the building's former elevator operator, Eddie Lopez, who told police he took Kathie to her apartment on the night of Jan. 31, 1982 — at which point police believe Kathie had already been murdered by Durst. Prado, who is being treated for cancer, said he found Lopez's statements untrustworthy, explaining that the elevator operator drank, and had told him a couple days later "that he wasn't so sure that he saw Kathie" on that night.
The third witness to speak was Miriam Barnes, 66, a close friend of Susan Berman whose testimony seemed to support the prosecution's belief that Berman was involved in helping Durst cover up Kathie's disappearance.
"I did something today, and I did it for Bobby," Barnes said Berman told her nervously after summoning the social worker to her apartment. "And if anything ever happened to me, Bobby did it."
"Loyalty was very important to Susan," Barnes told the court. "She learned loyalty from her father, and he meant everything to her." Berman's father was a Las Vegas mobster, whom she wrote about in her 1981 memoir Easy Street.
Barnes said that Berman was broke around the time of her death, and desperately in need of money. Shortly before she was murdered, she told Barnes she was planning to go to New York because "they wanted to question her about Kathie," but never said who "they" referred to.
Barnes said she never went to police about the conversation because "I was very scared of" Durst and still is. Barnes said she only came forward reluctantly, at the urging of a reporter.