Two More Women Accuse Bill Cosby Of Sexual Assault
One of them, an actress, claims the comedian drugged and raped her during a private audition for his show in 1984.
Two more women came forward on Friday to accuse Bill Cosby of sexual assault, including an actress who claims she was drugged and raped in a hallway three decades ago during a private audition.
The woman, who only gave her first name as Dottye, said she was working as a actress in 1984 when she missed an open call casting at NBC for the The Cosby Show. Determined, she took the initiative of sending Cosby her headshot and was shocked when he responded with an invitation to audition privately at his New York City brownstone.
Dottye said she was nervous when she arrived, so Cosby offered her a drink to relax. When she declined, he allegedly insisted, saying one drink wouldn't cause any harm. After taking a few sips, Dottye said Cosby suggested they do an exercise and spun her around. She immediately felt dizzy, sick, disoriented, and vomited on his rug.
"Things got foggy thereafter, but I do know he took my clothes off and put them in his washing machine," said Dottye, who was accompanied by her attorney, Gloria Allred. "I don't remember too much of the shower, or walking back down the steps back to the second floor."
Dottye said she remembers being dressed only in a robe when Cosby leaned her against a chest in the hall, "raised the robe, and raped me."
She said he continued the assault in the dining room where he laid her on the floor. Dottye said she could not understand at the time why she could not fight him off.
After the assault, she added, Cosby helped her get dressed and escorted her out of his house. He even called the next day, Dottye said, not to check up on her, but for phone sex and an invitation to a taping of the Cosby show. She went to the taping and accepted a cast and crew jacket from the show, but never told anyone of the alleged assault because she felt no one would believe her.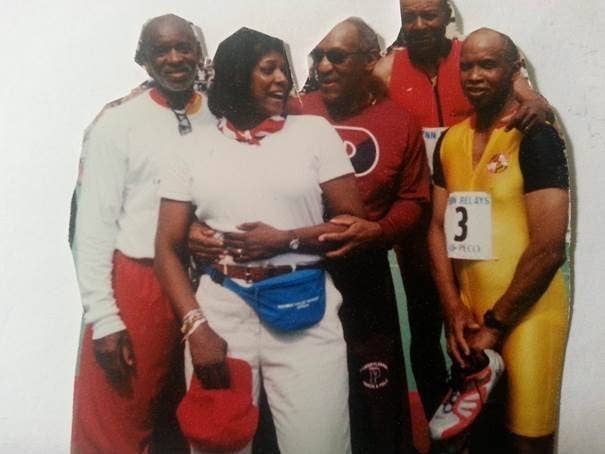 The second woman to come forward Friday, Donna Barrett, recalled the day when Cosby grabbed her from behind at a University of Pennsylvania track demanding "Hey, back that thing up here girl, back it on up!"
Barrett said as she struggled to get away, Cosby pulled her to him and she felt his "private parts" against her back.
Barrett said she complained to her teammates and officials, but that no one knew what to do.

Cosby's legal representative did not immediately respond to BuzzFeed News' request for comment.
Since 2005, more than 40 women have come forward with allegations that Cosby sexually assaulted them over the last 50 years. Many of them have recalled stories in which they were drugged before the comedian allegedly molested or raped them.
Allred, who represents may of the alleged assault victims, encouraged others to come forward.

"We will never stop until the last courageous victim who wishes to come forward and speak her truth has done so," Allred said. "Only then will it be enough."